Nowadays when we think of Roger Dubuis we visualise slightly outrageous watches involving spiders, rubber and diamonds bezels, and half a million dollar pocket watches. However, if we go just a few years back we are reminded that they put out some more classically-styled lines that are a far cry from the uncompromisingly distinctive timepieces of today. One of these was the Much More, which was a curved rectangular case that came in various sizes and in a variety of mostly simple dials (e.g. Roman or Arabic numerals on single-coloured dials).
However, there was one notable exception – the limited edition Much More painted enamel dials. Most often seen amongst these were those with maps and images from continents ranging from the Americas to Asia, Africa and even Australia but there were other more whimsical ones, including one of a man with a hat and this example, the Japanese Geisha Tarot.
Made in a limited edition of 28 pieces, the miniature paintings of the two women are highly detailed.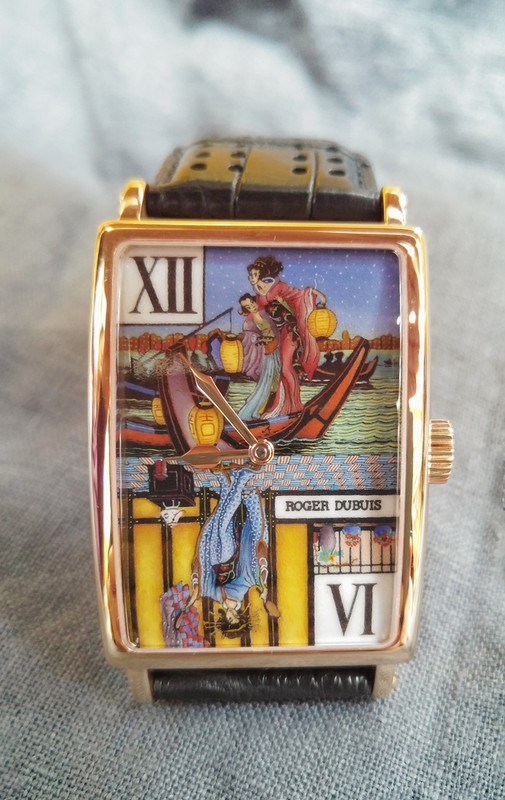 Miniature painting is the most elaborate form of enameling, which encompasses a variety of techniques including cloisonné, plique-à-jour, and champlevé. For those unfamiliar with the process, an enamel painter uses an extremely fine brush to apply enamel color compounds and oil on a white enamel or mother-of-pearl surface, creating a scene, layer by layer, working from light to dark colours, with firing in between, to create the final picture. Each trip to the kiln may slightly alter the colour, so it's as much about experience (with regards to creating the colour powder, understanding the colours and how they will change, temperature and timing) as miniature-work skill.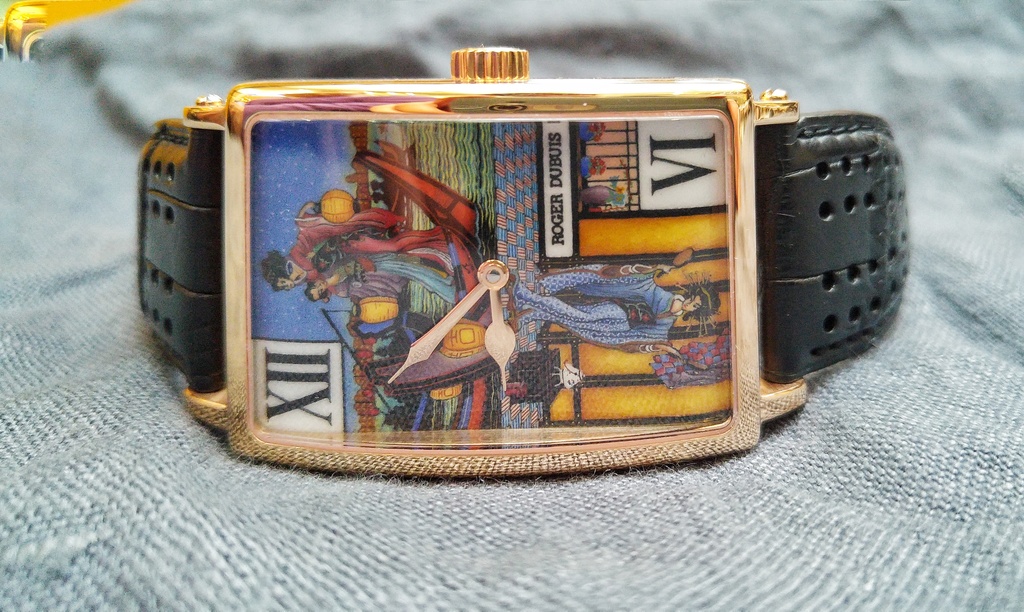 With the large number of colours on this dial, the grand feu enamelling process of painting and firing over and over again is not only more lengthy and complex but more susceptible to bubbles, cracks or discolouration as a consequence of so many firing steps.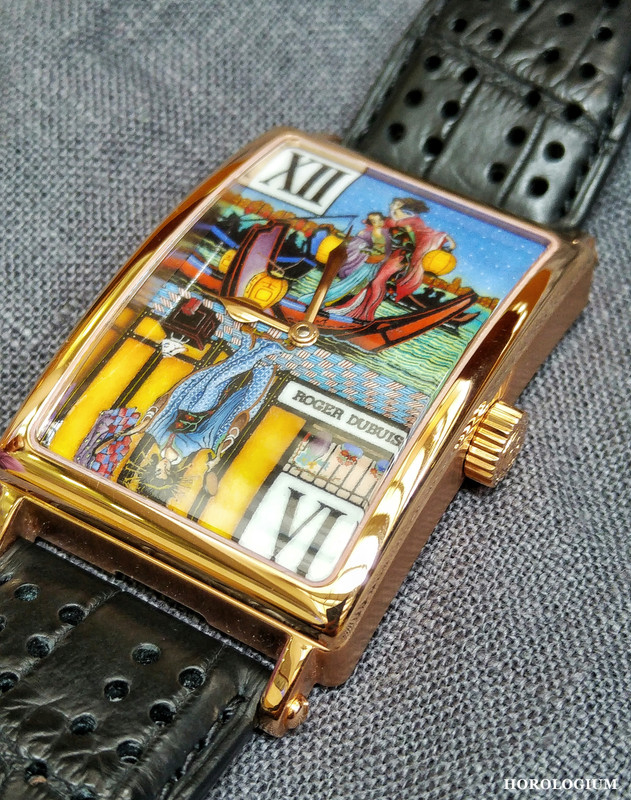 The ends of the dial are ever-so-slightly curved to match the overall curvature of the watch. A flat enamel dial is difficult enough but a curved one? Imagine the number of dials that may have been rejected or not been up to standard before this was completed.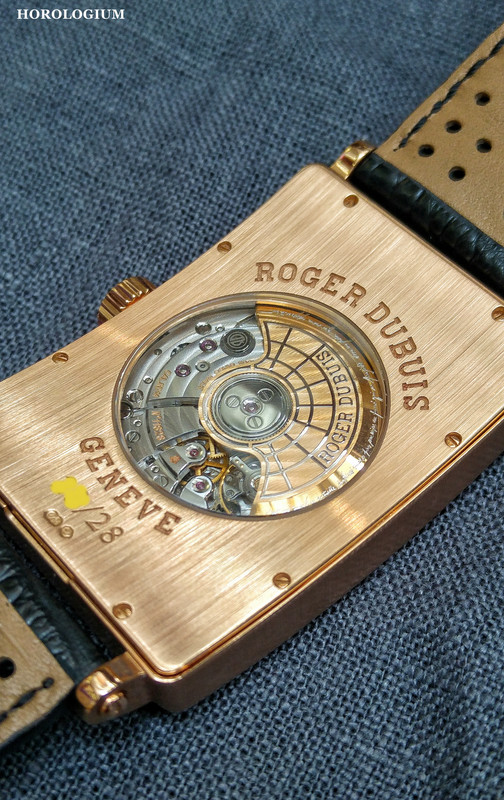 I believe that this particular design came with two different types of automatic movements depending on where they were in the limitation sequence – one with a Lemania-based RD Calibre 57 and the other (i.e. this one, which was made sometime between 2007-2008) with an in-house movement, but really, it's all about the dial for this watch.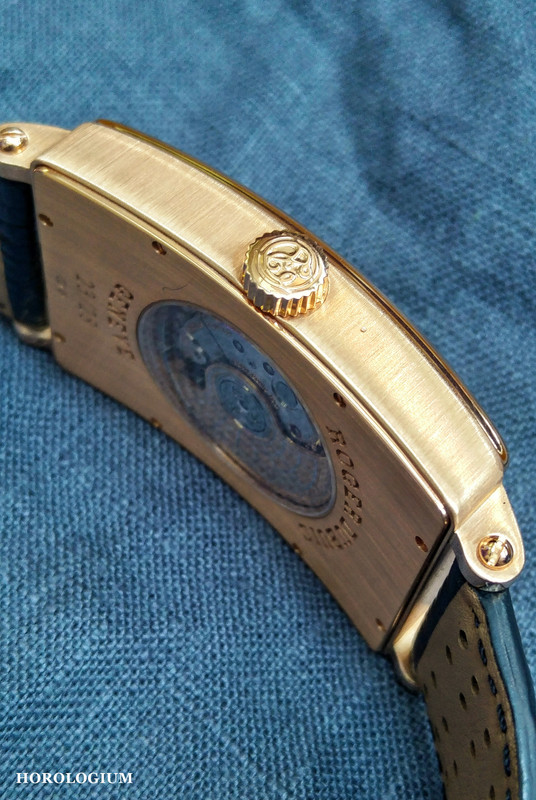 It is difficult to tell in photos, but this rose gold watch is large – 52mm x 34mm. The curvature makes it more wearable to some extent if one pushes it up the wrist a bit and it is surprisingly comfortable, but there's no getting around the fact that it is too large for many (if not most) people. That all being said, it is a dial that one appreciates the longer one looks at it, especially under a loupe, so perhaps in a sense one treats it more like a miniature work of art that one occasionally puts on one's wrist. If you do choose to wear it, it comes on a sporty perforated black alligator strap with a matching rose gold pin buckle.
---
---
Categories: Hands-on, Limited Editions, Roger Dubuis, Watch Profile, watches