In thinking about what watch/ timepiece to post first from Hong Kong there have clearly been a lot of timepieces from which to choose, but interestingly, there have been one or two mini themes that have popped up. One of these has been pocket watches.
So we've gone that way.
This first post isn't abut the 'best', 'worst', 'most expensive' or 'most out there' one we have seen, but one that perhaps to some degree is a perfect example of how a brand can creep up on you from an odd angle without you realising it, for reasons that may not be entirely able to be readily explained.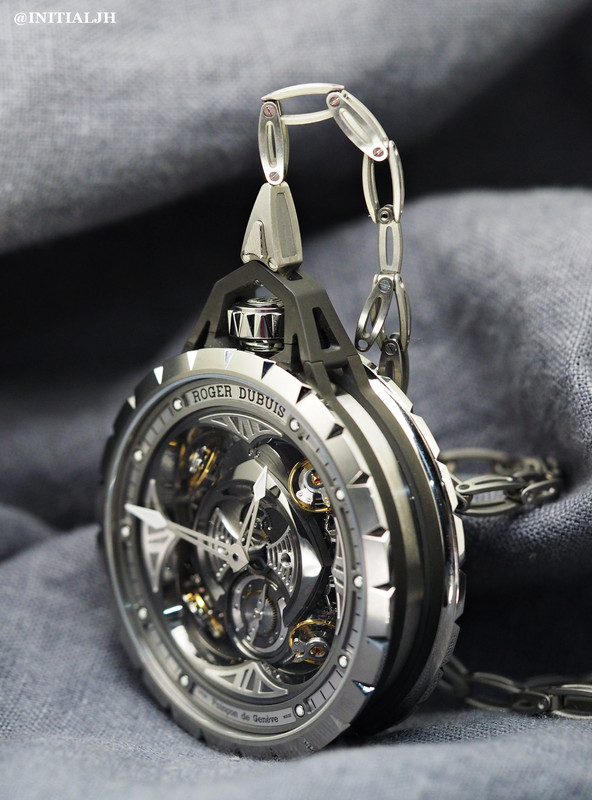 My first hands-on experience with Roger Dubuis was at my first SIHH in 2013 and I wasn't quite sure I 'got' them. In 2014 I was still unsure. It wasn't until until January this year that something seemed to start to click into place – I cannot say for certain that I am 100% about 'getting' what Roger Dubuis intends for me to 'get', but here in Hong Kong, both myself and @initialjh have found ourselves really enjoying them, not just as photography subjects (and they photograph incredibly well), but because of the technical skill that lies behind what may seem to be outrageous exteriors/ interiors/ ideas, because there is some seriously good looking movement architecture especially in terms of skeletonisation, and because there's something about many of them that just begs to be looked at.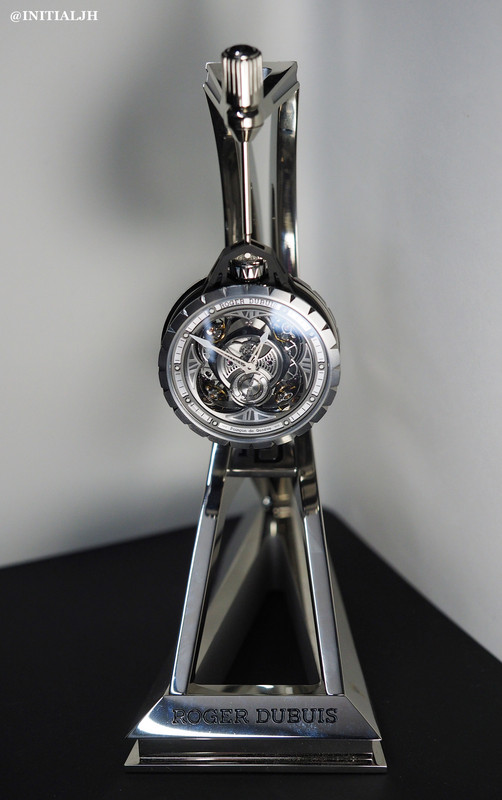 So. To this piece.
It has already been 'out and about' as it were for a short period, but this is the first opportunity many, like us, have had to look at it. The Excalibur Spider Pocket Time Instrument is its name and it's a huge spider. Perhaps it can't fit in any of my pockets, but for something that is showing off Dubuis' high-end work, gee it's a lot of fun.
At SIHH 2013 Roger Dubuis released the Quatuor, a watch with a movement with four balance wheels. Well if you're going to do it once then why not again? So Roger Dubuis has now made a pocket watch calibre with four separate balance wheels, based on the movement inside the Quatuor. This new movement has 590 components and it is claimed, as it was for its predecessor, that the use of so may balance wheels minimises the effects of movement on accuracy.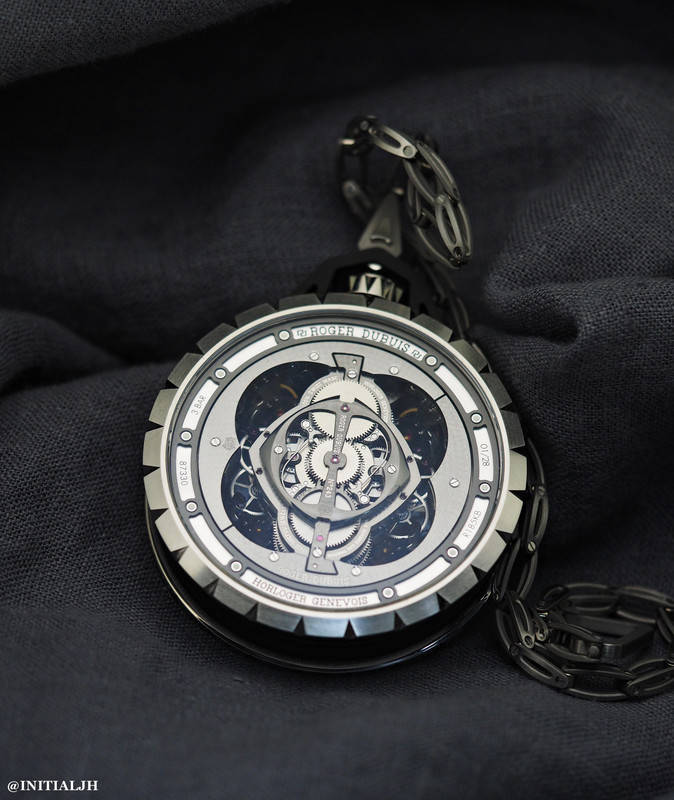 To be produced in a limited edition of 28 pieces, the Roger Dubuis Excalibur Spider Pocket Time Instrument is in a 60mm wide titanium case and chain with a water resistance of 30m. The 590 component manual-wind movement has 113 jewels, 28,800 VPH, and a power reserve of forty hours.
The dial is very symmetrical and balanced, with boldly 'cut' numerals for twelve, three, six and nine o'clock that are surprisingly attractive and probably more decorative than anything. At the bottom is the power reserve indicator.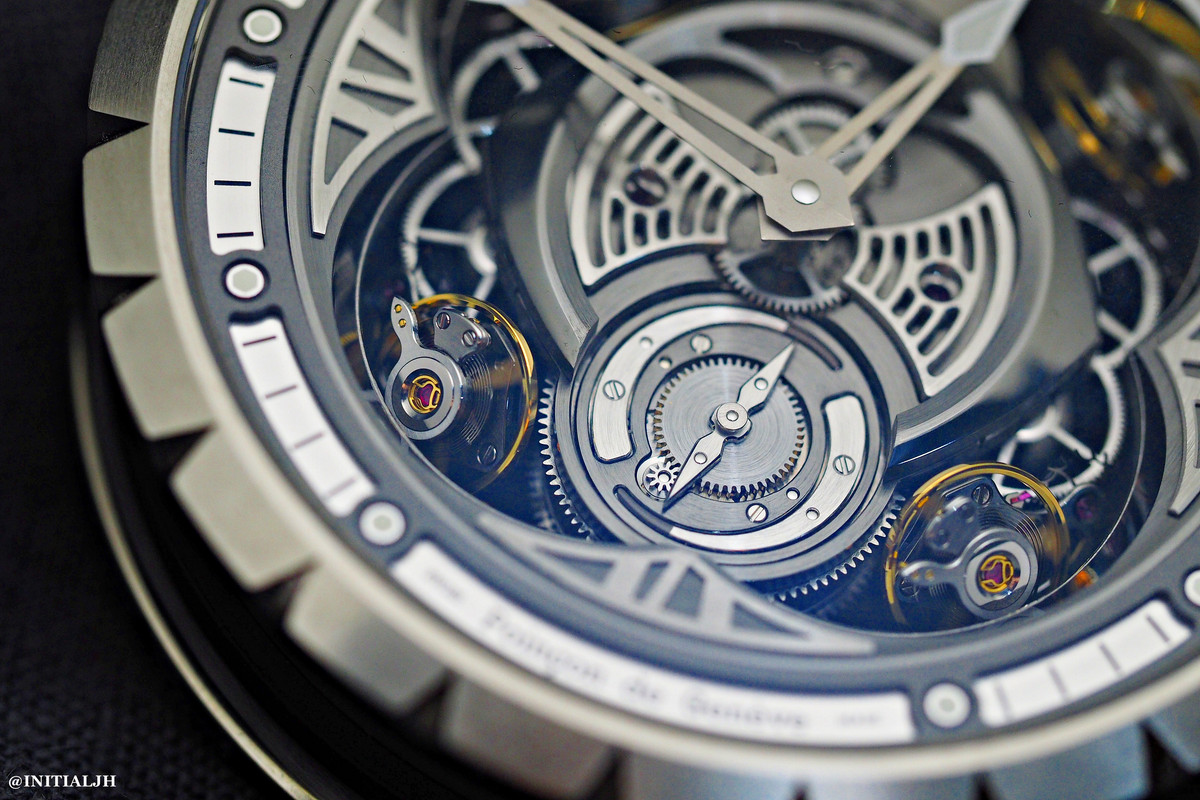 Of course what dominates this pocket watch is the movement, the Calibre RD101, rhodium-coated with circular-grained décor, with its four x 4Hz oddity. There's really no mistaking this as a Roger Dubuis piece, it's quite rugged looking and carries the Excalibur design codes such as the distinctive fluted bezel and crown design.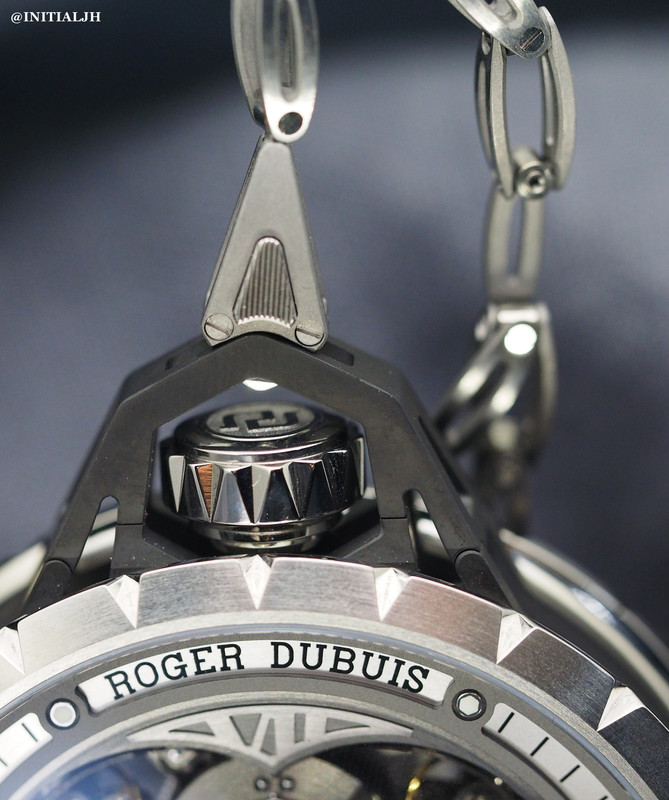 This is a very modern pocket watch that is intended to make a bold and brash statement.
At $685,000 it's also making another type of statement, but do you know what? It might be crazy, but to look at it is unexpectedly diverting and oddly playful in a very industrial-aesthetic type of way.
[Horologium attended Watches & Wonders 2015 by invitation of Richemont Australia]
---
---
Categories: pocket watches, Roger Dubuis, Watches & Wonders 2015