It is at Cartier's Maison des Métiers d'Art at La Chaux-de-Fonds that it develops the ideas and brings together the research and nurturing of crafts that have played an important role in their history when it comes to watches with an artistic bent. Their significant core watch collections may be their bread and butter, but this is where, to me, the extravagant fun lies.
The breadth of the crafts practised here is wide; intaglio engraving, gold cloisonné, stone mosaic, enamelling and floral marquetry to name but a few. Today, it is all about granulation and the ever popular mother-of-pearl.
Cartier took its inspiration from 'Etruscan granulation' goldsmithing. Grains of gold are created by cutting and rolling gold wires that are then rolled in charcoal dust and fired. The charcoal is to ensure that they don't stick together during the firing process. The resultant grains are then hand-assembled into a surface to create a design, then gold plating is added to secure it.
There are three main techniques that can be used to attach the grains to a surface : hard soldering, fusing and collodial soldering. For granulation work such as in this instance, fusing is the method of choice. What this does is to weld the metal of the grains and the base (which both have to be the same alloy). A gold plate with approximately the same thickness as the diameter of the grains is used on top of them. The decorated surface is fired in an oven with a reducing atmosphere. When it reaches melting point the grains and the sheet fuse, leaving no remains of this process behind.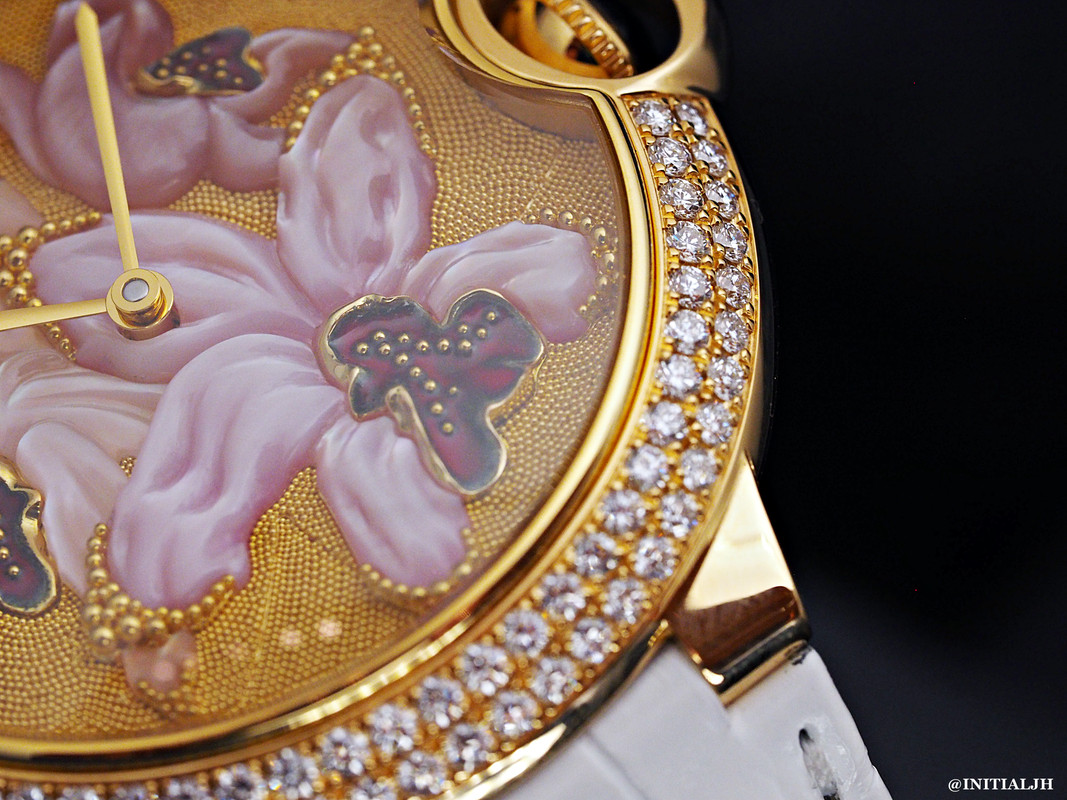 Although they mention Etruscan granulation in particular, its origins go back to Mesopotamia, circa 2500 B.C. Before spreading to Anatolia circa 2100 B.C. And then to Eturia in the 8th century B.C., where it flourished as a popular decoration.
This new limited edition Ballon Bleu de Cartier Orchid Granulation has, as its highlight, a 22-carat yellow gold granulated background features the use of engraved-mother-of-pearl for the orchid that is its focal point, with the folds of the petals taking a lifelike appearance and the use of enamelling as well as the grains used for the stamen.
It is housed in a 42mm diametre (14.35mm thick) 18 carat yellow gold case with brilliant-cut diamonds, which also feature on the strap buckle. Movement wise it's the manual-wind Cartier Calibre 9601 MC with a power reserve of 72-hours.
One of the problems with looking at watches like this, which show off amazing craftsmanship, is that they are too often seen for too brief a period of time. They are best appreicated at length, under a loupe; in my case, a Loupe System one. This luxurious new women's jewelled watch is a limited edition of 40 individually numbered timepieces. It is not Cartier's first foray into the use of granulation; they released a granulated panther (naturally) in 2013.
---
---
Categories: Cartier, Hands-on, Limited Editions, SIHH 2015, Switzerland, Watch Profile, watches, Women's watches