This is the sort of watch that makes long time Zenith fans sigh with relief.
We're talking about the fans that remember the pre-Nataf years, found themselves confused for awhile, and were soothed by Jean-Frédérique Dufour only to be suddenly jolted from their state of comfort by the events of 2014, including Dufour's sudden departure, and the appearance of Aldo Magada from Gucci.
Today's Baselworld 2015 release features a new Elite calibre called the 6150, an automatic movement with 195 components, a 100 hour power reserve and a much-smaller-than-the-previous-Elite 3.92mm in height. Its inaugural appearance is to be in a simple time-only stainless steel 42mm watch of the same name.

As mentioned previously, the Elite movement was used for Zenith's more sedately styled dress watches, and this successor in movement and style, is one stylish looking piece. Not every fan of Zenith wants a Type 20 or can afford a Christoph Colomb, some are into the brand for movements and a simple look. This piece, reminiscent of the Zenith Elite Ultra Thin but with the seconds function now central instead of at 9 o'clock, giving it a more balanced look, may well hit the spot, as it were.
A restrained piece, the proportions, thin hands and matching thin markers are cleaner and dare I say more dressily attractive than the triangular marker match up of its closest older sibling, the Elite Ultra Thin. Zenith are saying that this 42mm case is "a new benchmark size for the brand", so I guess that this is a signifier that this size is going to be their focus, an increase of 2mm on their existing Elite collection. With its simple lines and slightly domed crystal, this is just a really good looking watch.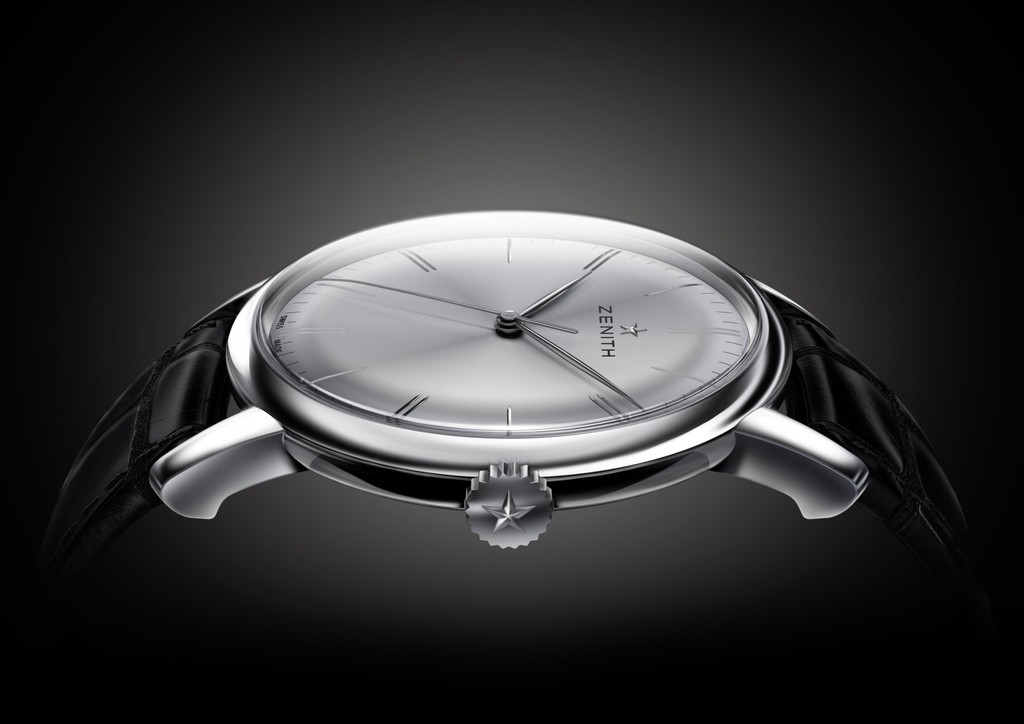 Going back to my comment at the outset about the adventures (mis or otherwise) of Zenith over a number of years, there was an announcement in 2014 that Zenith (under Dufour) would in a way segment their offerings a bit more in a way reminiscent of what someone from another brand has hinted at, with a drop in the use of in-house movements, the use of Sellita, and a lowering of their price point base, about which you read more here.
The Elite watches have been characterised by conservatism, but there is an important role for this in the Zenith range. A year is clearly a long time in the watch world, things have changed at Zenith, and this indication of faith in the Elite collection via its new in-house Calibre 6150 is an encouraging sign of a desire to establish a solid range around this movement. Perhaps it also means that the Sellita option is now off the table?
Price is reputed to be 7000 EUR including 20% tax. The Australian RRP is $9,500.
---
---
Categories: Baselworld 2015, Watch movements, Watch Profile, watches, Watchmaking, Women's watches, Zenith