Billed by Breva as "the world's first-ever wristwatch with a functional speedometer", meet the recently launched Génie 03, the brand's latest quirky outdoors watch. The Génie 01 was a miniature weather station, the Génie 02, an altimeter. As with its predecessors, the new Speedmeter might look at a glance like a regular wristwatch, but it very much is not. We were able to take a look at the new model in Geneva in late January 2015.
According to Breva "When worn on the wrist of a cyclist, motorcyclist, speedboat operator or automobilist, with wrist exposed to the moving air, Génie 03 will indicate the speed with a red hand, against printed inner speed indexes and an engraved lacquered field for the external speed scale on the speedometer' bezel. Its readings are instantaneous and require no calculating on the part of the user, nor does the watch need the user to locate a measured mile or kilometer."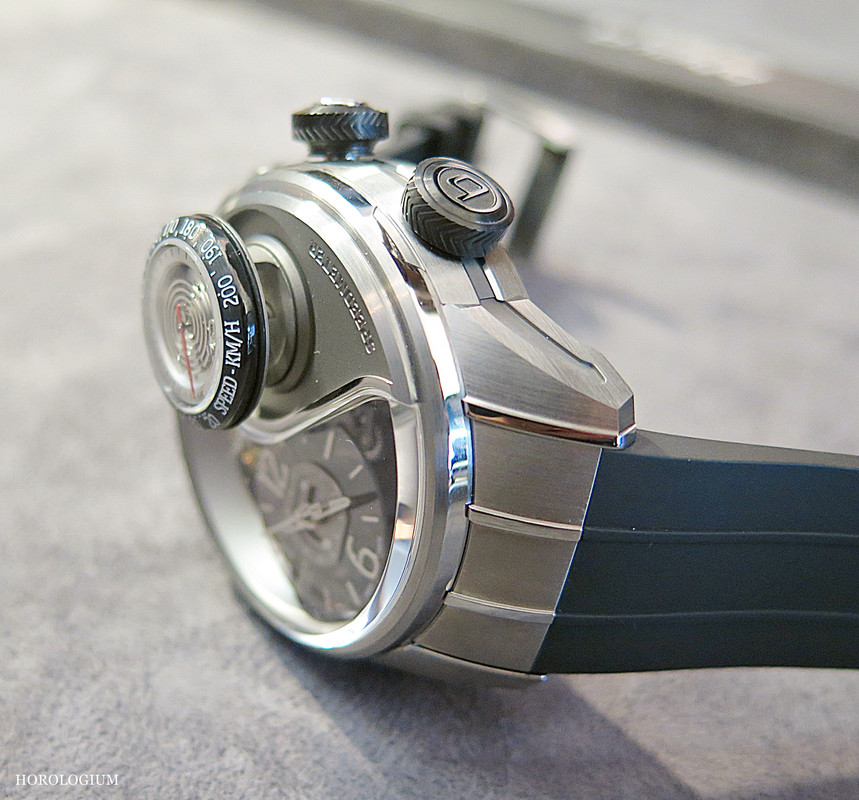 General functionality consists of hours, minutes, and seconds read on a smoked transluscent sapphire crystal dial with white gold indices at 7 o'clock. Then there's the large speedometer dial between 1 and 5 o'clock, marked in km/h or mph. When the pusher at 2 o'clock is pressed, the speedometer pops up 6 mm from the dial, exposing the three titanium-alloy Robinson cups of an anenometer.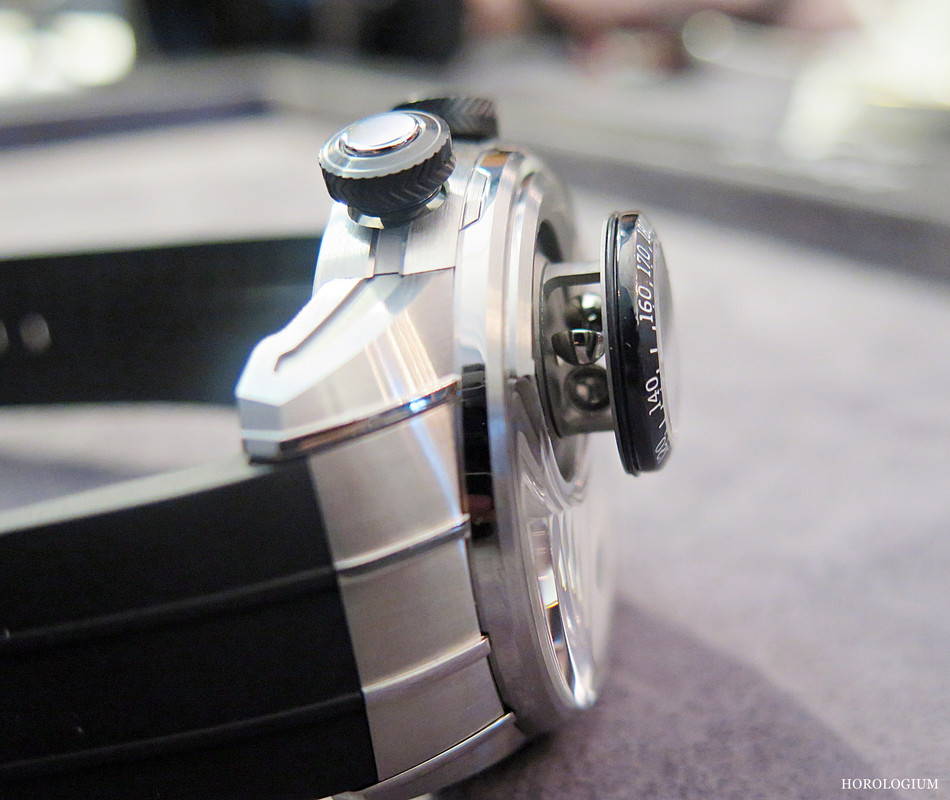 Breva's idea is that if you are zipping around on a bicycle, motorcycle, convertible, speedboat, or want to stick your hand out the window into the wind, you can measure your speed from 20 to 200 km/h (as displayed directly on the speedometer).
The 'speedmeter' of the name is a patented forty-five part mechanism that pops up to take an instantaneous speed reading with the titanium 'Robinson cups' measuring wind speed. The speedometer dial is printed with inner speed indexes and an engraved lacquered field with an external speed scale on the bezel (with speed scales in km/h or mph).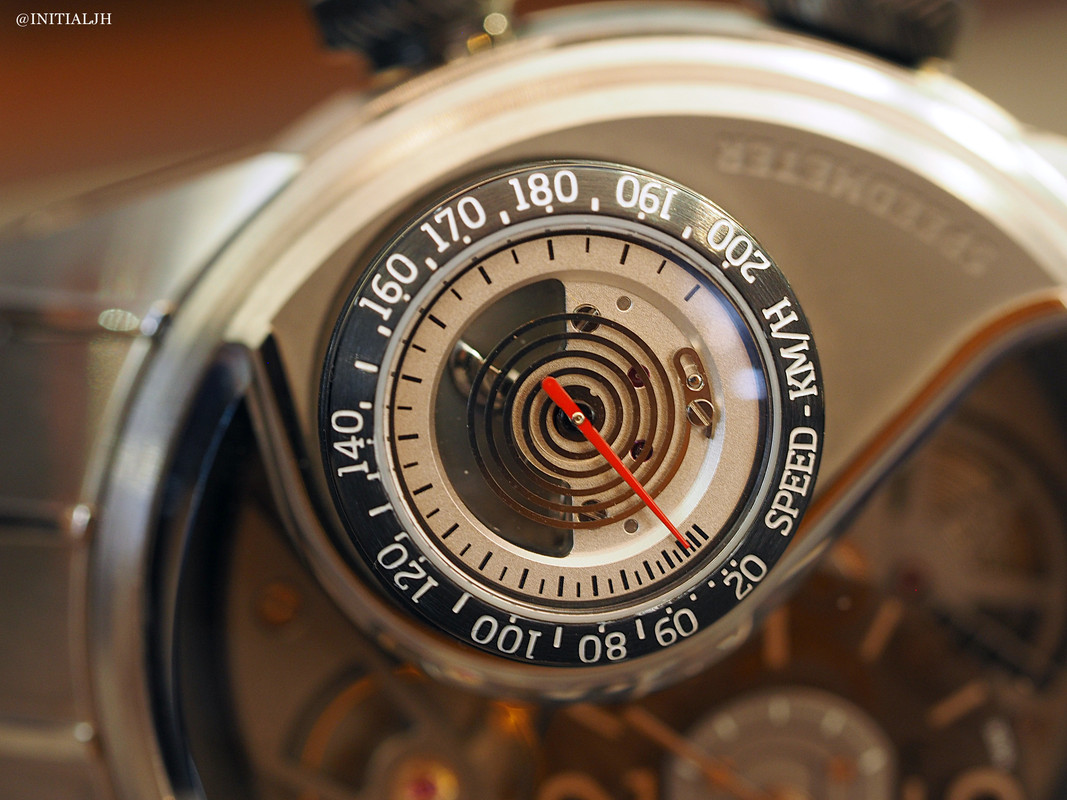 So what is an anenometer? It is the umbrella term that refers to weather instruments that measure wind speed (from the Greek 'anemos' for 'wind'). The type of anenometer used by Breva is, as mentioned one using 'Robinson cups'. These were invented in 1845 by Dr. John Robinson of Armagh Observatory, with his invention consisting of four hemispherically shaped cups, each mounted on one end of four horizontal arms which were mounted equidistant on a vertical shaft.
They work as follows – as air flows towards/ past the cups in a horizontal direction, the shaft turns proportionate to the wind speed. Counting the number of turns of the shaft over a set time period produces the average wind speed. The ratio of the wind speed and that of the cup size/ arm length depends on the dimensions of the cups and arms.
A three cup anenometer was developed in 1926 by Mr. John Patterson and this was followed by further improvements on the original in 1935 by Brevoort & Joiner (US) which reduced error rates even further. In an Australian link, Derek Weston modified it again in 1991 so that it could measure wind direction and wind speed by adding a tag to one cup, allowing the calculation of wind direction based on how it moves against/ with the wind.
So what about the movement? The Génie 03 utilises the 34-jewel inhouse automatic Calibre BRE03.001 movement with a micro rotor engraved with the Breva compass rose, and which has a 60-hour power reserve.
The Speedmeter is in a 44.70 mm Grade 5 titanium case, with a time setting crown at 4 o'clock and pusher at 2 o'clock to activate the anemometer function. It is water resistant to 30m with the speedometer closed and dust resistant even when the speedometer is extruding.
The watch is 17.50mm thick with the anenometer closed and 23.50mm in total height when it is open. It comes on a rubber strap with a Grade 5 Titanium buckle.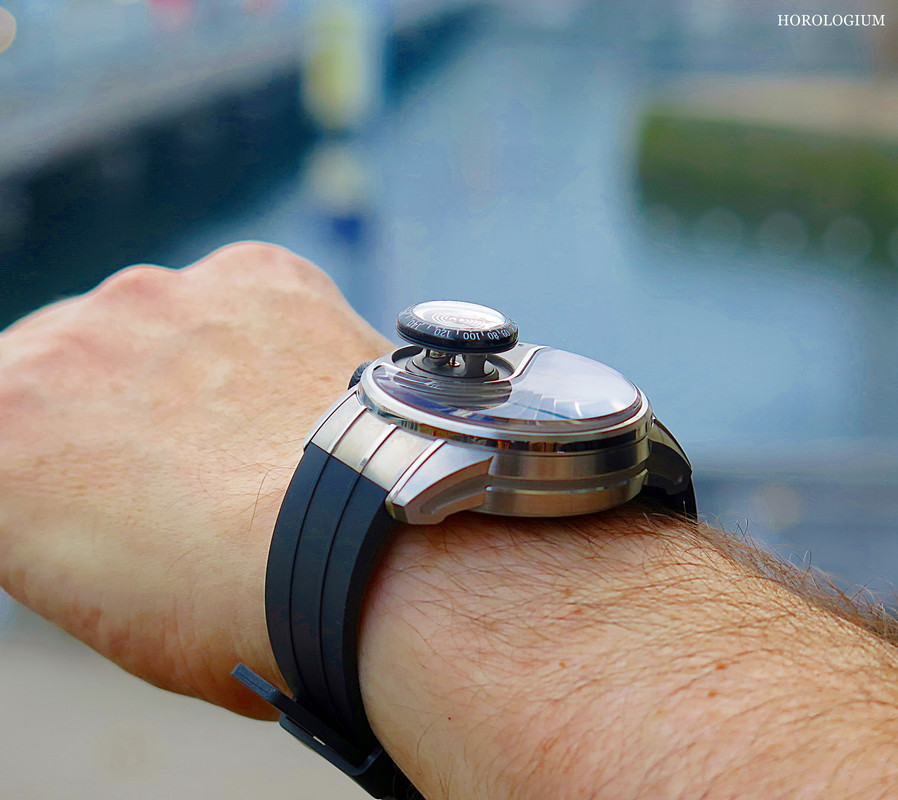 Breva's motto is to create watches equipped with instruments to monitor your environment. They are a very niche brand but also a very exciting one. You only have to spend some time with them to recognise how clear and strong their vision is. It's a geeky vision, but even for those of us who aren't geeks and even if on a day to day basis we intellectually recognise that we may not really NEED one of their watches (then again who realistically needs any of the complications that we admire in watches), there really is a big element of fun in the Genies. They are engagingly bonkers, and if you ever find yourself in Geneva, you should go and visit them.
The Genie 03 will be priced at CHF 48,800 before taxes. More details can be found on Breva's website.
---
---
Categories: Breva, Hands-on, Switzerland, Watch Profile, watches