With SIHH 2015 almost upon us and the ever present push to focus on the next new thing, it is important sometimes to sit back and be reminded of watches that may have been launched a few years ago (2011, to be precise) but which are still an active and present part of a brand's collection.
When Vacheron Constantin introduced its Patrimony Traditionnelle WorldTime it was the first mechanical watch that told the time in all 37 timezones; that is, you can simultaneously read the time in all regions, along with a day/ night indication courtesy of the shading on the map. Moreover, it was also notable on its release for the fact that there is only one crown for making all adjustments.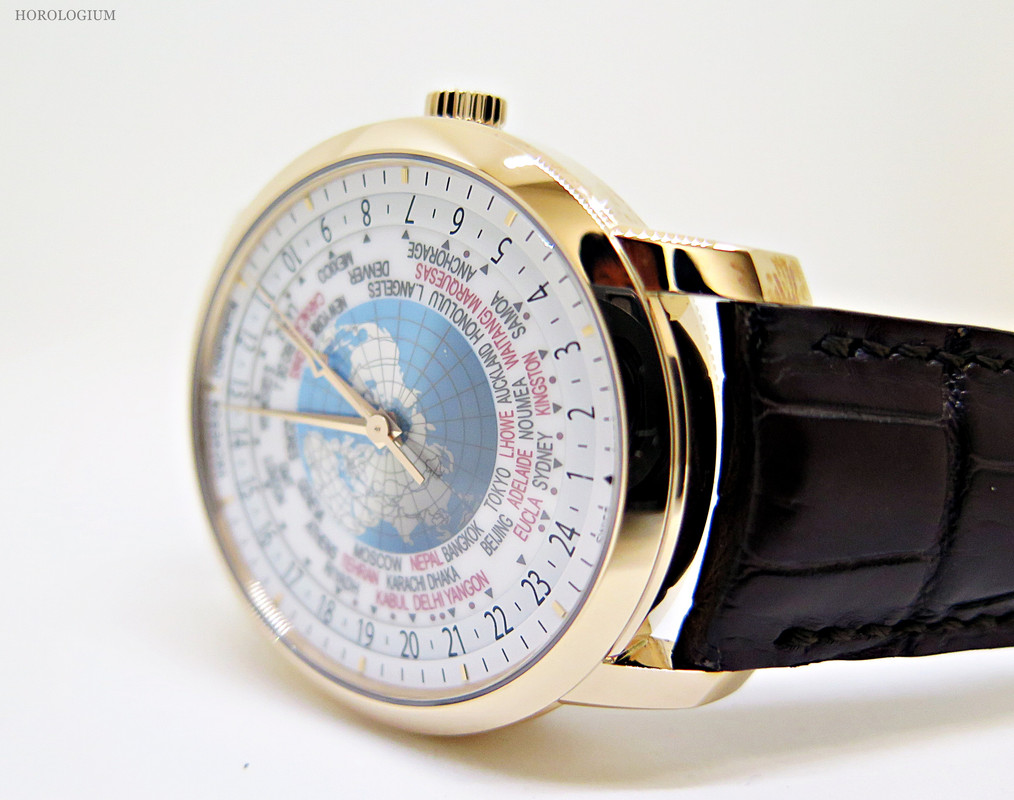 In the intervening years this watch has proven to be not just popular but also one of Vacheron Constantin's most identifiable pieces. The display consists of three dials: a sapphire dial with the rotating day/night indication shading (6pm-6am being the darkened area), a metal dial with a Lambert projection map, and a metal chapter ring. To use it, you choose the reference point and put it at the black triangle at 6 o'clock. The time at the reference point can then be read either via the traditional hour or by the 24-hour disc, and the other time zones via the disc. The cities in black text are the full time zones, whilst the cities in red text are half or quarter-hour zones.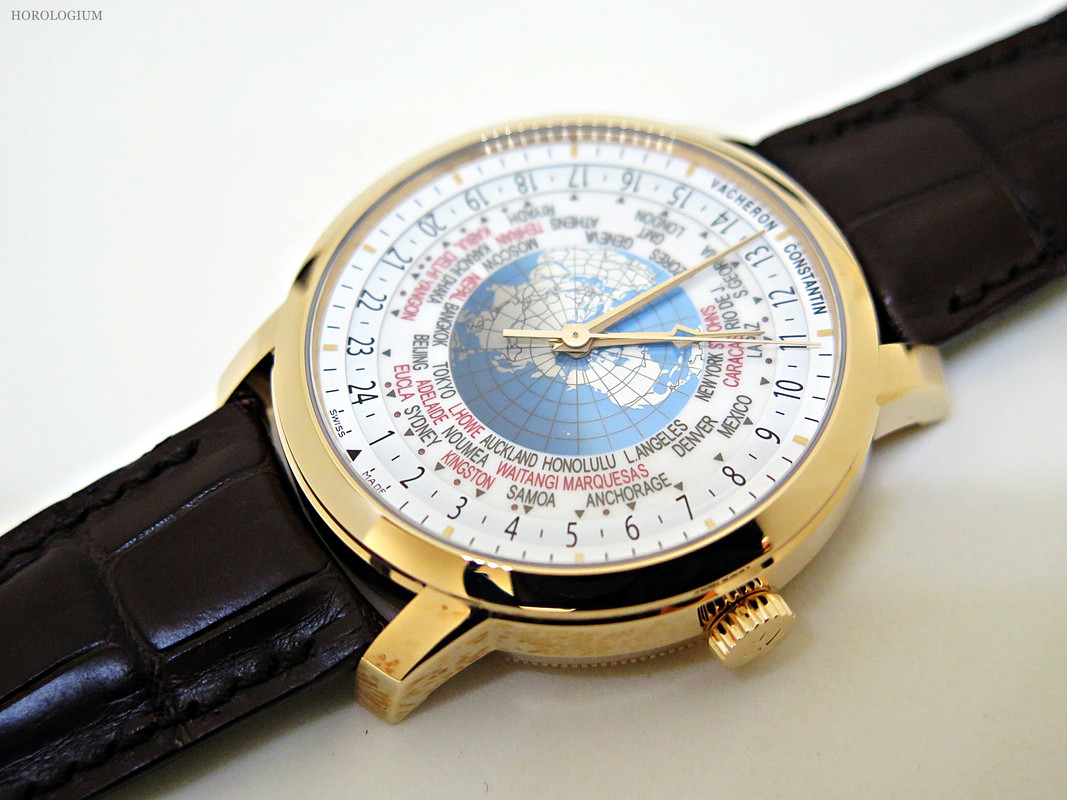 Johann Heinrich Lambert was a German/French mathematician and scientist who in 1772 released his Conformal Conic (LCC) projection in his publication Anmerkungen und Zusätze zur Entwerfung der Land- und Himmelscharten.. Today the Lambert Conformal Conic projection has become a standard projection for mapping large areas (small scale) in the mid-latitudes – such as USA, Europe and Australia.
What the LCC does is to set a cone over the Earth's sphere and project the surface onto the cone, which is then 'unrolled' and scaled, with scale decreasing between the two parallels and increasing outside them. You can read more about it here.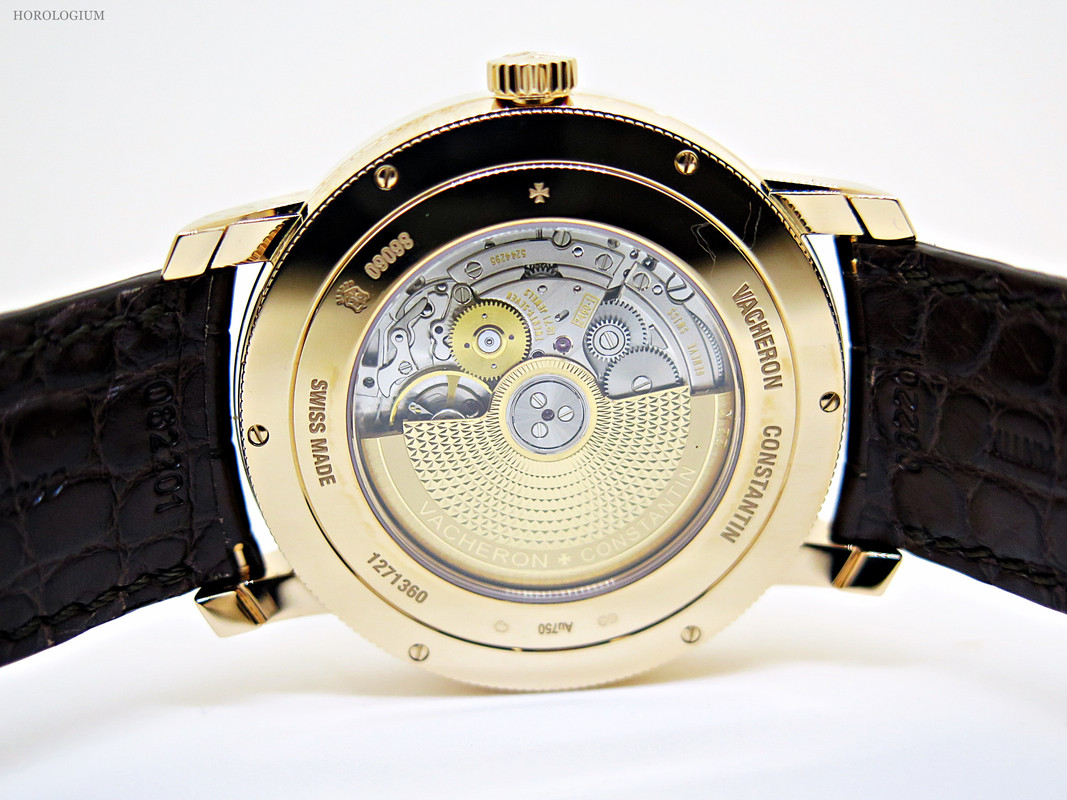 Running this small horological masterpiece is the Vacheron Constantin in-house designed/ developed/ manufactured Calibre 2460WT automatic movement with a gold oscillating weight, 28,800 VPH and a forty-hour power reserve. At a hefty 36.60mm, this means that the watch itself is 42.5mm, a size which is really quite moderate by contemporary standards.
This original World Time was in 18k pink gold but as mentioned recently, the Patrimony Traditionnelle World Time is now available in platinum, as part of Vacheron's 'Collection Excellence Platine'. Launched at Watches & Wonders 2014, this will no doubt be welcome news for the white metal lovers.
---
---
Categories: Hands-on, Vacheron Constantin, Watch movements, Watch Profile, watches