It's funny sometimes.
I was at The Hour Glass in Sydney looking at some of the Baselworld 2014 releases from Rolex when three blindingly shiny watches came into sight. Now it's no secret that watches-with-more-stones-than-I-can-count-on-all-digits are an exception rather than a rule here, and that by and large those that do make an appearance have precious stones as part of a broader artistic sensibility in the form of an image, or where the stones are a discreet part of the bezel, or something unusual. It's rare that stone-bedecked watches show their dials here.
However, something about the sheer weight and strong presence of this trio grabbed my attention that day. I thought to myself that even if these aren't, aesthetically, something that I would select, not to mention how hyper-aware one would have to be  from a practical standpoint with stones on the bracelet, the thought crossed my mind that Rolex does incredibly well with women's watches, and with bejewelled women's watches, so it was important for me to acknowledge this and to feature it.
It was only after I started to write this that I discovered something. I had unknowingly chosen to take photos of three rather significant watches whose announcement at Baselworld 2014 had somehow passed me by.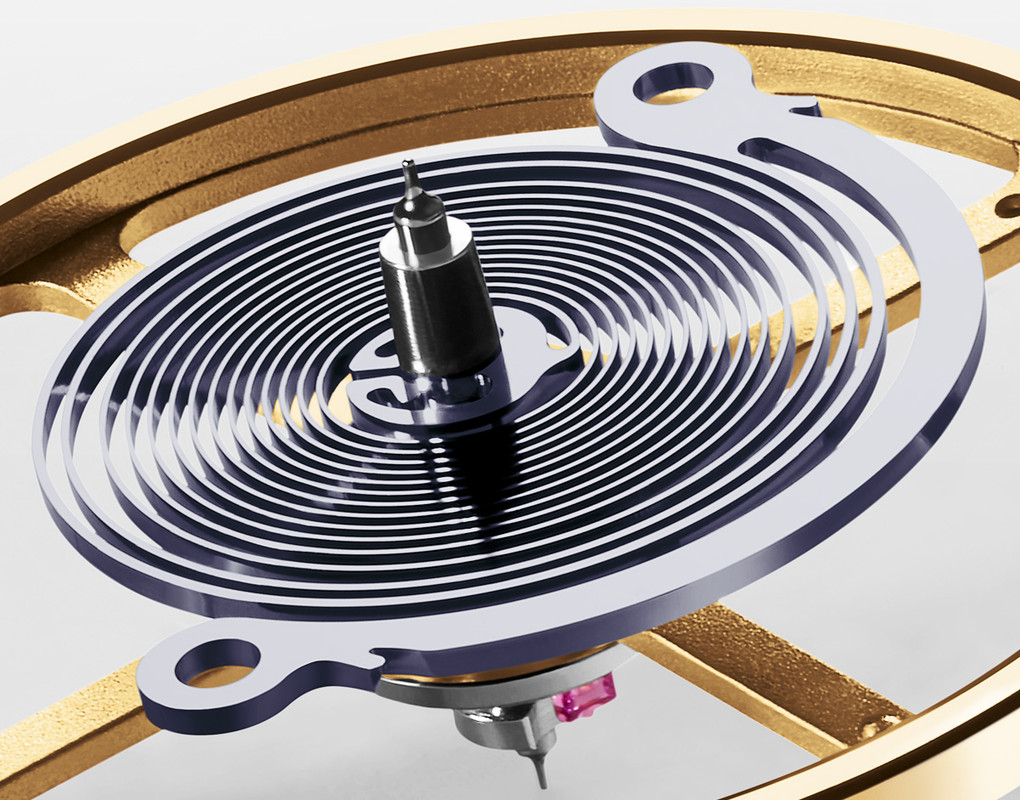 These Oyster Perpetual Datejust Pearlmaster 34s weren't 'just' bejwelled women's watches, but that their release heralded an important breakthrough by Rolex. Why they chose to do this via these watches, I can't guess, but for those who are wondering – these are the timepieces in which the almighty big R chose to unveil its first commercially available watches equipped with a silicon hairspring called 'Syloxi', developed in-house after decades of research.
The 'Syloxi' name derives from 'silicon' and 'silicon oxide', and the new hairspring is made in-house by a process known as deep reactive ion etching (DRIE) developed by the Centre Suisse d'Electronique et Microtechnique (CSEM) which, with the backing of Rolex, the Swatch Group, and Patek Philippe, has researched the use of silicon in watchmaking.
A watch's oscillator comprises of a hairspring and a balance wheel. Minimising disturbances to it from temperature variations, shocks, magnetism etc is critical. Silicon has been increasingly used by watch brands in their movements, and in instances such as this, where it is covered by an oxide layer, it has the added bonus of being thermo-compensating.
What makes the Rolex Syloxi different is its (patented) shape and geometry. It is flat, and its pitch and thickness varies along the hairspring. The inner coil of the hairspring is flexible and its other end is rigid and fixed to the balance bridge at two points.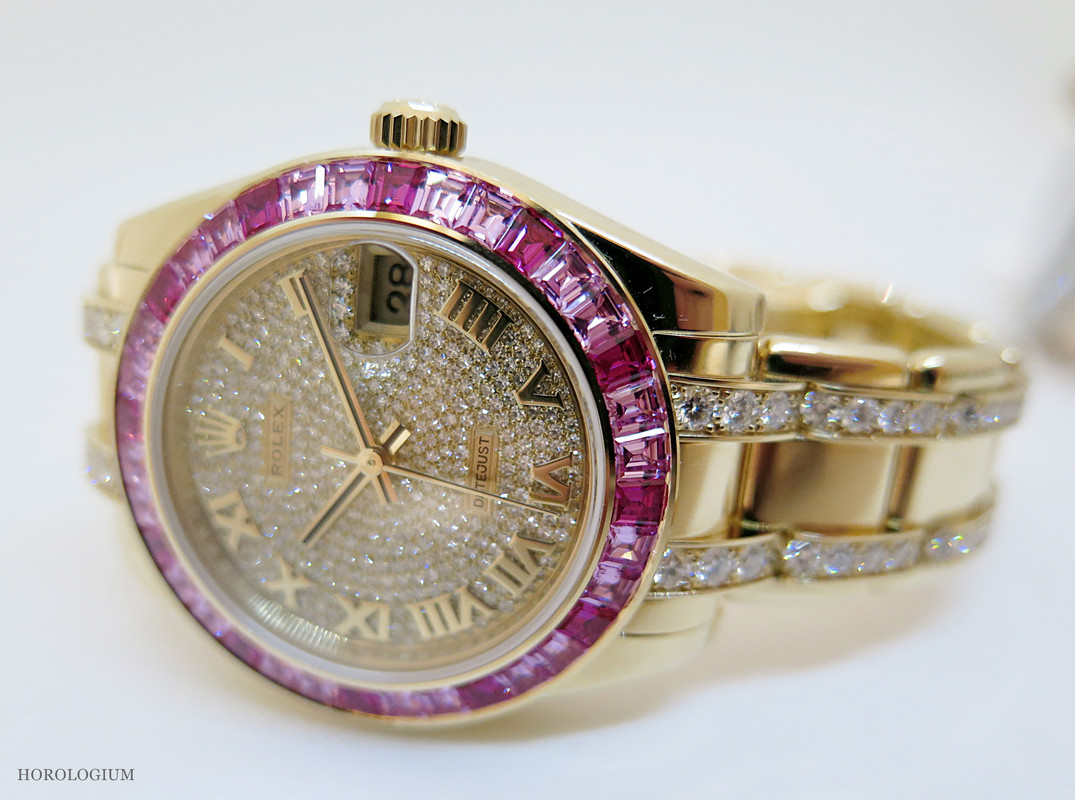 So we come to the 'unassuming' Datejust Pearlmaster 34 which features the Syloxi hairspring courtesy of the automatic Calibre 2236. It is available in 18 carat yellow, white, or Everose (TM) gold, with a number of precious stone options including diamonds, emeralds, sapphires and rubies.
The three shown here are amongst a number of options :
1. Yellow gold model with a bezel set with twelve baguette-cut pink sapphires and twenty-four baguette-cut light-pink sapphires. Its dial is 18 ct yellow gold paved with 455 diamonds, the hour markers and hands are 18 ct yellow gold appliqué. With this, you can have either an 18 ct yellow gold bracelet or an 18 ct yellow gold bracelet with 186 brilliant-cut diamonds, as per the photos in this post.
2. White gold model with a bezel set with with twelve baguette-cut blue sapphires and twenty-four baguette-cut light-blue sapphires. Its dial is 18 ct white gold, rhodium plated, and paved with 455 diamonds, hour markers and hands are 18 ct white gold appliqué. This is naturally also available with either an 18 ct white gold bracelet or one with 186 brilliant-cut diamonds if you're feeling fearless.
3. Rolex's trademarked Everose alloy model with an 18 ct white gold bezel set with thirty-two brilliant-cut diamonds. Its dial is 18 ct white gold, rhodium plated, paved with 455 diamonds, hour markers and hands are Everose appliqué. Bracelet-wise it's available in a choice of either 18 ct Everose gold or 18 ct white gold set with 186 briliant-cut diamonds.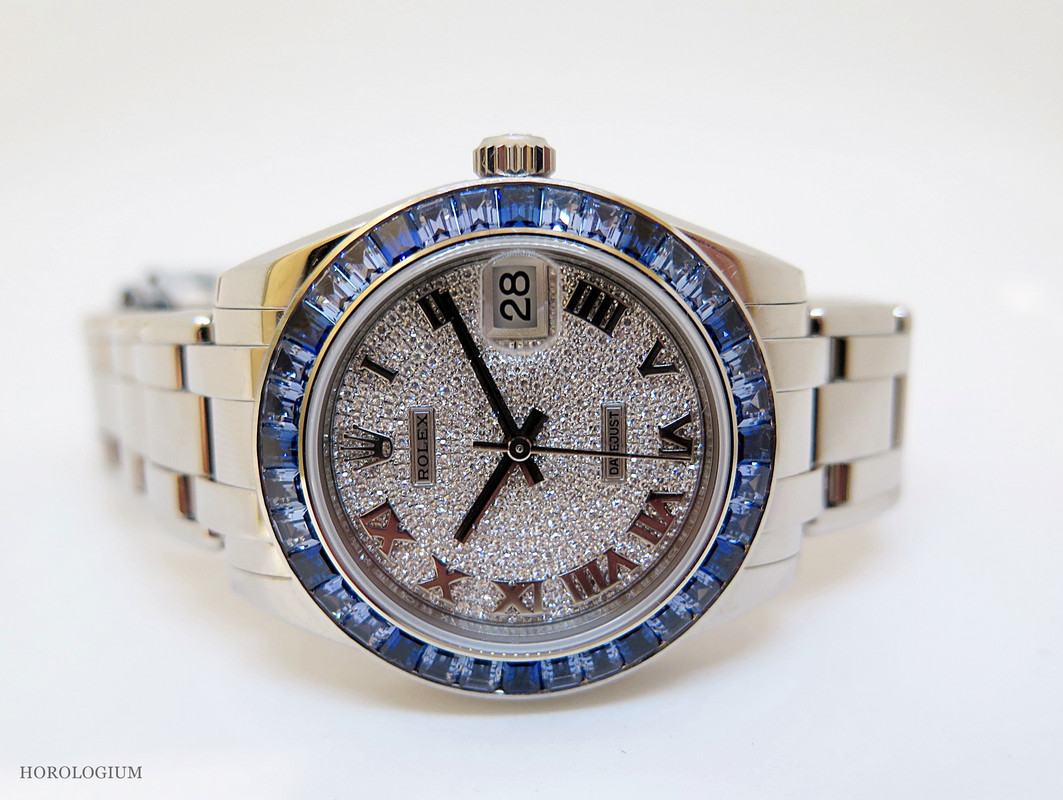 Not that most of those wearing these is likely to find themselves in this position, but their waterproofness is 100m.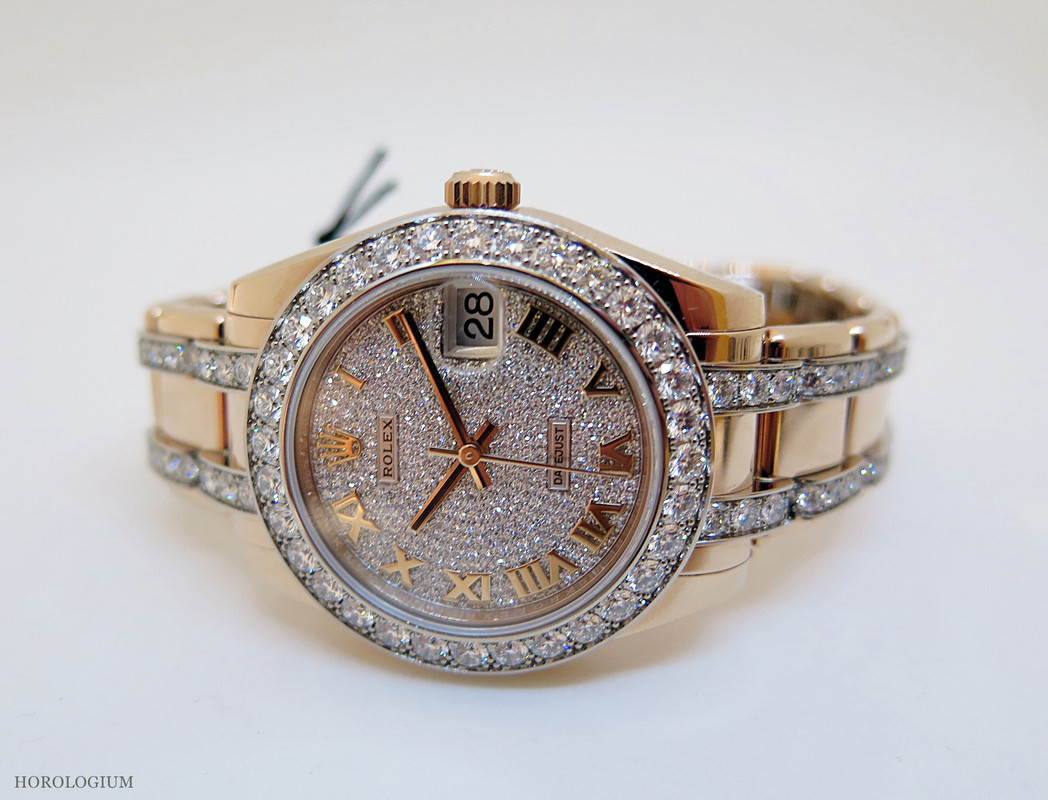 Would some have expected this innovation to have made its first appearance in a men's watch? Or if a women's watch, a more sedate model? Perhaps, but with four patents exclusive to Rolex and a fifth for the material itself shared with Patek Philippe and the Swatch Group, it will make its way into men's watches as well. In the meantime, Rolex movement geeks will have to be satisfied with these groundbreaking women's watches, which start at CHF 37,000 and go up to a hefty six figures depending on your watch/ bracelet combination.
ADDENDUM : with thanks to the watchnerd, who did some investigating, for those who are interested, this appears to be the Syloxi patent.
---
---
Categories: Baselworld 2014, Hands-on, Rolex, Technical, Watch movements, watches, Watchmaking