Enough people have carped the diem out of Konstantin Chaykin's new piece, the first wristwatch with a mechanical hourglass on the dial, so I won't bother to bore you with any similar thoughts. I'm not sure there's much left to 'carpe' on about anyway, in terms of musings about time, mortality and so forth.
This is no Marc Newson on your wrist. What it is, is an hourglass-designed retrograde minute display. If you look at it closely, you will see six small dots in the hourglass. Each of these represents ten minutes in any one hour cycle. As the glass 'fills up', you tell the time by reading the relevant dot marker. It mimics a real hourglass, with the sand descending from top to bottom as time passes, and once the bottom is 'full', it 'jumps' and refills the top again.
As it is in ten minute intervals, this is not a watch for those for whom knowing the time to the exact minute (or even five minutes) is vital, but despite the time and that it is a wristwatch, this is a timepiece that is less about the time and more about an amazing bit of horology.
Konstantin Chaykin's dial clearly has, in addition to the planetary references, other classical representations as well – 'Father Time' (Chronos) with his hand on the hourglass, and a skull at the bottom of the 'passage of time' (death comes to all). In terms of artistry, Chronos and the skull are hand-engraved and hand-carved rose gold and silver, there is blued steel for the sky (that is inlaid with eleven diamonds) and there is enamelling for the hour counter.
So what functions does this new watch have? Apart from the hour sub-dial with its blued hand and hourglass minutes, there is a day of the week indicator in a window at 3 o'clock. Sunday (sun), Monday (moon), Tuesday (Mars), Wednesday (Mercury), Thursday (Jupiter), Friday (Venus) and Saturday (Saturn) are indicated via their alchemical symbols. This classical system of planetary days of the week is also called 'seven planets of the ancients', and is of course based on the idea of there being planetary rulers for each day.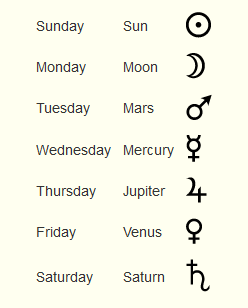 The movement in the watch is manually wound and known as the Konstantin Chaykin calibre K 01-4. It is the same base movement as Chaykin used for some of his previous watches, has gold chatons and gear wheels, and forty-six hours power reserve. That the movement is kept simple and not highly decorated is a good contrast to the dial – keep it simple, and the focus on the front. The movement itself is 38.6mm and 9mm thick but the watch, a hefty 45mm, although the engraved edges of the case and lugs soften this to some degree.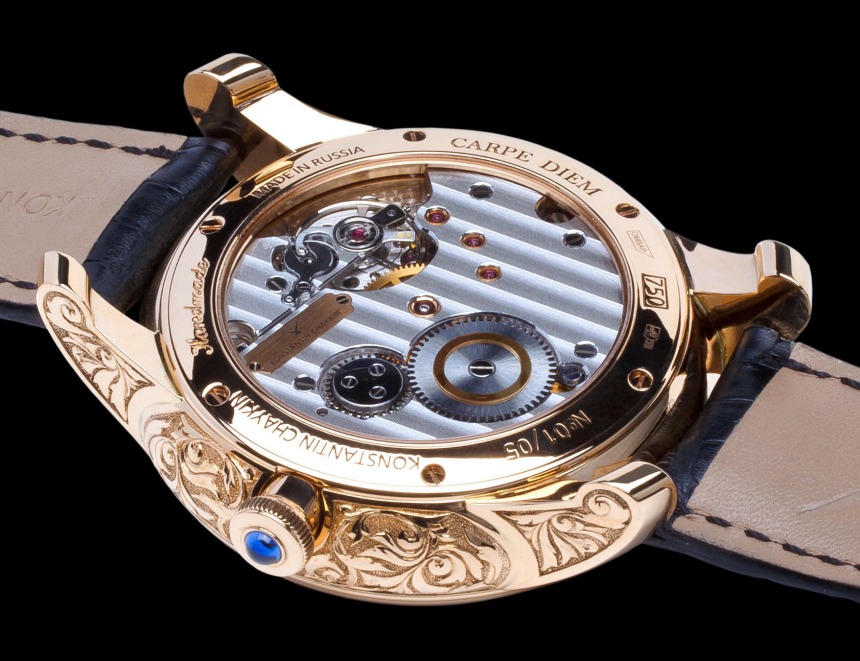 There will only be five of these made, at 60,000 EUR. A remarkable concept and realisation that keeps Konstantin Chaykin's name at the forefront of many minds, it needs a certain amount of chutzpah to pull it off, but if you have that confidence, email sales@chaykin.ru.
---
---
Categories: Baselworld 2014, Konstantin Chaykin, Limited Editions, Watch Profile, watches