One of the most intriguing watch launches in 2013 was surely that of the brand of Breva with its Genie 01, the world's first mechanical wristwatch showing not just the time, but acting as a portable mechanical weather station, with a barometric pressure reading.
Not content with one unusual mechanical timepiece/ measurement device, they have followed on with the Genie 02 Terre, a mechanical wristwatch altimeter. The first watch was about the weather, then this one is about altitude, and I had the opportunity to see it earlier this year in Geneva.
This 44.70 mm Genie 02 Terre comes in a black titanium G5 case, with an altimeter can measure up to 5000m/ 16,400 ft. The (manual winding) movement was developed by Jean-François Mojon of Chronode, who were also responsible for the movement in the Genie 01. The altitude is indicated in measurements of thousands of metres (up to 5,000m) at the top of the dial, and there is a precision altimeter sub-dial at 2 o'clock displaying meters (or feet). There is a 10m margin for the reading. For those used to imperial measurements, it is available in a non-metric version.
Atmospheric pressure changes with weather changes, and this can affect altitude readings. When bad weather approaches, air pressure can fall, causing the altimeter in the timepiece to confuse this decrease in pressure with an increase in altitude.
The air pressure is measured courtesy of a pair of aneroid capsules at 5 o'clock. In order to measure altitude, air pressure inside the watch has to be equalised (i.e. barometric compensation for the atmospheric changes mentioned above) by opening the valve in the case at four o'clock, and then calibrating the watch to a known altitude or air pressure.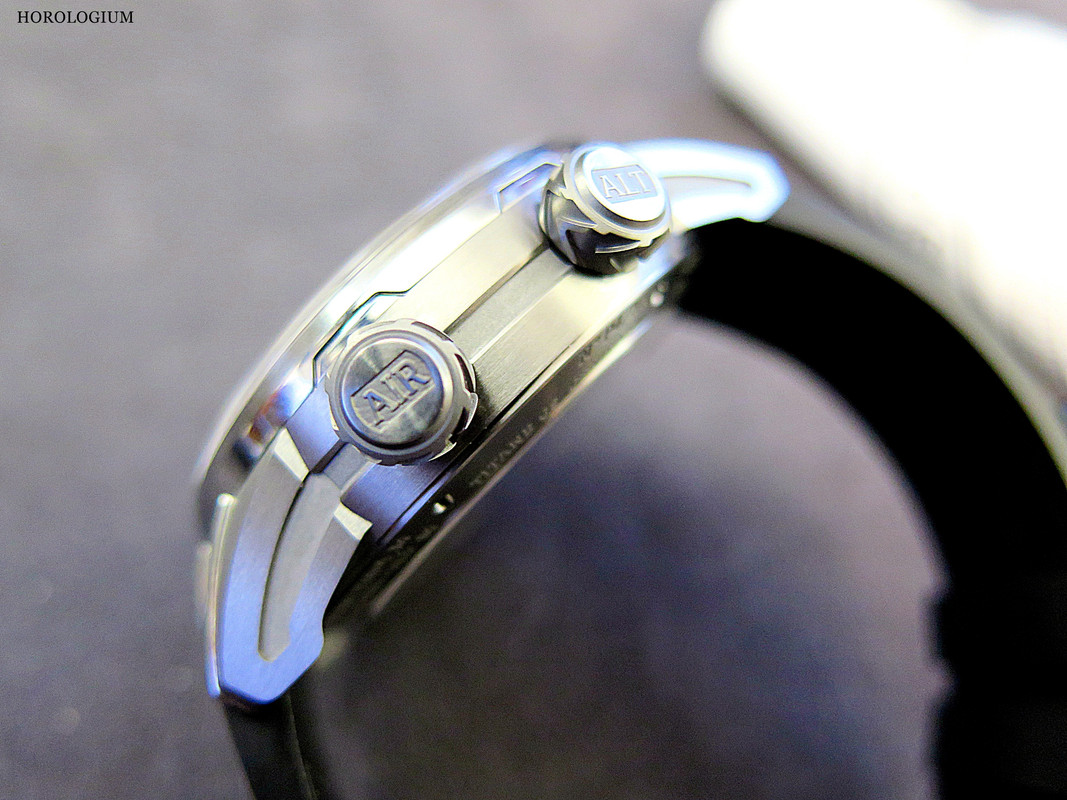 The two aneroid capsules are made from a special non-magnetic memory metal (a Breva-patented invention), lighter and stronger than aluminium. The Génie 02's capsules were developed specifically for registering air pressure for altitude readings. The use of a Teflon membrane allows air to get through and also filters out dust particles and moisture. The air that is let in powers the altimeter scale. The membrane will be checked if you take your Breva in for servicing, and you can leave it open so that the air can get through during, for example, skiing, and you can see the drop in the altimeter reading as you go downhill.
At 4 o'clock there is also an indicator for the status (open/ closed) of the air valve, which must be open to indicate the altitude. Below that is the 65-hour power reserve indicator. The time is shown on a sub-dial at 8 o'clock.
There are three chevron-engraved (for grip) crowns on the Genie 02 Terre.
At 9 o'clock, a two-position crown both winds the movement and sets the time.
At 2 o'clock, a screw-down crown rotates both the altitude's precision-scale and large-scale (i.e. an altitude corrector) to adjust for variations in air pressure, which affects altitude readings. The expansion and contraction of the capsules with changes in air pressure (an indicator of changes in altitude) is mechanically magnified 200 times and relayed to the two altimeter indications.
Finally, at 4 o'clock there is a screw down crown that seals air out of the movement or allows it in for the altitude function. In case of concerns about the status of the valve, just above the crown there is a white band on the dial marked "SEALED" warns when the valve is unlocked.
The Genie 02 Terre's 44.7mm case is 16.10mm thick case in black titanium G5 and comes on a rubber strap with titanium tang buckle. Despite its size it sits comfortably and very lightly on even small wrists, and does not feel too 'precious' to wear for its intended purposes, although admittedly not everyone would feel comfortable about wearing a six figure watch whilst skiing. The dial, featuring grained and galvanised nickel silver indexes and raised numbers with Super-LumiNova, is not confusing, and easy to read. The 02 Terre is in a limited edition of 55 pieces.
Breva is a small company that currently numbers eight, with two watchmakers. Their first watch, which I saw for the first time at the same time as this one, has shown itself to be more than a fleeting curiosity, with the brand following it up with the Terre (and now, as I write, a third model).
It can be difficult for a new brand to really stand out with a new watch, let alone more, but they have certainly done this. Shrinking a mechanical altimeter into a wristwatch is no mean feat. Breva's motto is all about the relationship between humans and their environment, and these are considered (albeit rather high-end) sports watches, intended to be used. In having them explained by the Breva team, they were shown to be practical to use, comfortable, very attractive, and really quite intriguing. This is a brand that is worth keeping an eye on.
---
---
Categories: Breva, Hands-on, Limited Editions, Switzerland, Watch movements, Watch Profile, watches