Having mused about starting with a series of avian pun for this post, I have decided to restrain myself and let today's two new Cartier Metier d'Art pieces speak for themselves. There is certainly a lot to crow about here.
This first piece from Cartier is the Floral Marquetry Parrot. In one of their most popular lines and case types, the Ballon Bleu, it is a 42mm 18k rhodium-plated white gold case with 124 brilliant-cut diamonds with a total of 1.80 carats. However, it is the dial that is our focus today.
With rhodium-plated 18 carat white gold and 18 carat pink gold used in the dial's base and sectioning, this new watch utilises the technique of marquetry, more commonly seen in wood (including on watches) but here, using rose petals that have been preserved, dyed, and affixed to a thin sliver of wood to assist in cutting of the desired shape before being layered together as plumage to create this macaw.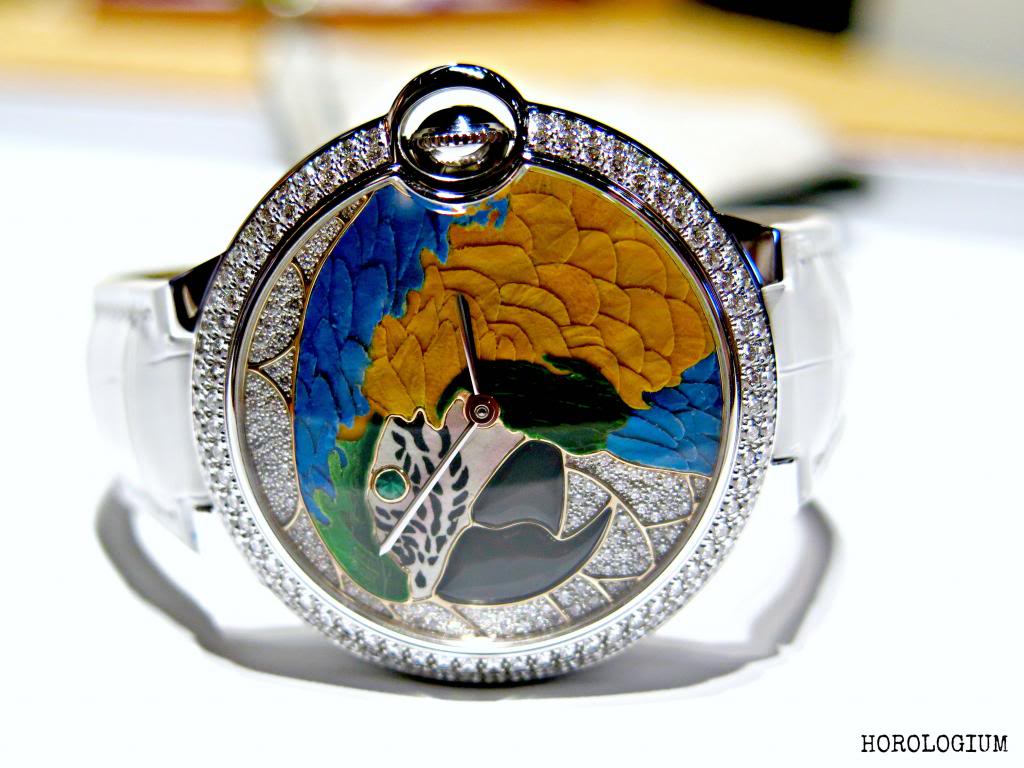 The skills are really quite extraordinary. Without being told that they are rose petals, one might never guess. The dyeing of the vivid blue, green and yellow is incredibly lifelike. In terms of non-floral elements, the bird's eye is emerald and the beak, onyx, and the black and off-white feathers surrounding the eye are actually painted onto the dial.
This glorious parrot comes on a white semi-matte alligator strap with a folding clasp in rhodium-plated 18k white gold, and set with forty-three diamonds. Inside is the automatic Calibre 049.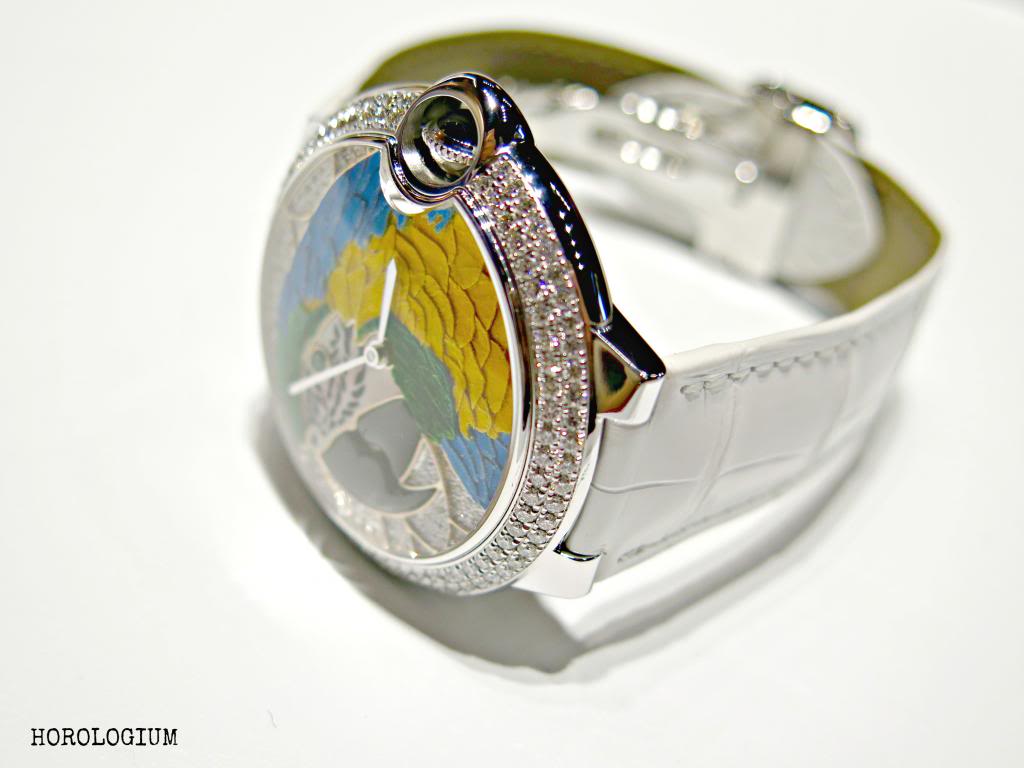 'In the metal', this is a very impressive and attention-grabbing piece. The diamonds on the bezel are almost easily forgotten, the eye is drawn to how realistic the plumage is, how vividly alive the bird is on your wrist. Of course, this being part of the Metiers d'Art line, it is a very exclusive piece, limited to 20 numbered pieces.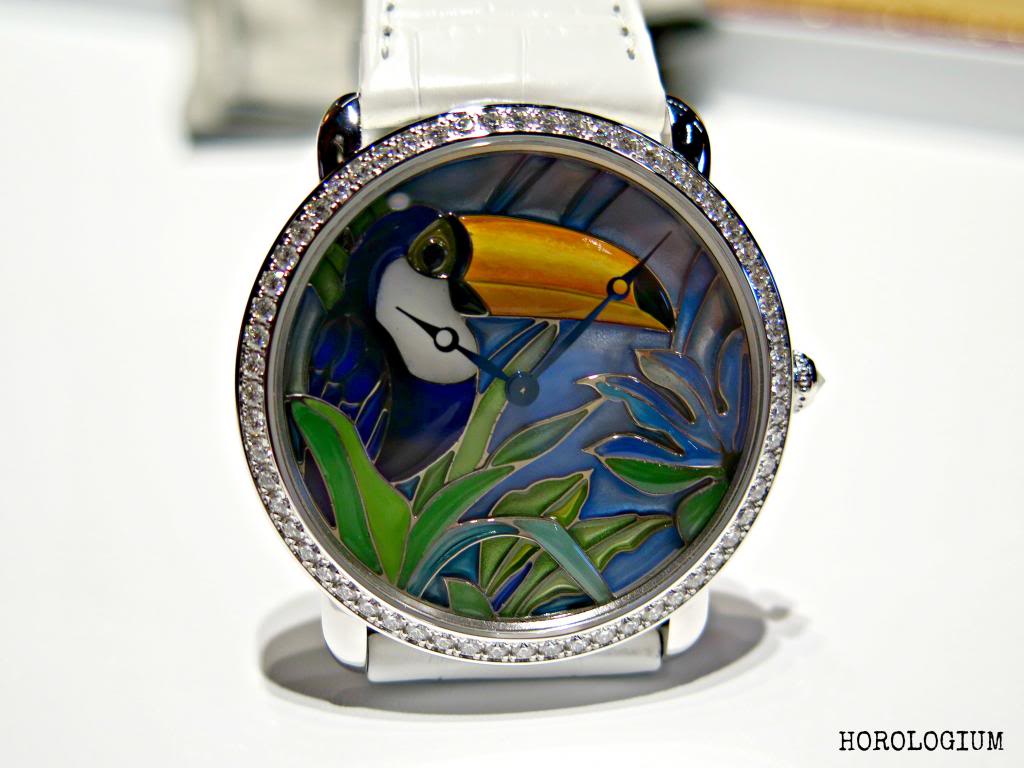 The second bird to be featured today is a Toucan. Also in an 18k white gold case with 60 brilliant-cut diamonds (total of 1.56 carats), this watch features enamelling work and mother-of-pearl to create three different levels of bird and surroundings. The enamelling is done by the craftsman/ woman assembling a gold framework/ sectioning, and then adding three layers of enamel plates of differing thickness. Thus when the light plays on these three superimposed plates, depending on the angle at which you look at the dial, the Toucan seems less of a two-dimensional creature. This is a more whimsical piece than the previous one, the Toucan almost looks slightly perturbed.
To match the blues of the dial, the hands are in blued steel. Inside is the manual wind Calibre 430 MC.
As is the case with the Metiers d'Art Parrot, this comes ln a semi-matte semi-matte white alligator strap with an adjustable 18k rhodium-plated white gold folding buckle set with 43 brilliant-cut diamonds (0.42 carats), and is in a limited edition of ten pieces.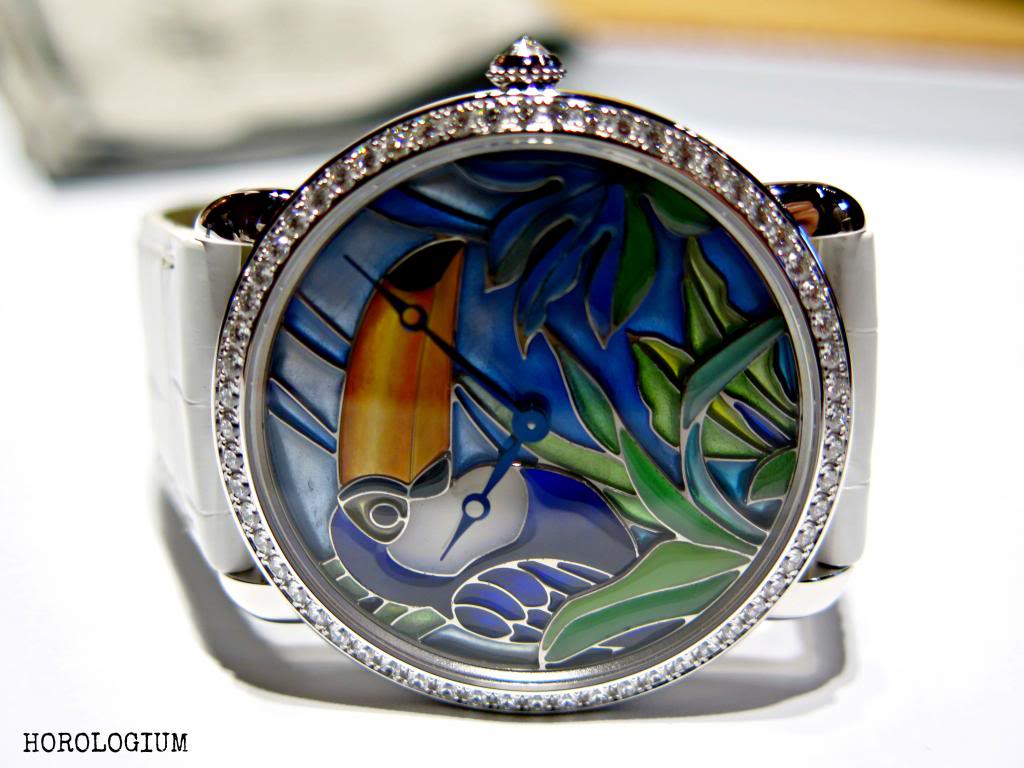 When it comes to Cartier's new releases, a lot of the focus is on their pieces with broad appeal, or some of their haute horlogerie pieces, it is often too easy to forget to look out for what interesting things they have decided to do artistically with their dials using their in-house artisans. They have a fondness for depicting birds and beasts, and this is one of their strengths, so come next year, keep an eye out.
---
---
Categories: Cartier, Hands-on, Limited Editions, SIHH 2014, Switzerland, Watch Profile, watches, Watchmaking, Women's watches