Launched in 2002 as a 30th anniversary tribute to the Royal Oak, Audemars Piguet Royal Oak Concept watches like to skirt a line between serious horology and boundary pushing fun for the popular Royal Oak design. The 2014 version launched at SIHH in white ceramic continues this theme.
The new 44mm Royal Oak Concept GMT Tourbillon has a case with a titanium middle with white ceramic bezel, crown, pushers, and central bridge, and comes on a white rubber strap with a titanium folding clasp. As well as the bezel being ceramic, so too is the machined upper bridge. With a nearly ten day power reserve, the Calibre 2930 movement features a tourbillon at 9 o'clock and a 24 hour GMT display with day/ night indicator at 3 o'clock that completes a turn in 24 hours and has two colours, white part indicating daytime and black, night.
According to Audemars Piguet, the ceramic it uses is nine times harder than steal and is so hard that it takes diamond-tipped machine tools eight hours to make a single bezel (versus 45 minutes for steel), which also attests to its scratch proof properties.
The GMT second time-zone display is adjusted using the pusher at 4 o'clock (one press adjusts the time by one hour). The indication of the second time-zone, based on 12 hours, comprises of two superimposed discs. The first, with the figures, completes one turn in 12 hours. The second is the day/ night indicator as mentioned previously.
Another practical indicator is a crown position indicator at 6 o'clock – 'H' indicates that the time is being set, 'N' indicates a neutral position, and 'R' shows that the crown/ stem are in a winding position. The crown is screw-down.
The movement consists of 291 parts, 85 of which are found in the tourbillon cage, which weighs only 0.45 of a gram and takes one watchmaker three days to assemble one movement.
The black version of the Royal Oak Concept GMT Tourbillon from 2011 can be seen below. In a titanium case with black ceramic bezel, Instead of ceramic, the upper bridge was blackened aluminium.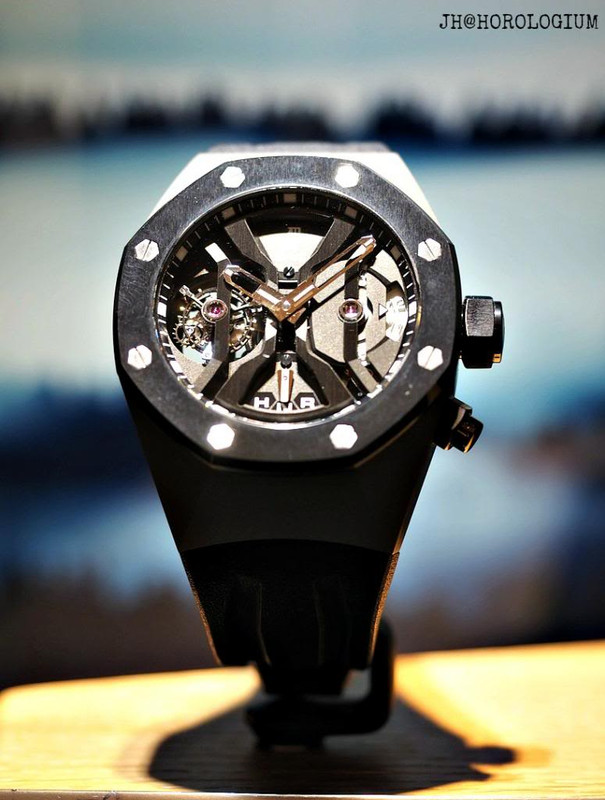 The combination of ceramic and titanium make this a pretty lightweight watch, especially as bulky Royal Oaks go, and as you can see, it sits easily on the wrist. The open worked dial, with the white contrasts, is informal and sporty. This watch is for fans of white watches and Royal Oak. White watches tend to have a marked wrist presence and this one is no exception. It is not a watch for those seeking a discreet sports watch but for those confident enough to pull it off.
---
---
Categories: Audemars Piguet, GMT/ dual/ worldtimer, SIHH 2014, watches