Breguet's women's watches do incredibly well, and the collection that dominates the 21st century image of their female-oriented pieces are those named for and inspired by, Caroline Murat, amongst whose titles were the Reine de Naples. These ovoid-shaped cases have become so distinctive that they are immediately recognisable even without the necessity of any overt identifiers. In many ways it is actually quite fascinating that a collection named for someone who was such a good client centuries ago that even today she is deemed to have been an important patron of the brand, with no less than thirty-four clocks and watches purchased between 1808 and 1814.
The commissioned piece after which the Breguet Reine de Naples is named was delivered in 1812 and bold in both design and function – an ultra thin repeating watch, oblong in shape, equipped with a thermometer and mounted on a wristlet of hair entwined with gold thread.
This newest Reine de Naples 8918 adds a grand feu enamel dial to the collection family, with highly stylised Breguet Arabic numerals, the signature, and "émaillé Grand Feu" in a soft blue enamel. All of these are matched to the blued steel Breguet hands. At six o'clock, in keeping with the shape of the case, is a pear-shaped diamond (0.08 carats).
The 18kt white gold oval case measures 36.5mm x 28.5mm x 10mm and features the classic Breguet fluted case band, a bezel and flange set with 117 diamonds (0.99 carats), and a crown set with a briolette-cut diamond (0.26) carats. It is water resistant to 30m.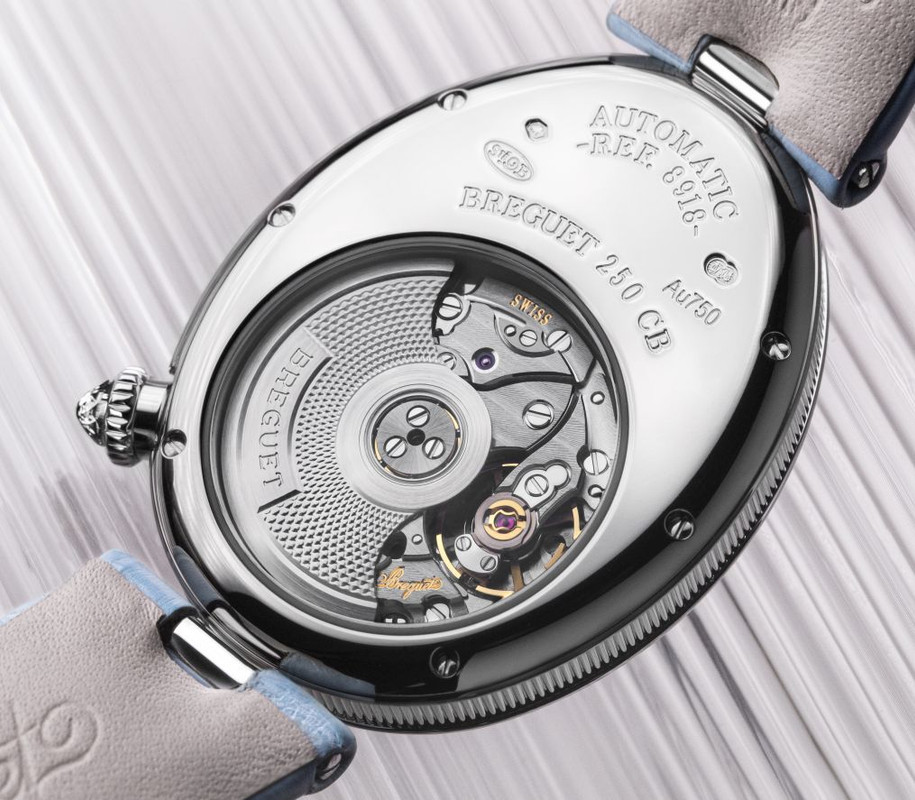 Inside is the automatic in-house Calibre 537/3, beating at 21,600 VPH and with a power reserve of 45 hours.
Coming on a blue alligator leather strap with an 18kt white gold triple folding buckle set with 28 diamonds (0.17 carats), this s an elegant looking new watch and begs the question of why they didn't attempt a grand feu enamel dial earlier, but it's here now.
Two recent posts on Horologium veered off into slightly tangential topics. In the case of the Skadi from GoS it was a short dive into some Norse mythology and the Bluetooth which people now take for granted on their phones and other electronic devices. For the Excalibur Diabolus in Machine from Roger Dubuis, it was the famed Codex Gigas, also known as 'Devil's Bible' because of a full page portrait of the Devil, and the legend surrounding its creation.
For this (and in fact all Reine de Naples pieces) there is a somewhat less digressive bit of family trivia in the form of one of Caroline Murat (Bonaparte) the Queen of Naples' descendants. It involves a well-known actor who was perhaps most broadly known for playing the part of Odo in 'Star Trek: Deep Space Nine', but for whom children of a certain generation, like myself, may have first seen on a sitcom called 'Benson'.
René Murat Auberjonois (1940 – 2019) was an American actor whose father was journalist and Pulitzer Prize-nominated writer Fernand Auberjonois and mother, Laure Louise Napoléone Eugénie Caroline Murat. His grandfather was Swiss post-Impressionist painter René Victor Auberjonois. The link to the Queen of Naples is that his great-great-great-maternal grandfather was French (Napoleonic) Marshal Joachim Murat, who married Caroline Bonaparte.
Joachim Murat received his titles both for his services to France and in part by being Napoleon I's brother-in-law. The Kingdom of Naples, which lasted from 1806 to 1815 with the fall of the Napoleonic Empire, was created in 1806 by Napoleon I after the ousting of the region's rulers during a military campaign. Joseph, the elder brother of Napoleon I, had been the first regent to be installed in this position, but after he was made King of Spain in 1808, Napoleon I appointed Joachim Murat to replace him. It all ended with the Neapolitan War between the Kingdom of Naples and the Austrian Empire after King Joachim Murat declared war, ended up on the losing side, and paid a heavy price. The Bourbon Ferdinand IV was reinstated as the King of Naples and Sicily.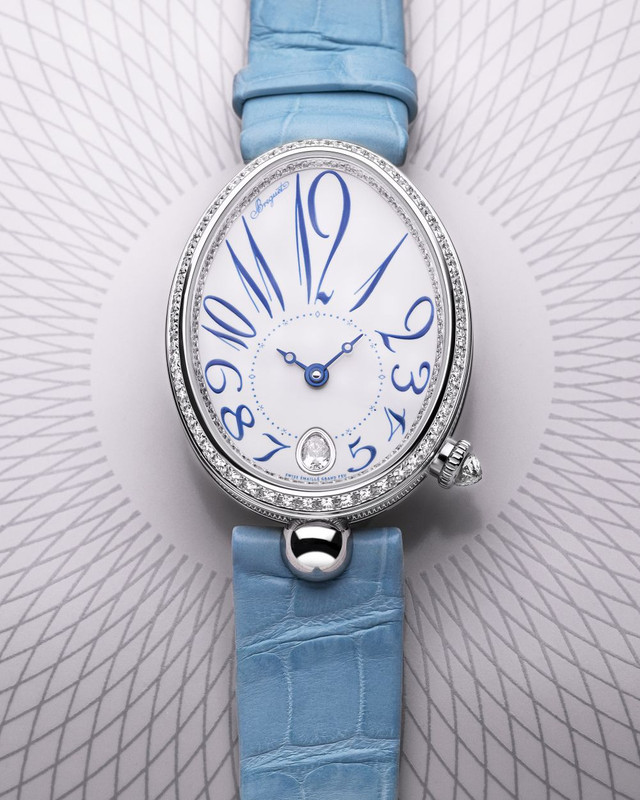 Caroline as the Queen of Naples was regent when her husband was absent, and this included during the Russian Campaign of the Napoleonic Wars (1803 – 1815) when her husband was given command of the cavalry – the time during which the original watch from which the modern Reine de Naples derives, was delivered. With the sheer number of timepieces that she bought, given the period in which this happened, it's no surprise that even Breguet's page on her acknowledges how critical her patronage was for the firm's survival.
[Photo credit: Breguet]
---
---
Categories: Breguet, Watch Profile, Women's watches