Today's post is about a watch that took me by surprise. After a fleeting opportunity to see the movement (sans the case) earlier this year and then some effort on the part of partner site #thewatchnerd, we had to opportunity to look at the new Fabergé Visionnaire DTZ (double time zone) at their London boutique.
This is a watch that required some self-examination, but after having spent some time with it, I have come to the view that it is also one of my favourite releases to date from 2016. Had you told me last year that one of the watches I'd like most this year was to be from Fabergé, I'd have probably looked at you quizzically, but I shall explain.
Some of you may recall a recent post on their Lady Compliquée Winter but for those who don't, a quick recap, which also explains how I have developed an admiration of what Fabergé is doing. I realise that I may be a bit slow to this, but the fault is entirely mine, for not managing to look properly past the dazzle of the dials until recently.
There have been some movements within the brand name in recent history, but Fabergé is now owned by Gemfields. Eggs, objet d'art and jewellery may be what they have been most famed for, but Fabergé have been quietly (by watch standards) but firmly indicating their seriousness about investing in watches over the past few years with the help of partners in the form of APRP (Audemars Piguet Renaud et Papi) and Agenhor/ Jean-Marc Wiederrecht. As they told us during our visit to their boutique, it is important to them to partner with the best people they can to create the sorts of watches that they want.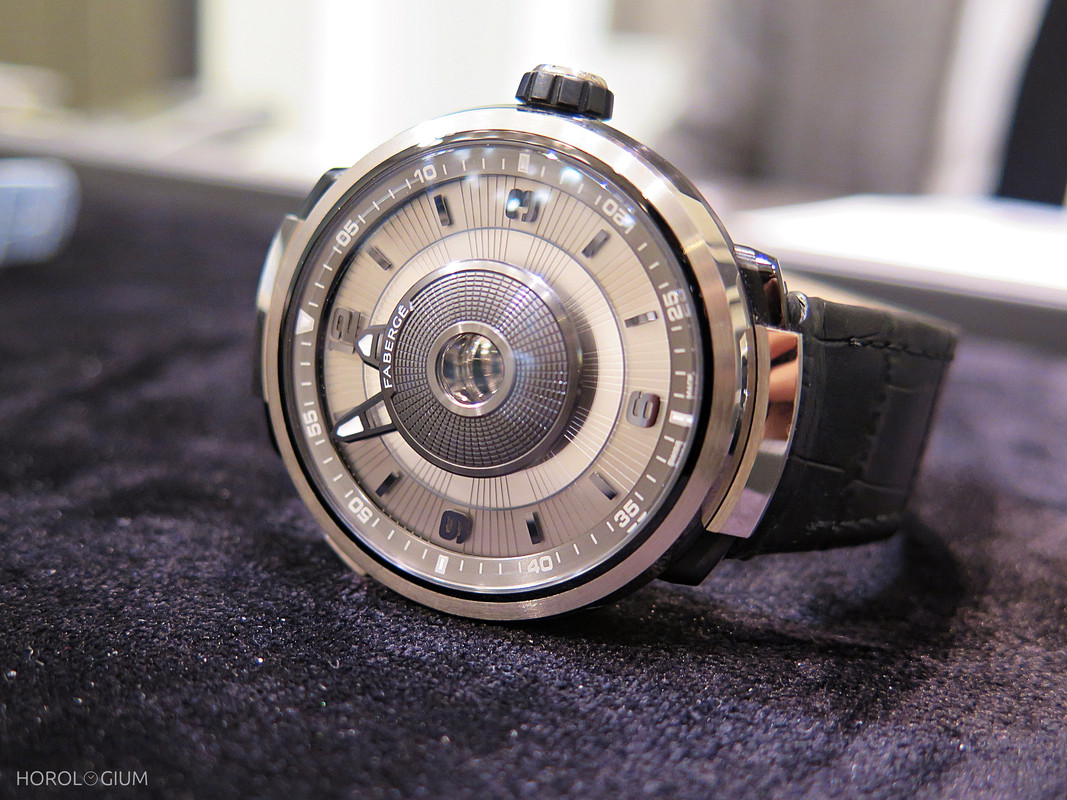 It is no small thing to have your movements by Agenhor (or APRP), and investing in a relationship with them in and of itself means that those with even a passing interest in watches should take notice. The domination of men's watches (of which today's post is one, although I prefer to see it, as I do most watches, as unisex) means that as #thewatchnerd has recently mentioned in posts covering the inaugural Eve's Watch Awards and Fabergé, genuinely interesting women's watches that are doing something innovative, using new movements, realising complications in interesting ways etc, seem to fall by the wayside as the bulk of the watch public glance over them because they're labelled as women's watches.
Agenhor has come up with new movements for women's and men's watches for Fabergé, and the DTZ, in a year of many dual and world timers click here for other examples), has got to be one of the most unexpected ones. Released at Baselworld 2016, it comes in rose gold and titanium or white gold and black.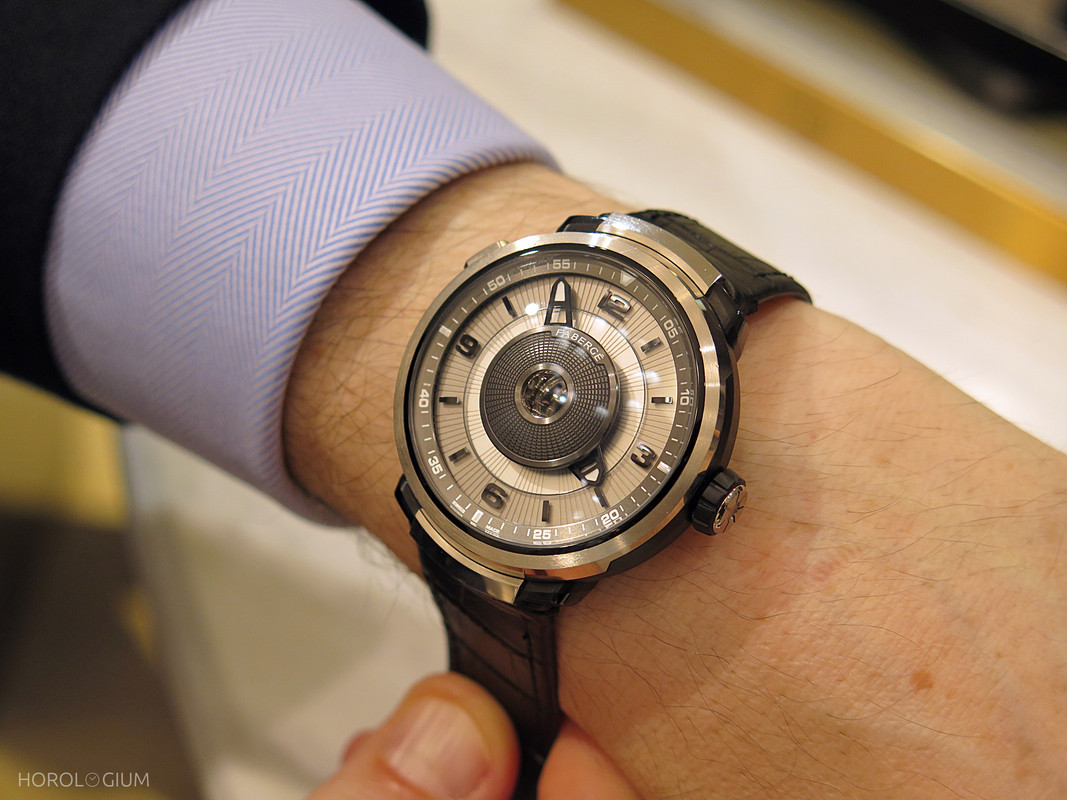 The case is a comfortable 43mm with a domed AR-coated sapphire crystal which protects a multi-layered dial in white-treated opaline with gilded hands or black-treated opaline with black-treated German silver hands. Hands and the 15-minute markers are lumed.
Now what is really special about the Visionnaire DTZ is how it displays the second time zone in a 24-hour format (a 24-hour disc) via a central jumping digital display that is magnified to a large visible size. If you look at it from the side you will see exactly how many layers there are to this watch and appreciate even more how this has been done. The magnification of the digital second time zone has been achieved by maximising the distance between the 24-hour disc and the magnifier. I only realised after having looked at my photos that somehow, I was concentrating so much on angles that I did not capture the second time zone number in any of them, so for that I apologise, but trust me on the magnification and readability when you look at the watch directly from above.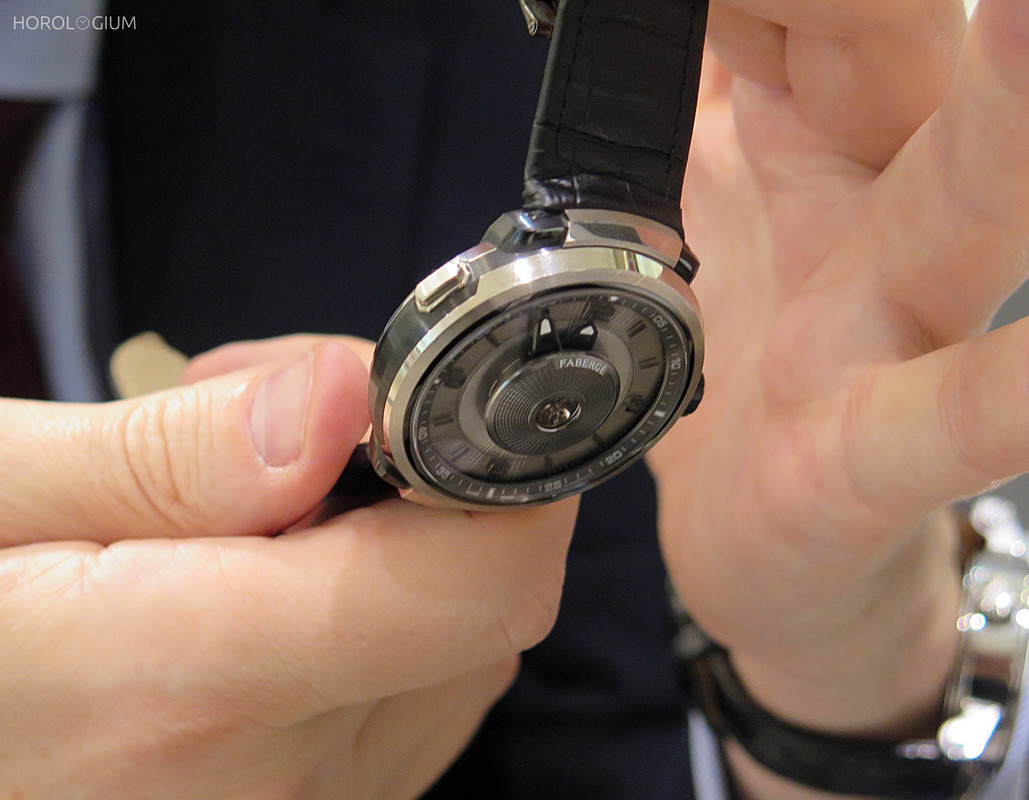 What is driving this is a new automatic AGH Calibre 6924 with 21,600 VPH and a power reserve of fifty hours. It has a circular-grained main plate, Cotes de Genève and chamfered finishing. What is worth noting in terms of future options is is that this movement has been created so that modules will be able to be slotted into its centre. In this instance it is the second time zone, but who knows what might come next?
The white disc on top is actually the rotor. The hour numerals for the second time zone are hand-painted onto a sapphire crystal disc, which you can see through the open case back.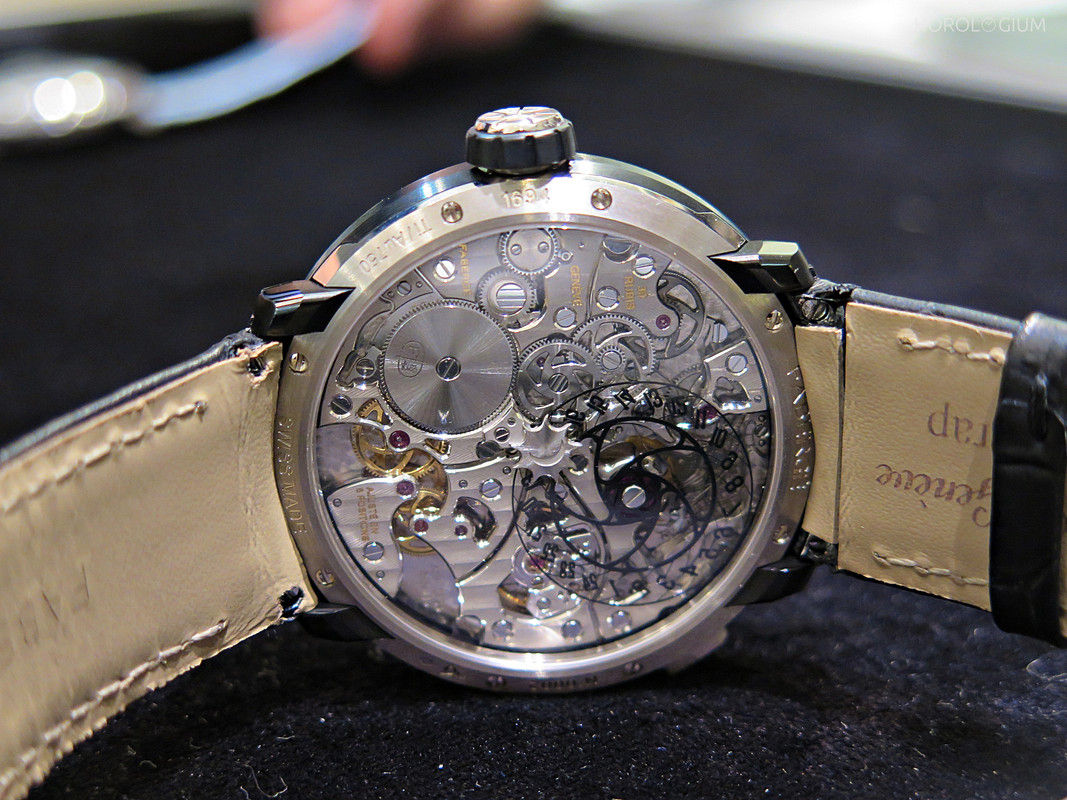 During our visit something was pointed out to us that was basically impossible for us to see at a glance but that is of note. There is a peacock. Said peacock is the stylised realisation of the part that activates the digital second time zone jump hour. You may know that the peacock is a theme for the house of Fabergé, so this is a rather lovely hidden touch. It's a hint of playfulness that is almost diametrically at odds with the overall very modern feel of the watch and, in a personal note, something that increases its appeal for me.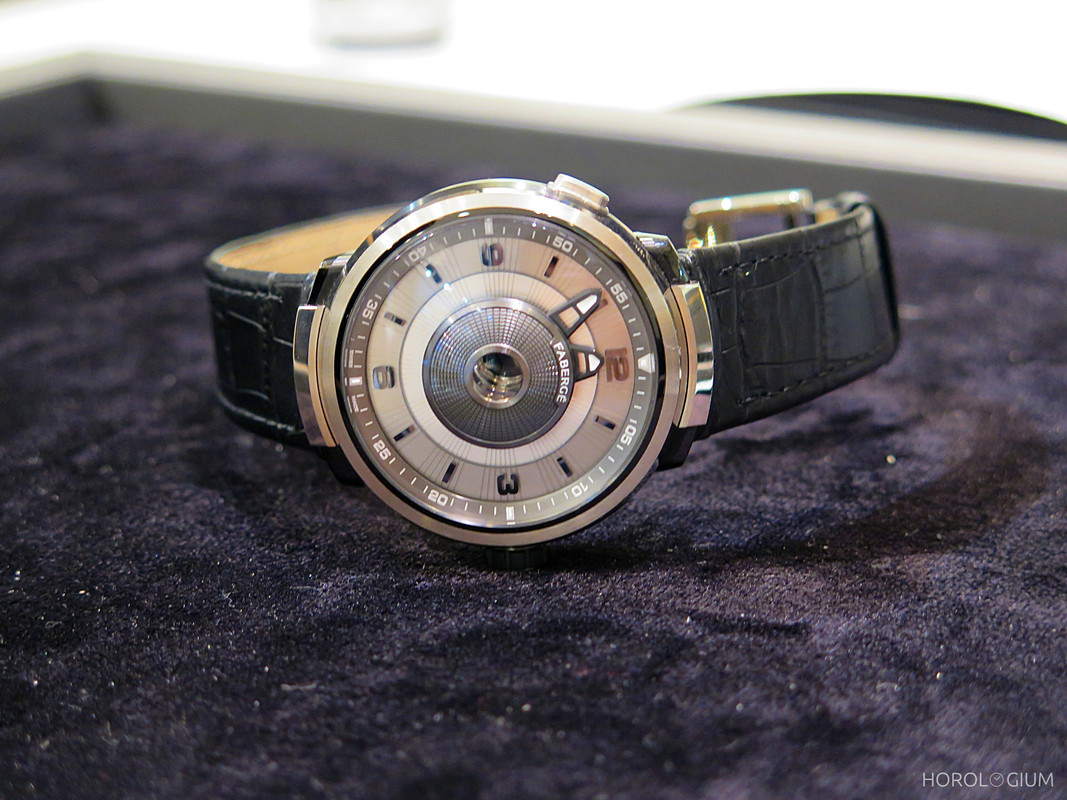 I noted at the outset that this is one of my favourite releases for this year. Why? It's the combination of factors – the aesthetics, the use of a jumping hour, the innovation, Agenhor, at-a-glance legibility of the second time zone indicator and yes, the hidden peacock.
I admit that historically, I am one of those (and there are too many of us) for whom a watch from a brand not known for watches seems to require an additional level of contemplation.
Of the many things I have learned about the watch world over the last few years, and Fabergé is the latest brand to teach me, is that it is only by setting aside any preconceptions regarding a brand that is strong in one area (usually jewellery) going into another (watches) that I can learn, recognise, and appreciate, that there is some deadset serious watchmaking going on that is well worth investigating and admiring.
In a rather happy coincidence of timing the Visionnaire DTZ has just won the 'travel watch' category at the GPHG 2016 awards, so I extend my congratulations to them. For the full list of prize winners click here
---
---
Categories: Baselworld 2016, Fabergé, GMT/ dual/ worldtimer, Hands-on, Watch movements, Watch Profile, watches, Women's watches