With the arrival of Australia and New Zealand's first brand manager for Zenith also came the offer to test drive a few models. As expected, we jumped at the opportunity. Perhaps not so expected, we have not restricted ourself to men's (and un-gendered, but that is for a later post) models. We endeavour to cover men's/ women's and uncategorised watches, but this first Zenith 'on the wrist' is for a women-oriented piece.
Meet the Elite Ultra Thin Lady Moonphase.
THE WATCH
In a 33mm stainless steel case set with a diamond bezel and mother-of-pearl dial, this is one variant of the Ultra Thin Lady Moonphase line. The mother-of-pearl dial gives it more 'lift' than the plain dialled relatives, and the bezel's diamonds are petite and thus not too overt for those who want a small sparkle but to still be discreet. The use of eleven diamonds on the dial – having thought about this for a bit I still think that for some people, there's a case for plain markers instead. The overall effect of the dial (and the watch), however, is attractive.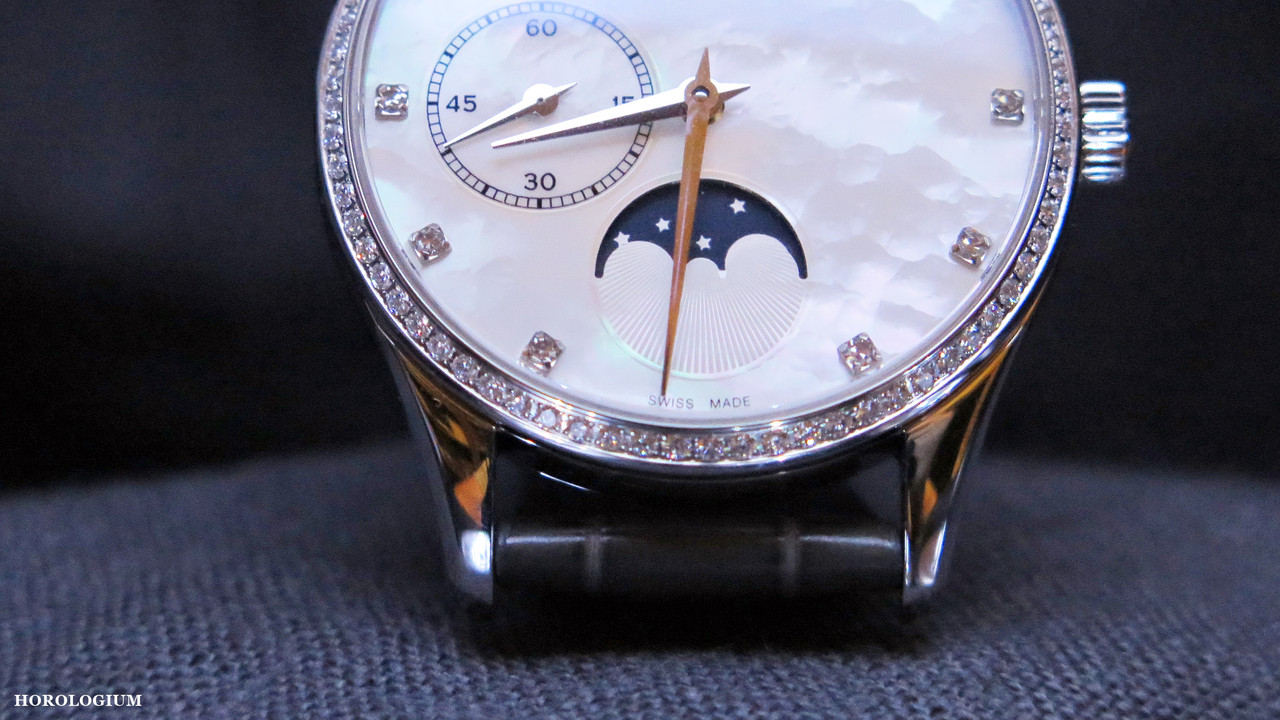 The hands are rhodium-plated and faceted, giving them a nice flickering sparkle under light.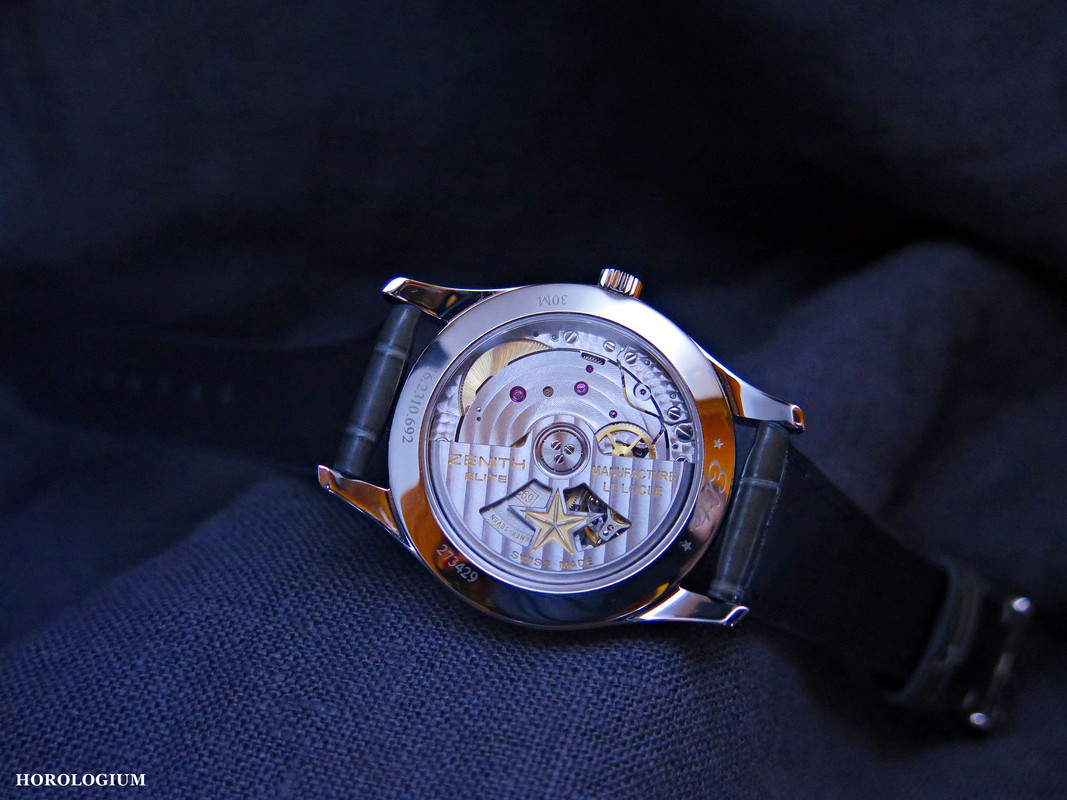 Perhaps above all else, the thing for which Zenith is most renowned is its movements. The El Primero obviously, but it is always good to see women's watches not being neglected on the movement front (translation : mechanical). Inside this watch is the automatic Elite Calibre 692, which is visible through the case back. At 28,800 VPH, it has a power reserve of fifty hours.
Strap-wise it comes on a shiny grey alligator strap with a rubber lining, something that is actually really useful for warmer climes or months. It is also available on a bracelet.
ON THE WRIST
This was worn on and off over the course of a few weeks, trialled both on a very petite wrist and on a female wrist that is more accustomed to men's watches.
As a challenge, it was worn primarily during the day. I use the word 'challenge' because the women concerned are not just unaccustomed to wearing watches with stones but also because they are by default even less inclined to wear them as a daily watch (as opposed to an evening watch), preferring something a bit more low key.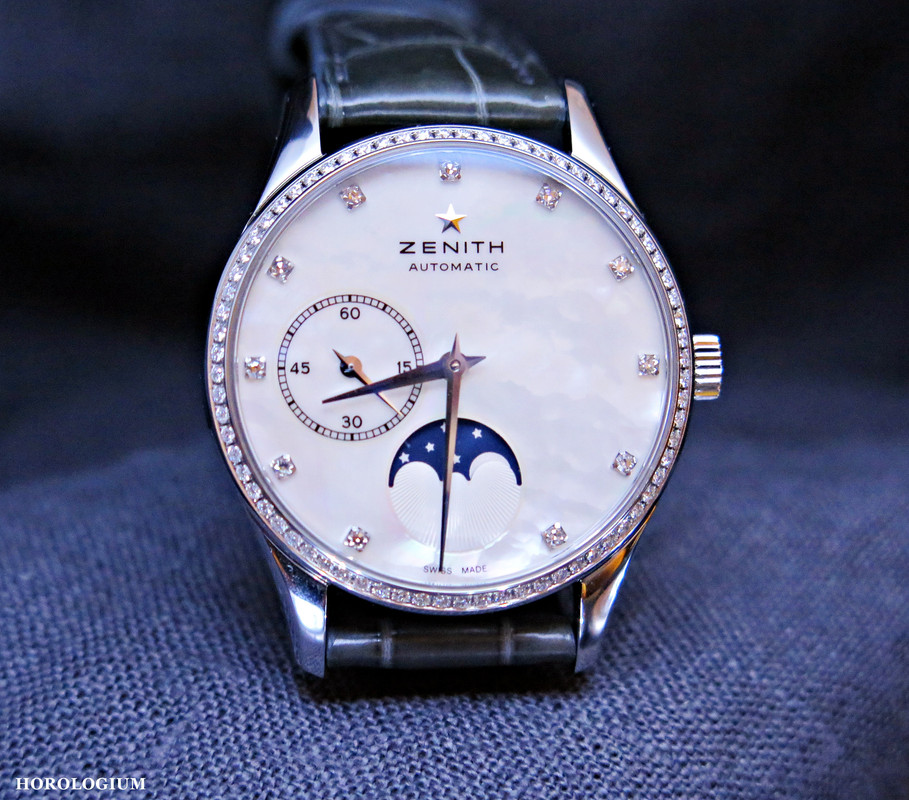 What happened was interesting, and an example of how habit normalises even a diamond bezel watch.
This is not a watch with large diamonds in the bezel, and in that sense it does not stand out overly, for those who want something with no precious stones during the day time. This means that to wear, you can get used to it pretty quickly, forgetting that you have diamonds on your wrist. In that sense it can work as a daily watch for some women, just as it can work as a transitional work/ evening watch, or just for evenings.
It wears lightly and comfortably; the strap is shiny but not overly so (and I mention this because there are some Zenith straps that perhaps could be slightly more muted), and the grey strap on this particular piece suited it very well. The strap colour choice in this instance gave the watch more flexibility in terms of transitional dressing, but you could easily change its looks with a brighter bolder colour. The dial is a neutral enough one that there are many strap colour options that would go with it. As for the dial layout itself, it's clear and legible, the seconds sub dial is decently sized, and the use of mother-of-pearl, which shimmers nicely in the light, will be appealing not just to those who like its use but also to those who want a simple dial from a function perspective but who want something a bit more from a white dial.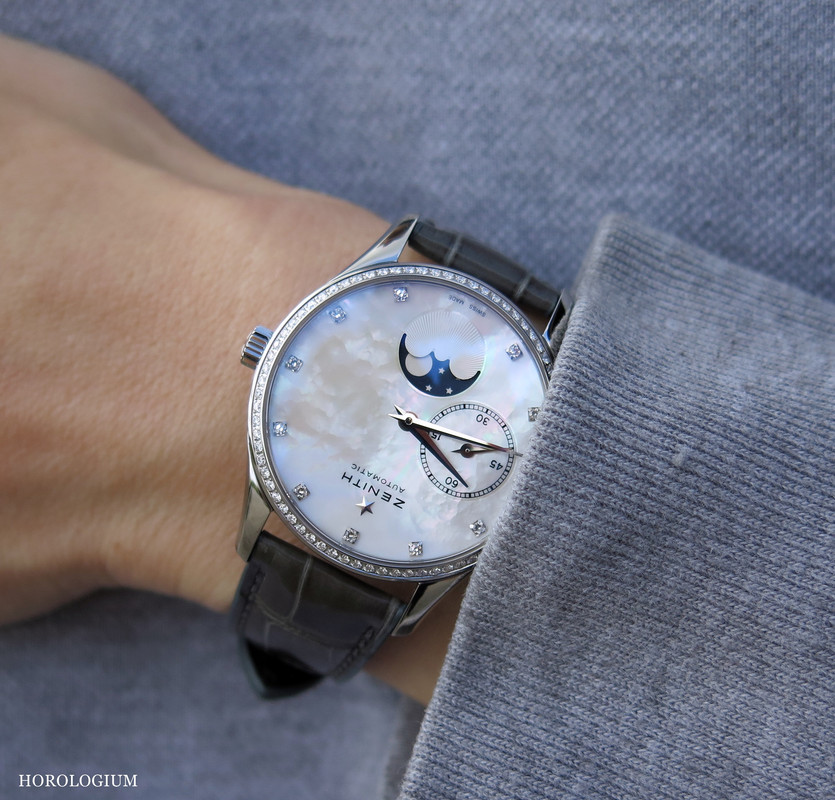 Size-wise/ lug-wise it sat nicely on both the wrists on which it was trialled, with the wrist used to wearing men's/ larger watches not finding 33mm too small despite a size preference of 36mm-41mm watches. As mentioned above, it's interesting how quickly a wrist can get used to something new.
If there's one thing I would change about this piece it's to take away the diamond markers (which are quite close to the bezel, but I actually think that this works better than if they were more towards the centre) to give it an even cleaner look, but this is a matter of personal preference.
The Zenith Elite Ultra Thin Lady Moonphase has an Australian RRP of $11,200 on a strap and for those who like bracelets, $11,800.
---
---
Categories: Hands-on, On the wrist, Sydney, watches, Women's watches, Zenith