As this point, Australia is not a market with a Piaget boutique, and thus it is difficult for locals to be able to see some of their more complicated and 'haute' pieces, although there is obviously nothing stopping someone from placing an order for one.
A little while ago Piaget Australia brought in a group of some of the brand's higher-end pieces including boutique-only editions on a short travelling tour, as it were, and Horologium had the chance to see them in Sydney at The Hour Glass.
Today we bring you the first of a few of the pieces that we saw – the Gouverneur Tourbillon.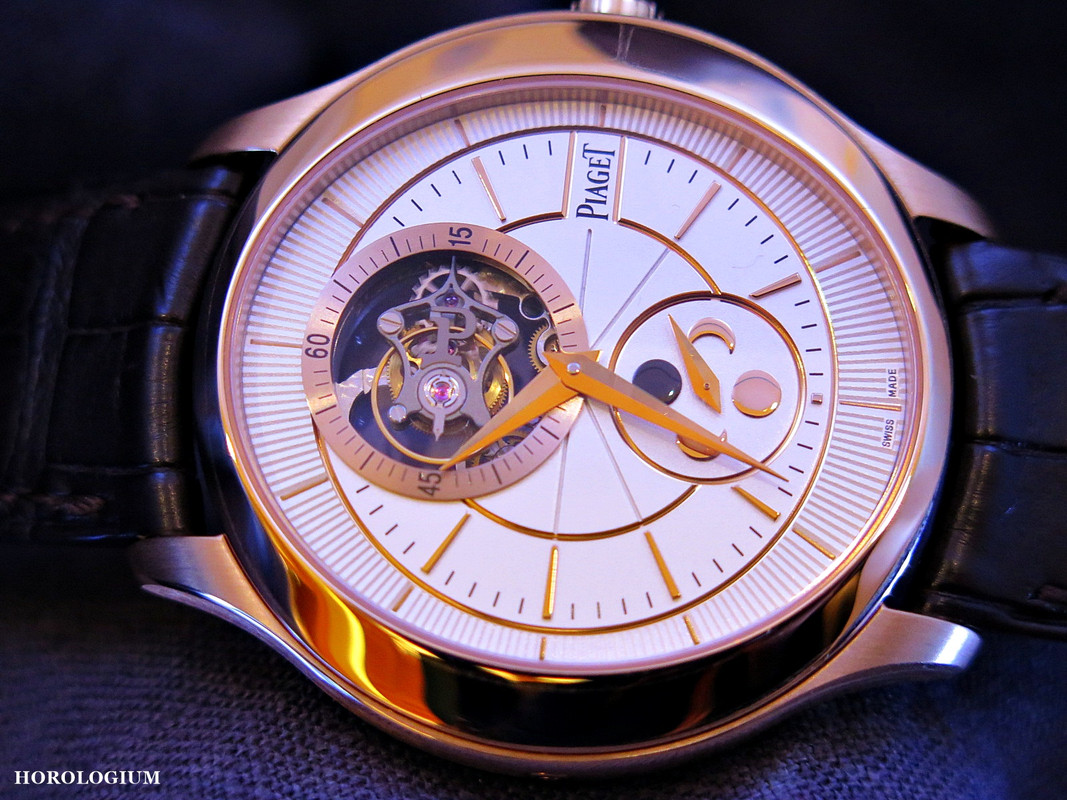 Launched at SIHH 2012, it formed part of a re-launched Gouverneur collection, and with a then record-breakingly thin (3mm) tourbillon movement. To some degree you can see the retro roots in the shape of the case, even if it is different to its original form, with the combination of round (case) and oval (bezel) lines, but at 43mm it is very much a size of its time. The very dressy feel of it is in no small part due to the case styling but of course the svelte lines also form an important part of this. It is a mere 9.2mm thick.
An 18 carat pink-gold case frames the silver-plated guilloché sunburst motif dial, with delicate gold threads, pink-gold markers, and matching pink gold moons on the moon phase at 6 o'clock. At 12 o'clock is a one-minute flying tourbillon with a 'P' for 'Piaget'.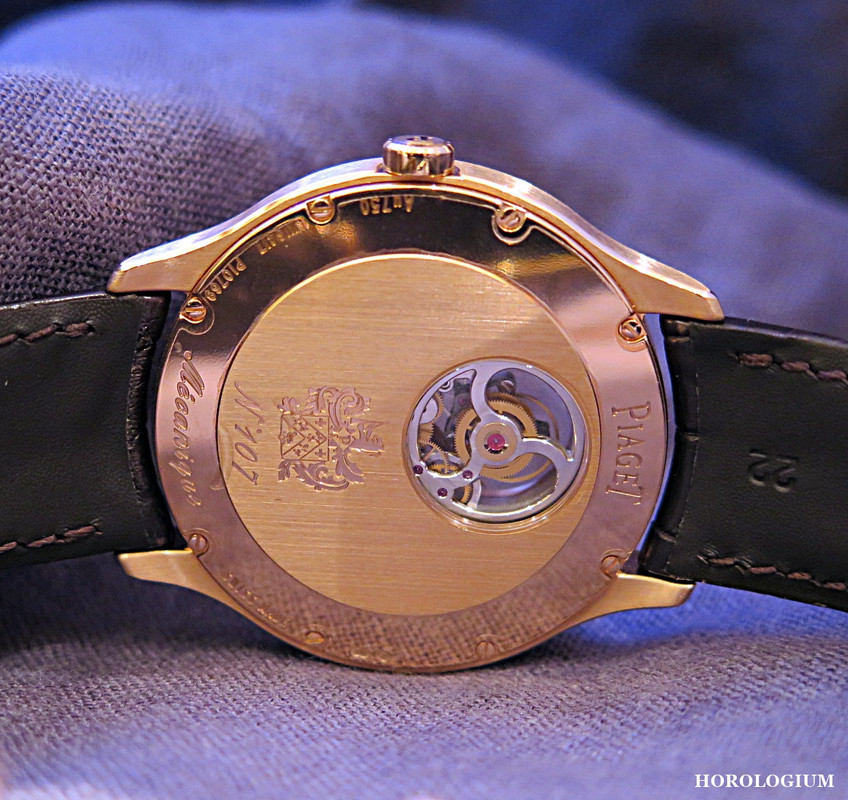 Inside is the then new in-house ultra-thin (4mm) manual wind Calibre 642P tourbillon that weighs a mere 0.2g. Hand-finished, it has a circular-grained main plate, and circular-grained, bevelled and hand-drawn bridges and tourbillon carriage. Power reserve is forty hours.
This may be a 'delicate' watch from the perspective of its thinness, but the bold depictions of the phases of the moon, in combination with the liberal use of lines, gives it a strong visual presence. This almost counter-intuitive approach of balancing the light-handed with a dial design that has a firmer touch is, in a way, almost a hallmark of many of Piaget's watches.
If we think for example about the Altiplano 900P, perhaps Piaget's most famed watch of recent times, the movement is ultra-thin and the watch itself has has a very slight build, thinner-than-5 CHF. But this refinement is intriguingly offset by the strong visual impact of the dial side of the movement that forms the dominant part of the dial design (which admittedly was how they managed to get it that thin).
But back to this watch.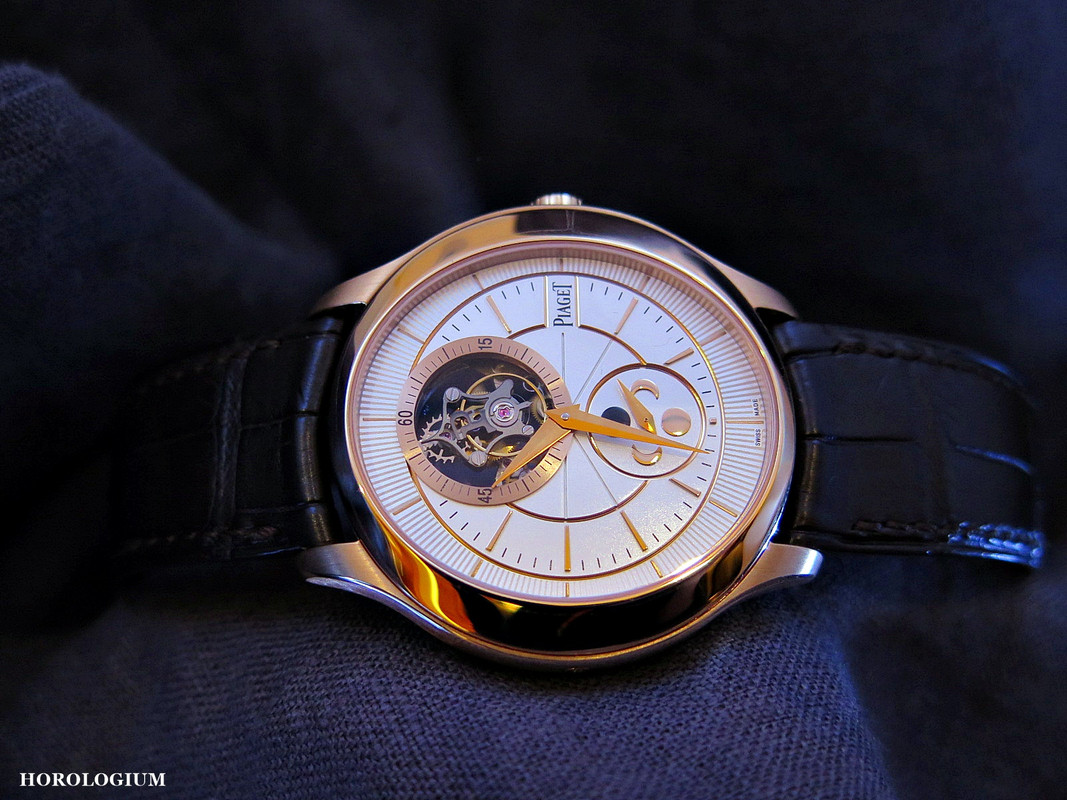 When released it was to positive feedback about the updated Gouverneur form. To handle, for those who like their thin dress watches with a bit of physical presence, it does meet this requirement. The tourbillon, in its titanium cage, is whimsically tweaked by use of the 'P', which you may not notice at first glance. The tourbillon's presence does dominate, but the size of the moon phase indicator gives a nice counterpoint to it as well as being another function. All in all this is an attractive watch with beautiful finishing and a glow to it that you can see comes through when photographed.
---
---