We are living in a period which has seen a surge in the number of small/ micro brands in the watch industry. This has included crowd-funded watches and brands of various types, but also a number of 1-2 person operations which have been founded by watchmakers who have already been in the industry for awhile.
Trying to get noticed, get traction, is not an easy thing for these brands, with their small or non-existent marketing budgets, but one of the advantage of living in the age of the internet is that this has helped get their names (and watches), out into the general consciousness. However, it's not just about this. In the end, it's about more than getting noticed, especially to stand out from this very competitive crowd. Especially for those brands with unknown or relatively founders behind them, the product has to be seen by the potential customer as being of good value (and better still, at a price point that is seen as able to be attainable), have something distinctive about it, and you have to have people behind the small brand who can be its best ambassador.
Which brings me to the subject of today's post – Lundis Bleus.
I have friends who seem to have an uncanny ability to be able to sniff out every new small brand when it comes into being. One of them has been following Lundis Bleus since it released its first model, the Ref.1100, in 2016. A couple of others have, more recently, become aware of it, and brought it to my attention.
So who are Lundis Bleus, and what is the significance of the name?
In 1994, founders, Johan Storni and Bastien Vuilliomenet met at watchmaking school in La Chaux-de-Fonds. Upon graduation, they went different directions, with Storni undertaking a degree as a restoration technician at the International Museum of Watchmaking and then a degree as a watchmaking construction technician. Vuilliomenet ended up obtaining a degree in industrial design at the University of Applied Arts, La Chaux-de-Fonds.
After their studies, Storni worked for Renaud & Papi, La Joux-Perret, and Richard Mille. Vuilliomenet went down the design route, working for a design studio, and then as a watch designer/ product manager, firstly for Corum and then a private-label company.
In 2015, the two friends decided that the time was right for them to realise their dream of starting a watch brand together, and in November 2016, they launched their first watch.
So, the name.
It is, perhaps, a slightly awkward sounding name to give a watch brand, but there is a rationale behind it. 'Blue Mondays' hark back to watchmaking between the 16th and 19th centuries, during which it was not uncommon for watchmakers would protest overwork and working conditions by taking the occasional Monday off to drink. This practice ended with work becoming more regulated in the 19th century. It isn't just the name that is a nod to this past, but also the brand logo (which makes appearances on the front/ back, and strap), which represents an alcohol molecule.
Lundis Blue currently has four collections – Essentielles, Contemporaines, Contempraines +, and Métiers d'Art.
Essentielles
The original Ref. 1100-01 which launched the brand has since expanded to Refs. 1100-02/ 03/ 04/ 05/ 06/ 07/ 08, all variations on the original. The underlying theme of this collection family is that of creating a contemporary watch that has a multi-textured dial, with all models using a Miyota movement. You can click here to view the full range, but by way of introduction, here are 1100-02, 1100-05, and a blue dial model that does not appear on their website.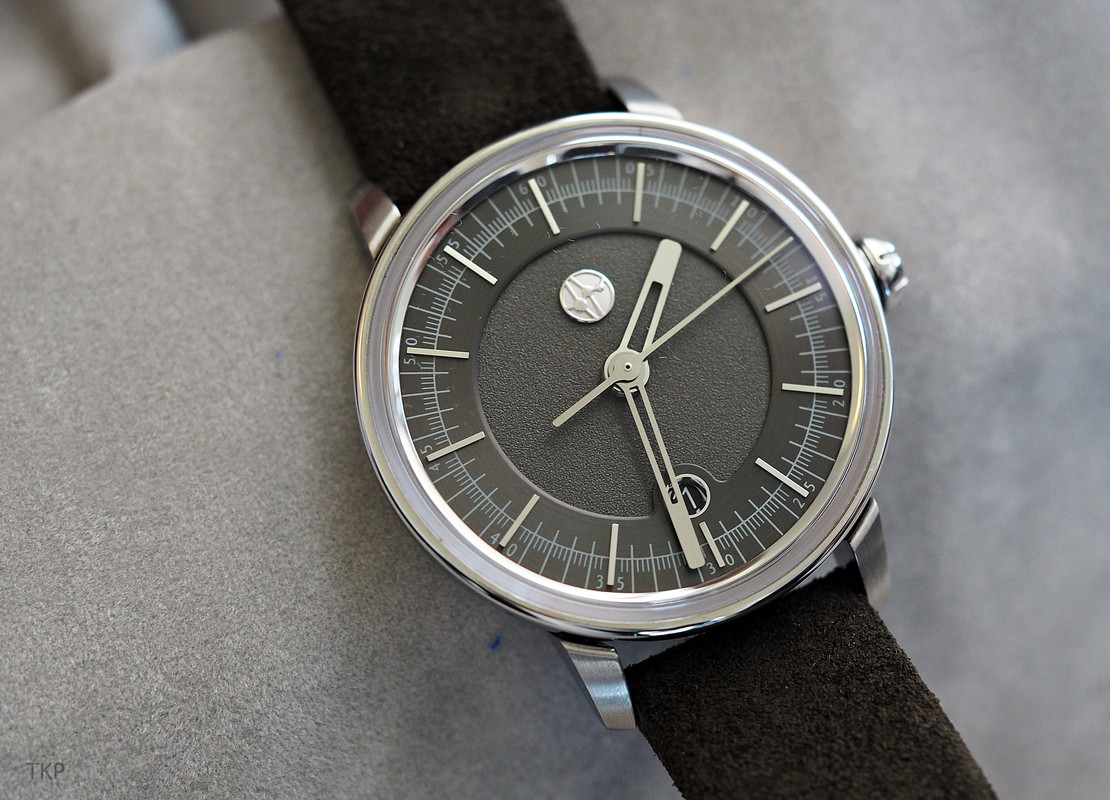 The 1100-02 is in a 40mm (11mm thick) polished stainless steel case. The crown is also polished, as is the case back, with the exception of the case area around the logo, which is micro-blasted. The dial side crystal is a domed sapphire and anti-reflective. The case back, however, is flat mineral glass.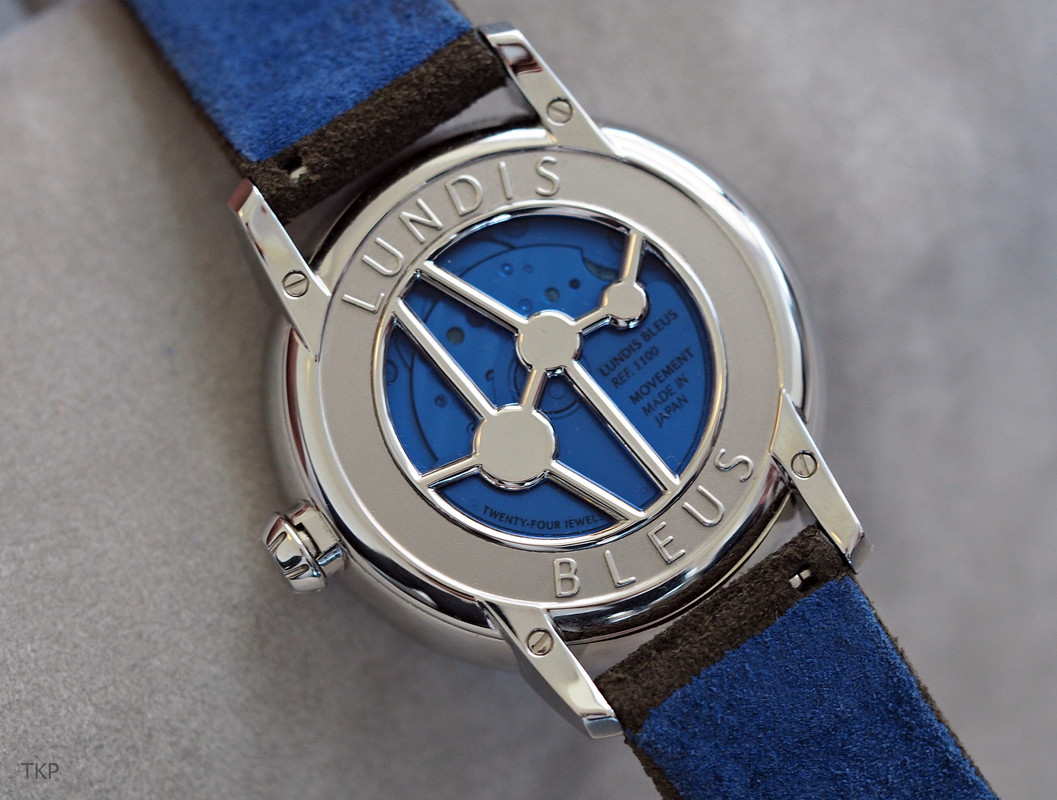 Behind the logo on the back is the automatic Miyota 9015. The use of Japanese movements is how Lundis Bleus manages to keep their cost down, but the dials are where their watches shine. This one is a dark nickel galvanic dial with rhodium-plated applied indices. The dial is made from a brass double plate, the bottom one with a stamped grained pattern. The upper plate is decorated with circular satin finishing, and the minute track is pad printed in a light matte grey varnish. The placement of the date window at 6 o'clock and the use of a circular opening, blends well into the overall design, balancing the domed applied logo at 12 o'clock with some nice symmetry.
It comes on a matching dark olive green suede calf leather strap and electric blue suede lining (suede leather). The cost? 1,900 CHF, which is also the price for the other 1100 variants mentioned in this post.
This is actually my favourite of the 1100 models. The combination of the dial colour, different dial textures and the overall 1100 design, which is just really clean, contemporary, just really works. It elegant in a way that can look either dressy or sporty. It is not trying to be an adventurous design, but is just a really well designed look.
The 1100-05 comes in exactly the same case and with the same movement inside, as well as the same strap. What is different about it is the dial. It is the same dark nickel galvanic colour, but instead of rhodium plating, it uses galvanic rose gold 4N.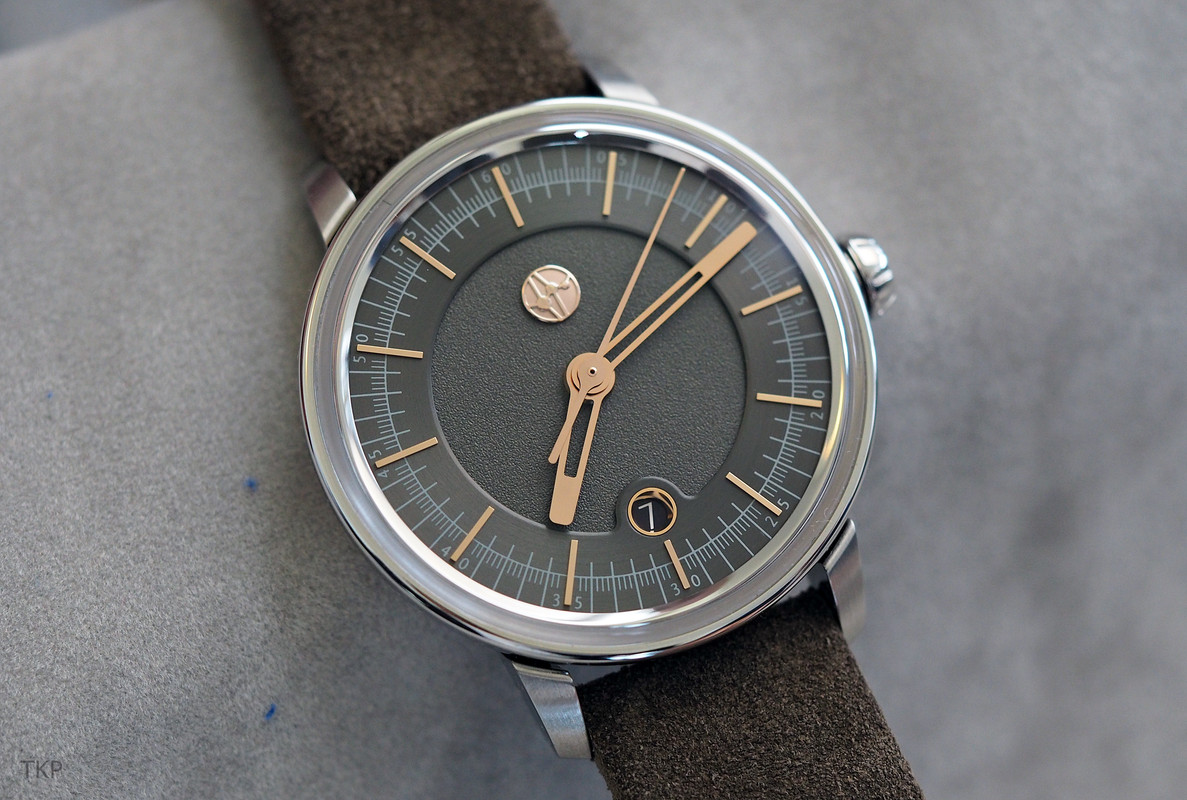 If you click on this Essentielles link, you will see that there are a couple of versions which have a dial using a double plate in galvanic rose gold 4N plating, as well as the use of blued hands, for fans of those.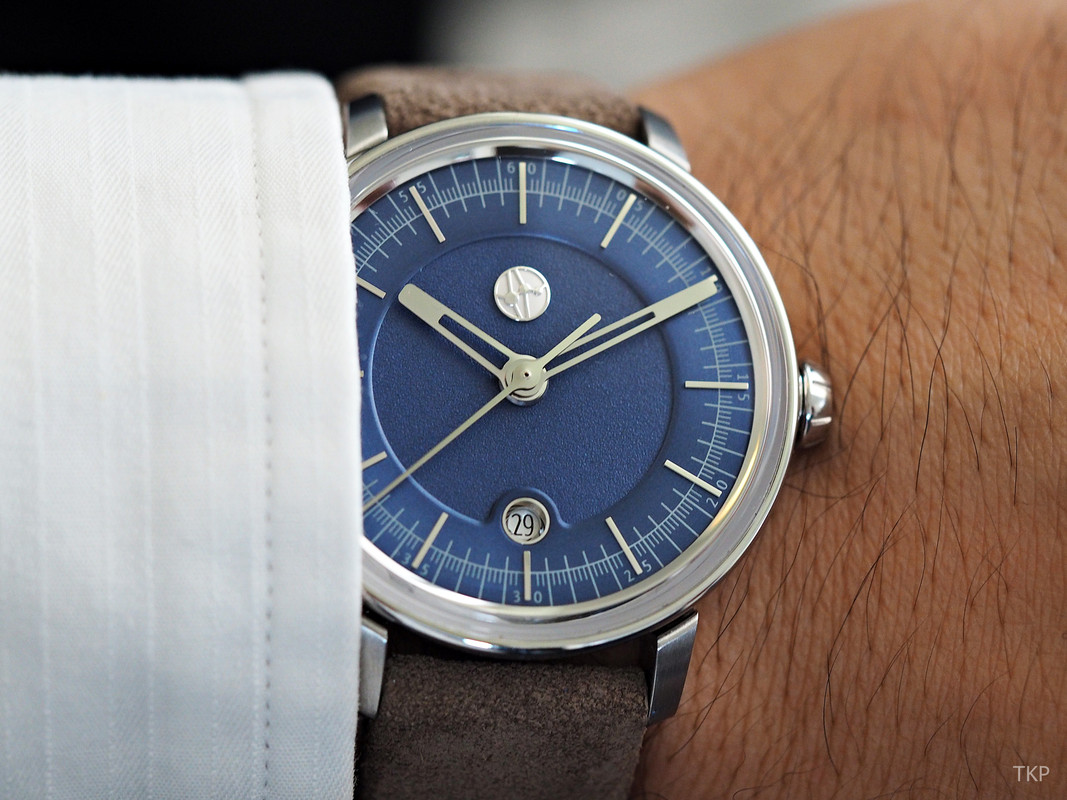 Contemporaines
Minimalism and enamelling are the key to this very striking collection, with dials in colours including burgundy, Royal Blue, and a rather dramatic onyx.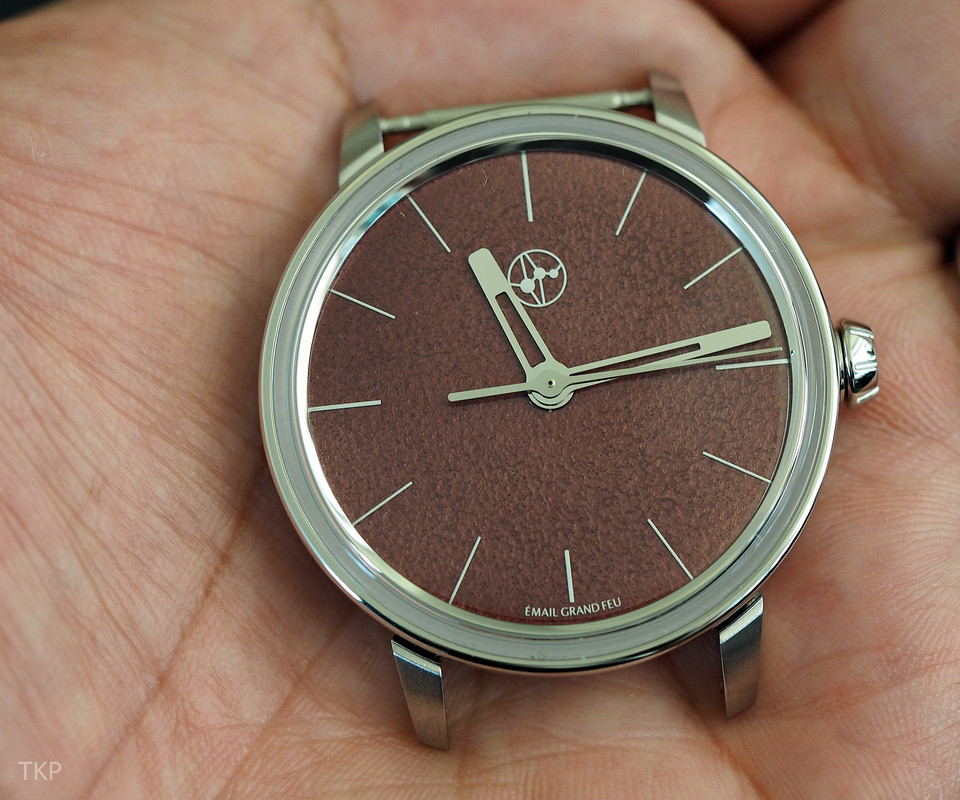 First up, the burgundy dial model. This comes in two versions, but both have the same model name – 1110-EU "Burgundy". What they share in common is their 40mm stainless steel case with the same measurements as the 1100, a dial in sterling silver 925 with handmade 'ocean surface' texture in burgundy vitreous grand feu enamel, which is made in-house at Lundis Bleus. As you can see in the official photograph below, the handmade 'ocean surface' texture of the dial is beautifully an interestingly textured as well as coloured. The indices and logo on top of it are by pad printing in silver colour varnish. The dial is entirely manufactured in-house at Lundis Bleus.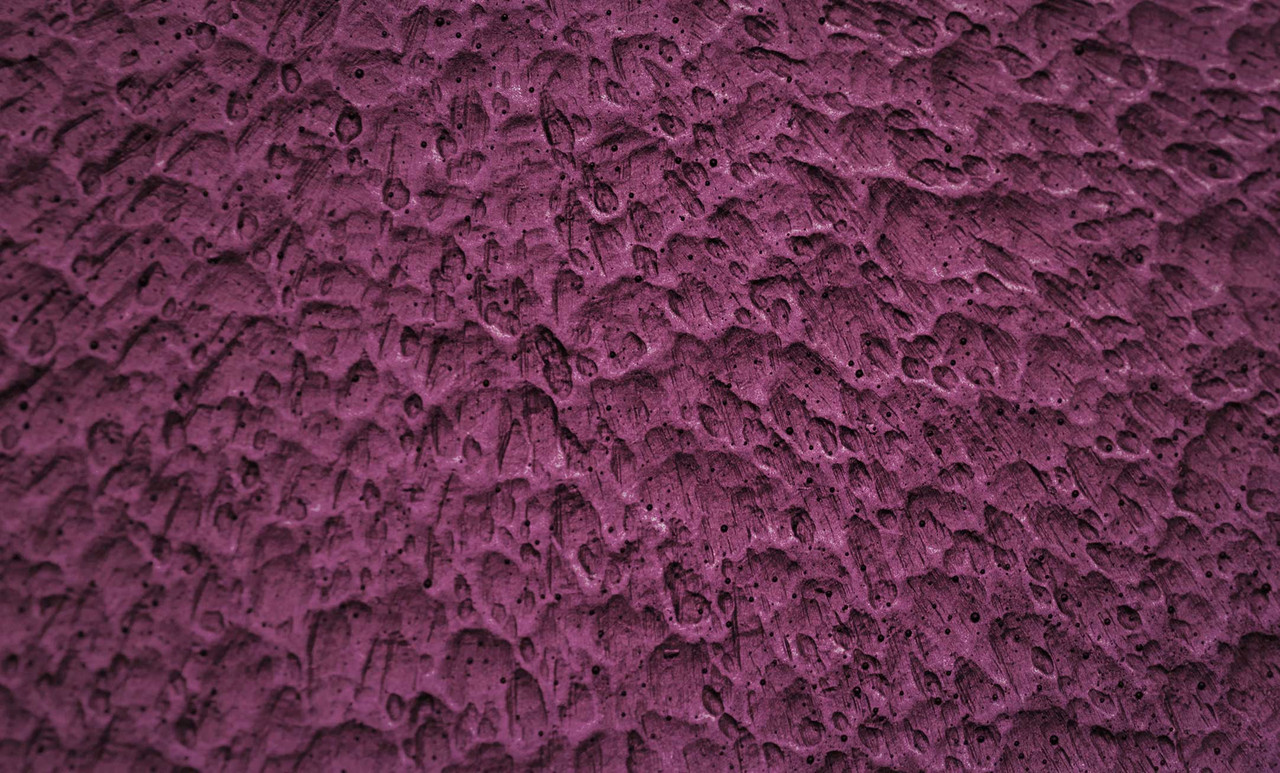 (Photo : Lundis Bleus)
For this model, indices and the logo are by pad printing in silver color varnish. Both of them come on grey suede calf leather straps. The two variants of the 1110-Burgundy differ only in one respect – the movement. You can choose to either have the same Miyota 9015 that is used in the Essentielles, or an ETA 2892 with perlage finish, rhodium plating, and an oscillating weight with machine-engraved Lundis Bleus and Swiss Made inscriptions. In fact, all of the Contemporaines models are available with this ETA option, and are thus called 'Contemporaines +'.
Next up, is the 100-EU "Royal blue".
This shares the same specifications as the Burgundy dial version, but has its sterling sliver 925 dial with the same handmade 'ocean surface' texture in royal blue grand feu enamel instead. There has been a blue dial phase in the last couple of years, so to have such a vivid blue dial that stands out, as this one does, both colourwise and texturally, is something of note.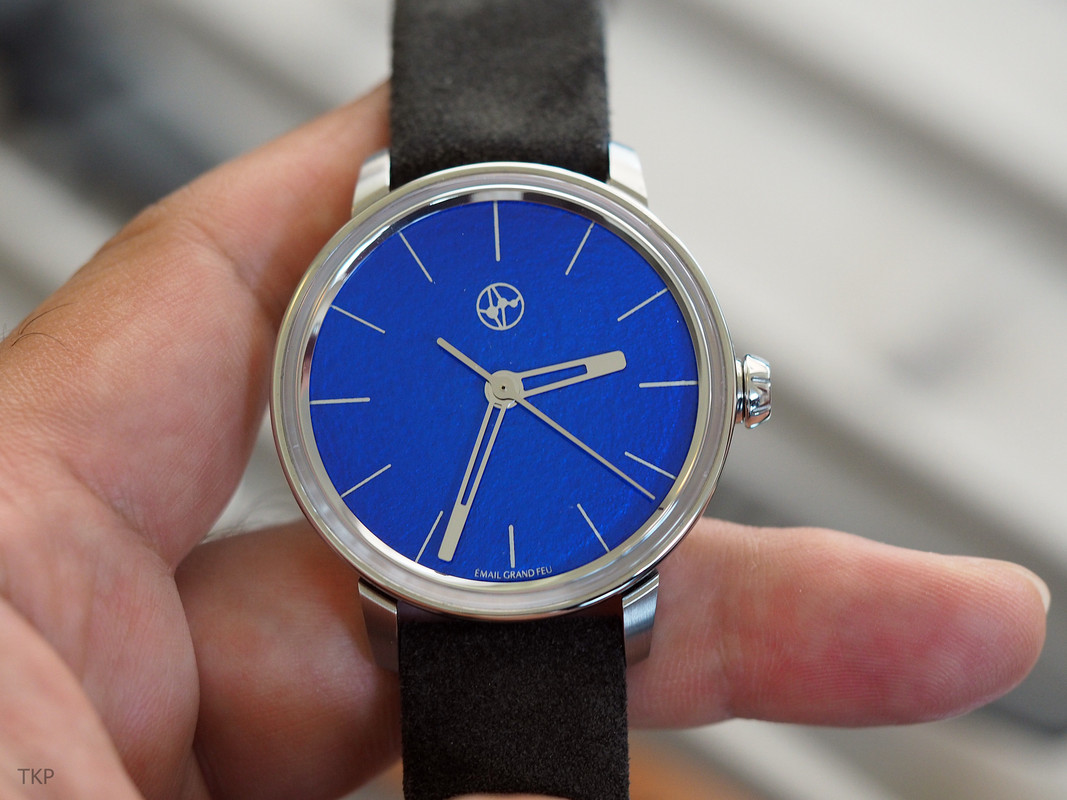 As mentioned, this also comes with either a Miyota 9015 movement or a decorated ETA 2892 movement.
There was one of the enamel pieces for which I did not get a photo, but it is worth mentioning. The dial is onyx. You can see more photos of it at this link, but I wanted to share one of their official photos (below), with you. Yes it apparently is this dark 'in the metal', and yes, casing it up without getting so much as a microscopic speck of dust on the dial is difficult.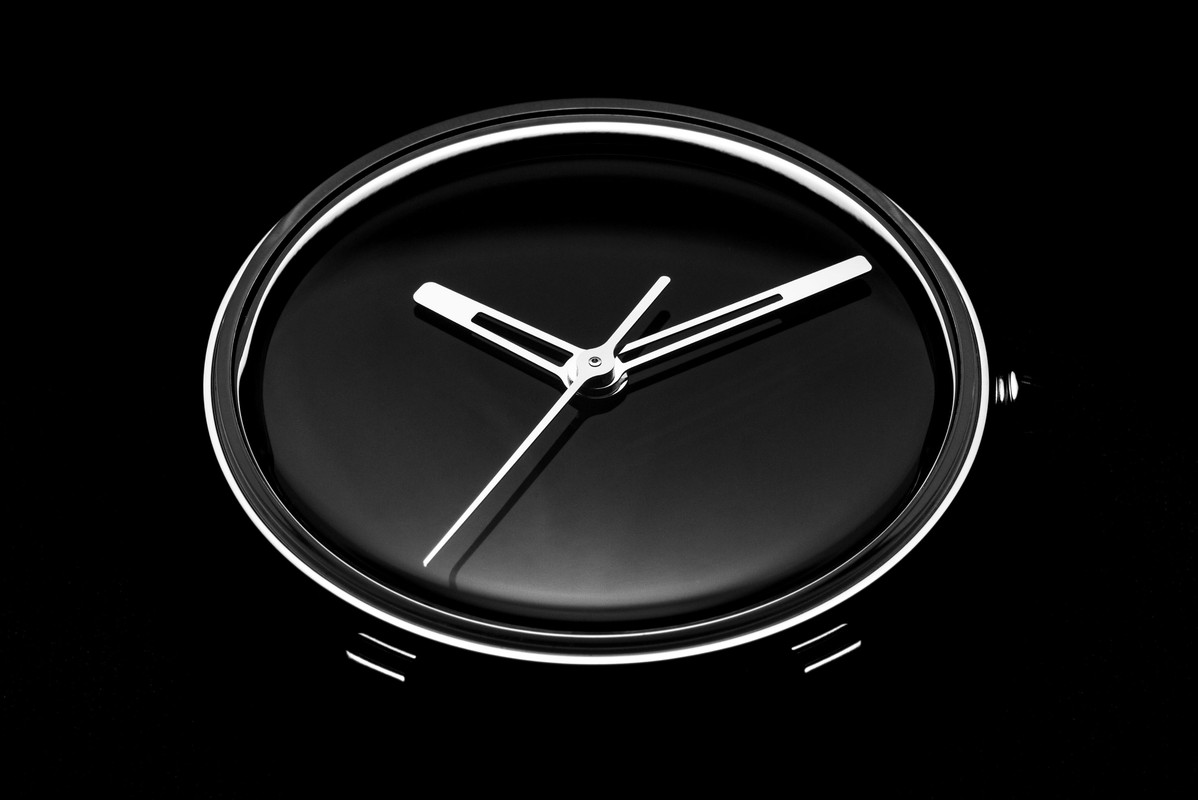 (Photo : Lundis Bleus)
I do have, however, a photo of an enamel dial in a colour not featured on their website, to share with you (see below), as an illustration of how other options may be available. This is a small brand who do have custom orders as an option in terms of engraving, so it's worth having a conversation about enamel colour options as well.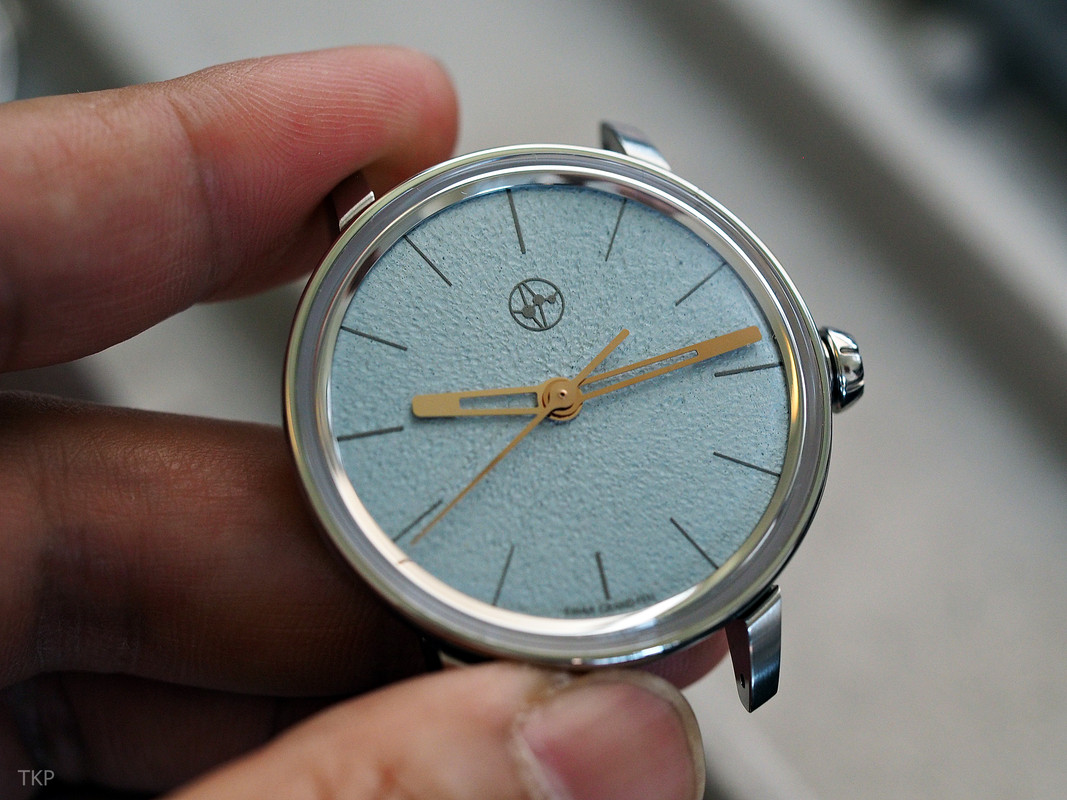 For all of these models, as mentioned, there are two options. The price difference? The Miyota movement versions of all of these will cost you 2,600 CHF and the ETA, 3,100 CHF.
Métiers d'Art
Engraving and enamelling work are the keys to this, their highest end collection family, which is currently split between variations on a particular dial theme, and an engraved model.
For the first of these two themes within the Métiers d'Art collection, it is about different iterations of a dial design that has an enamel hand-lined centre, surrounded by an outer dial. All models are in a 40mm stainless steel case with box type sapphire crystal with double sided anti-reflective coating. They all have a case back in stainless steel with a transparent sapphire crystal and the Lundis Bleus logo across it.
Let's look at the 1110-MA "Chartreuse – Black". The central dial is sterling sliver 925 with hand-engraved sun ray texture and chartreuse grand feu enamel. The hand-engraving of the enamel not only adds an interesting unusual element to an enamel dial, but it also means that each dial will be slightly different, so you will be able to identify your watch by the particular idiosyncrasies of your enamel-work. The outer dial is brass with with black galvanic plating, and an opaline. The applied indices are brass, diamond-cut and rhodium-plated. It comes on a black calf strap, and inside is the automatic ETA 2892.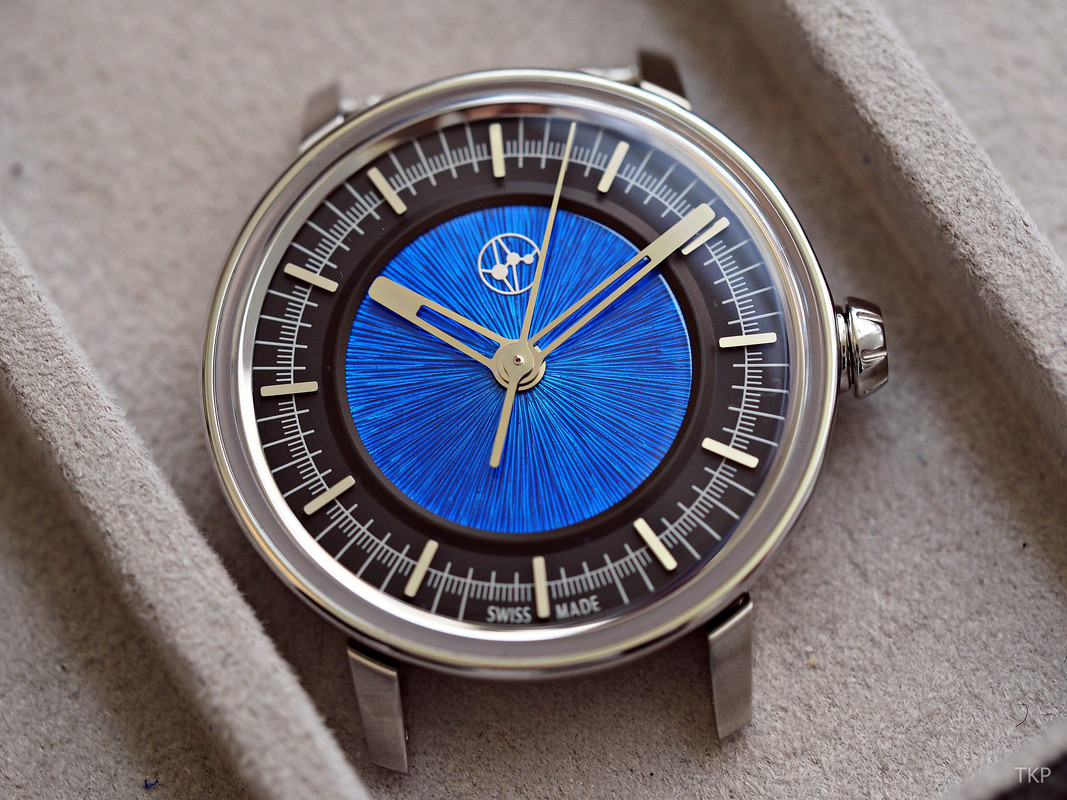 For those who like the Royal Blue colour, but perhaps not a dial entirely this colour, the 1110-MA "Royal Blue – Black" may be the one for you. It has the same 40mm stainless steel case, the same ETA 2891 movement inside, and the same basic dial design, but the centre dial in sterling sliver 925 with hand-engraved sun ray texture is now in royal blue grand feu enamel. The outer dial is again brass with black galvanic plating, and an opaline finish. There are twelve applied indices in brass that are diamond-cut and rhodium-plated.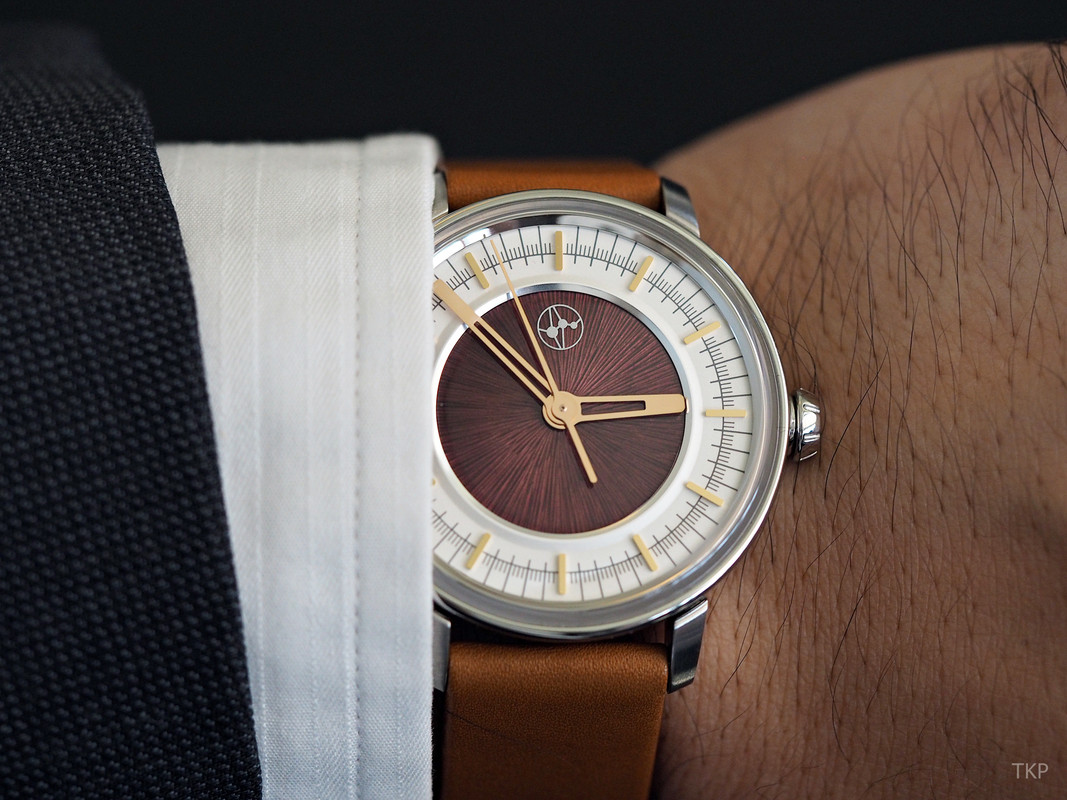 Burgundy makes an appearance in this collection as well, in the form of the 1110-MA "Burgundy – Silver". Again, we have the same case specs and the same ETA 2892 movement inside, but for this one, the sterling silver 925 centre dial has its hand-engraved sun ray texture in burgundy grand feu enamel. The brass outer dial comes with either galvanic plating and a silver opaline finish, or black galvanic plating with an opaline finish (1110-MA "Burgundy – Silver"). The applied indices are in brass, diamond-cut, and rose-gold plated. It comes on a matching burgundy calf strap.
If the 'Royal Blue' isn't your type of blue, there is a model called the1110-MA Tanzanite Silver model, for which you can see photos at this link, with the centre dial tanzanite grand feu enamel and the outer ring, galvanic plating with a silver opaline finish, and rose-gold plated indices.
All of these hand-engraved enamel dial pieces are 3,500 CHF.
As a side note, they are also experimenting with some preliminary examples of cloisonné enamel dials, so look out for what may happen in this regard.
Now, for Lundis Bleus' most expensive option, with an engraved dial. As it is still early days for this brand, they are still building up this part of their collection, but I believe that it is possible to discuss engraving requests with them. As it stands, they are currently selling one dial design, that of Fuji-San.
The Ref. 1110 – GM "Fujisan" is not directly inspired by Fuji-San, but by something else for which Japan is well known – manhole covers. The one on which this is based was seen by Johan Storni and Bastien Vuilliomenet in Numaza, Shizuoka Prefecture. It depicted Mount Fuji surrounded by the Mount Ashitaka, the bay of Suruga, spider lilies and black pines.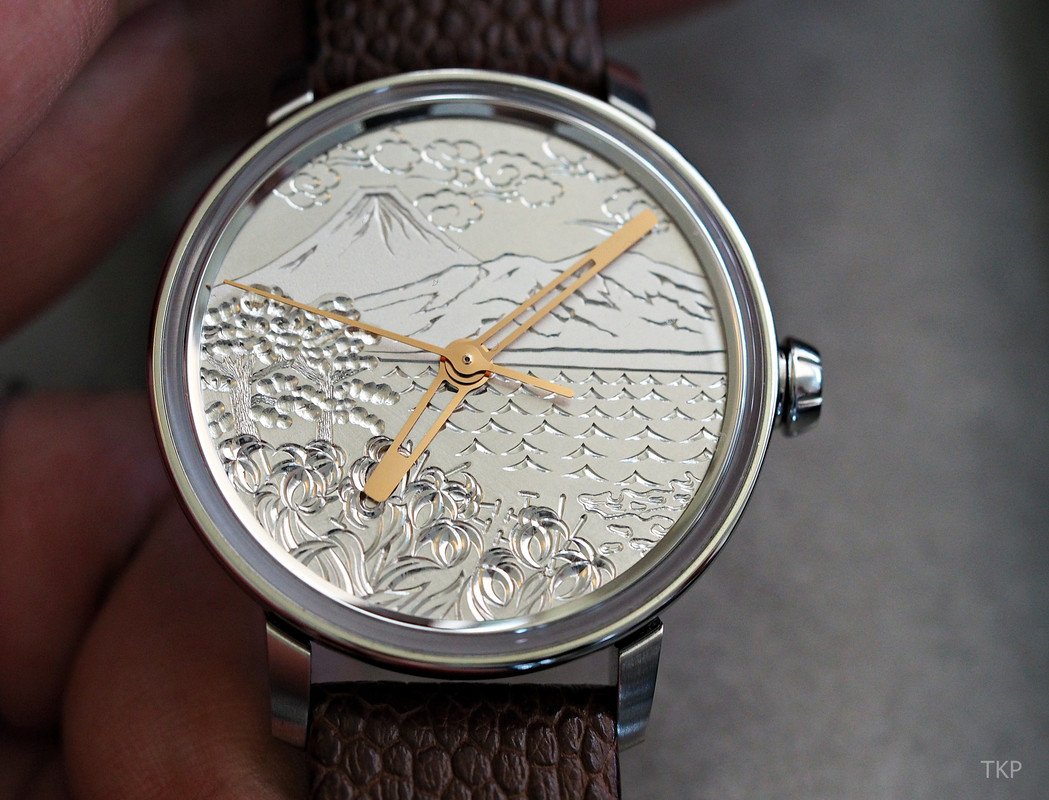 This model is made by request, with the production lead time about 10 weeks. It is in the same 40mm stainless steel case with same sapphire crystal, same logo on the back, and with an ETA 2892 movement inside. The dial is Au 750 white gold, weighs about 13g, and hand-engraved by Jean-Bernard Michel. The hands atop the dial are in brass, with galvanic rhodium plating.
Lundis Bleus' mention of Jean-Bernard Michel as the artisan who does their dial engraving both because they are open about such things, and because, rightly, it is of note. I'd encourage you to take a wander through the gallery on his website, as it is very interesting to see what else he has worked on. In light of his skills and the other clients for whom he has worked, the 12,000 CHF for the Fujisan is pretty well priced.
Some of you who know me will be aware that I am a big supporter of transparency, including transparency about where all parts of a watch were made. Whether parts of a timepiece are made 'in-house' or not matters to some people, and not so much to others, but being open about it gives the consumer the information with which to make up their own mind about it.
In the end, perhaps what we want is that watches run in the manner that they should, and are easily serviced should there be any issues. If you look at the individual pages for every watch at the Lundis Bleus website, you will see a meticulous list under the 'Specifications' tab of every part of the watch, down to who makes the straps, and who makes the pouch in which the watch comes.
On their website, they state that they started Lundis Bleus "…simply wanted to provide an accessible alternative to independent watchmaking." Based on what I've seen so far, they are certainly doing that.
For more information or to purchase their watches, go to this link.
---
---
Categories: Hands-on, Lundis Bleus, Watch Profile, watches