Launched at the Paris Motor Show in the latter part of 2016, the inaugural Zenith x Range Rover watch has finally arrived on Australian shores. I had the chance to take a look at it a couple of days ago, having previously only seen it briefly when a guest of Zenith attending Les Dix Milles Tours du Paul Ricard.
There's little if any point in pondering the popularity of car/ watch partnerships anymore. They have become very much part of the watch universe, so the question in each case boils down to asking what the partnership is based on.
Well apart from what both Zenith and Land Rover say about commonalities of approach in terms of brand identity, it is about a year – 1969.
Known amongst watch people for being the year in which the Zenith El Primero movement made its maiden appearance, it was also the year during which then British-owned Land Rover unveiled their prototype of the first luxury off-road vehicle, the Range Rover. Amidst some stiff competition over the decades, not to mention industry changes, both of these 1969 creations have managed to endure.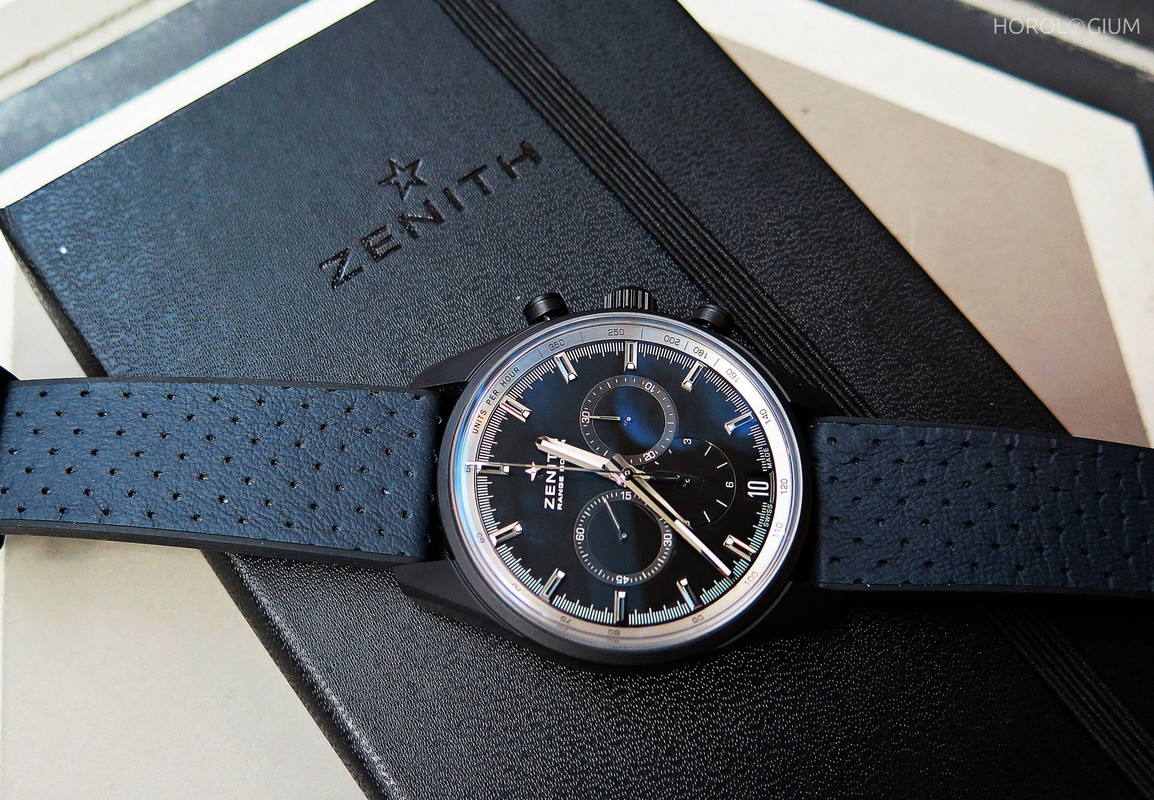 To launch this new partnership Zenith released what is formally known as the El Primero Range Rover Special Edition.
This new watch comes in the form of a very light 42mm matte-black coloured ceramicised aluminium case, a nod to the Range Rover chassis. Co-branding on a dial is almost unavoidable for watch-car partnerships, but as far as they go this is discreet, with an anthracite three-counter dial featuring a brushed finish and faceted hour markers. Hour and minute hands are rhodium-coated with lumed inlays. The low key Range Rover branding on the dial also makes for a watch that is perhaps less likely to date, from a wear point of view.
Something that is important to note for some members of Horologium is that the date window at 6 o'clock is white text on a disc colour that matches that of the dial. A few of us have a personal preference for this colour continuity over that of a white background date window for a non-white dial.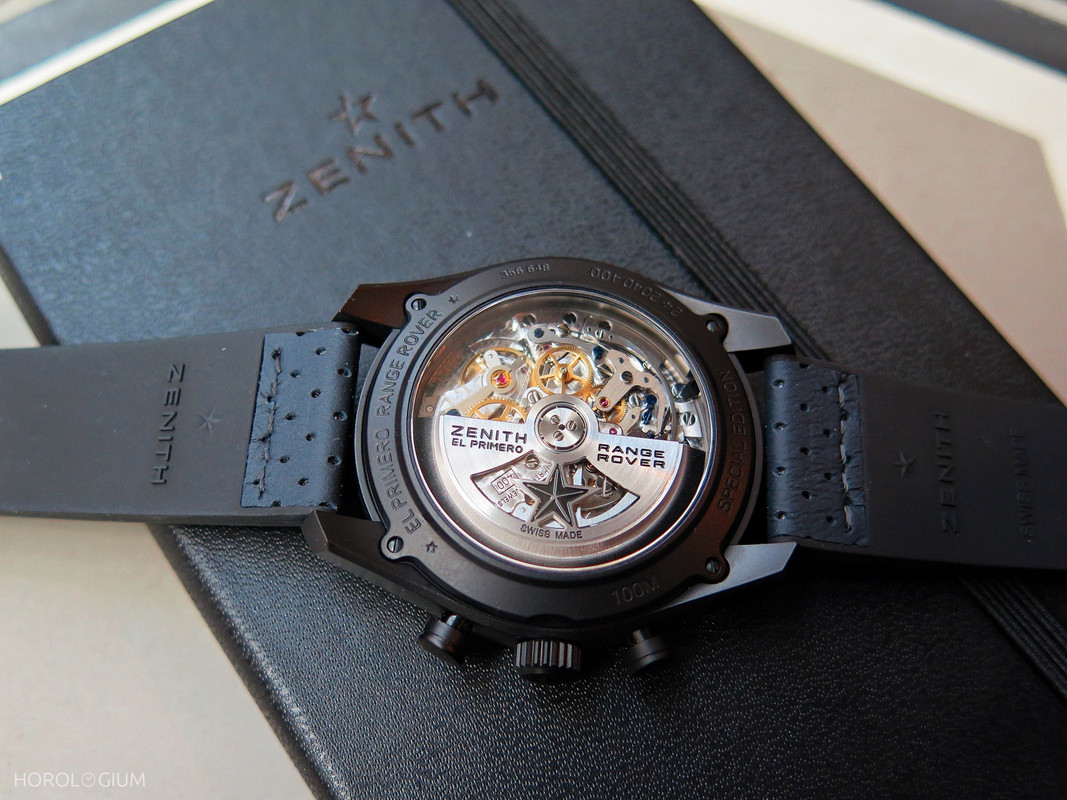 Making this new watch hum along is the Calibre 400B, a variant of the El Primero 36,000 VPH, with an integrated column-wheel chronograph and 50 hours of power reserve. There is a simple 'Range Rover' engraving on the rotor.
The other bit of co-branding on this side is on the case back, which has both the Range Rover partnership and special edition status subtly engraved on it.
It comes on a black rubber strap coated with perforated white or grey calfskin, both with a PVD-coated titanium triple folding buckle. If you know your Range Rovers you will recognise that the strap leather is that of the interior of the car.
The decision to go with a simple text co-branding on the front and similarly simple markings on the movement and case back makes for a sober understated watch that at a quick glance on someone's wrist, you don't even notice is a collaboration. For a brand like Zenith, whose profile is arguably still relatively 'under the radar' in spite of its long history, this seems to feel like a more comfortable fit than say the more overt co-branding of the Zenith El Primero Chronomaster 1969 Cohiba Edition, a partnership whose presence is writ large on the dial.
In an unexpected bit of information from Zenith, it seems that in 1972, when explorer John Blashford-Snell crossed the Darién Gap between Colombia and Panama, he did so at the wheel of an early Range Rover and with an El Primero chronograph on his wrist.
The El Primero Range Rover Special Edition isn't a numbered limited edition but it will be limited in production numbers. Only a couple are destined for Australia, and they arrived last week. The Australian RRP is $12,700.
---
---
Categories: chronograph, Hands-on, Sydney, Watch Profile, watches, Zenith