A query as to whether anyone wanted me to take photos of anything at particular at SIHH 2015 lead to one very unexpected request from a few people – could we take some photos of "the Naissance" please? At this point I'd not heard a whisper about this watch being present, which made the hunt more interesting. There's fun in trying to try to track down something that everyone wants to see, but there's a far different thrill in trying to track down something that is special and flying below the radar.
Ask and ye shall receive. We managed to take some 'quick and dirty' photos and put them up on Instagram, but here are some rather better photos to share with you. As well as being a special watch it is also a very photogenic one, and in looking back at these photos I confess that I rather like it in this prototype form.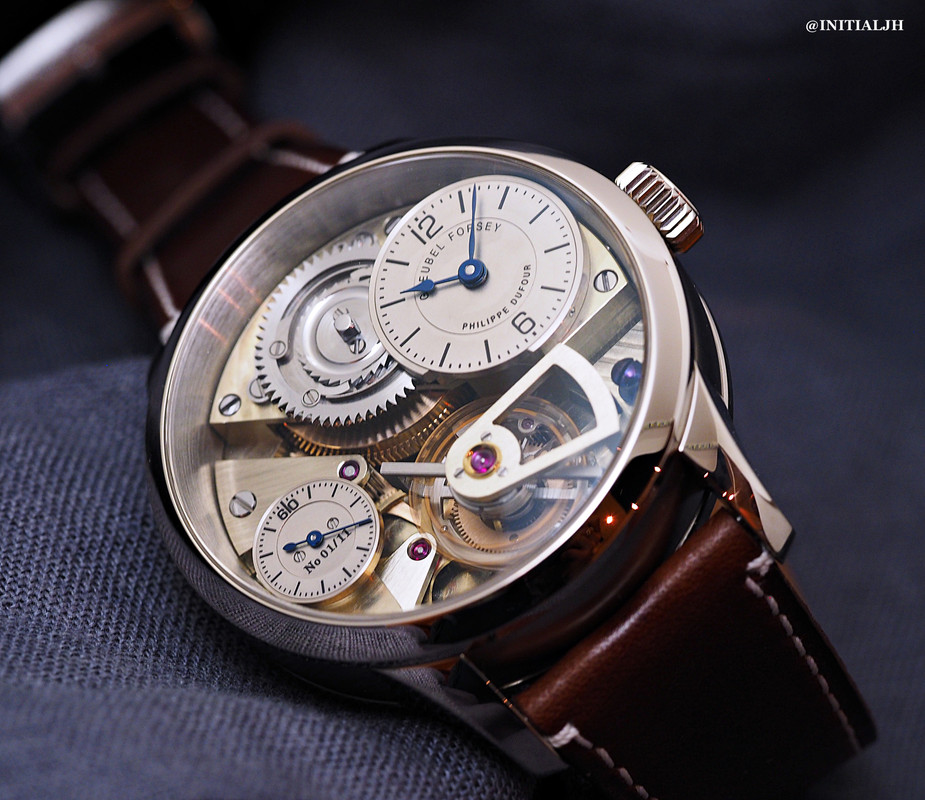 The French name of this monumental horological project translates to 'The Timepiece, Birth of a Watch'. The timepiece in question is a collaboration between giants Greubel Forsey and Philippe Dufour. The project's name seems simple enough, but the reality isn't.
This isn't a niche project for those who follow independent brands, it is a project that touches on issues that should be of interest to all who like watches.
This isn't about a big multimedia production and lots of colour and movement and publicity, this is about pure horology.
Meet Number 0/11 of a watch whose genesis lay in the desire of Greubel Forsey and Philippe Dufour to teach and pass down their skills and knowledge in a very practical and focused way.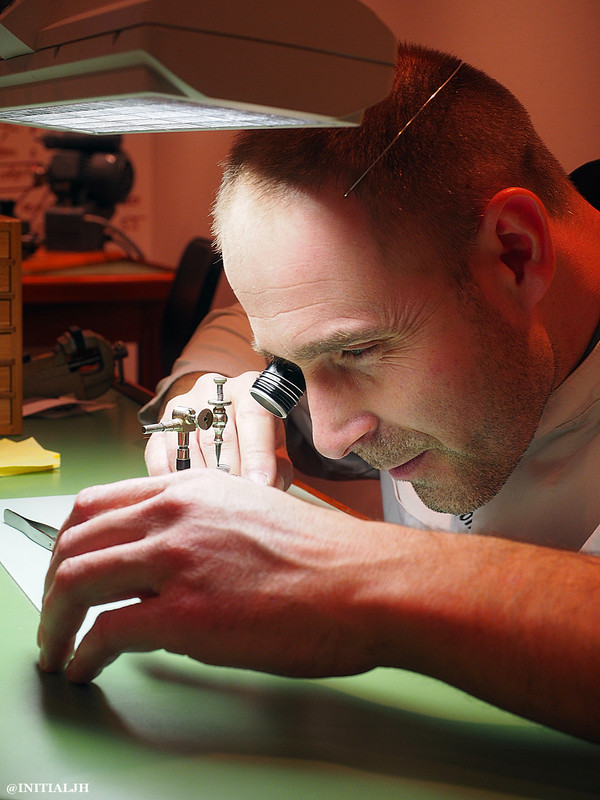 A project that commenced some four odd years ago was able to finally show off this first prototype, and those who knew to look for it and managed to pin it down were granted a very special audience indeed, not just with the watch, but also with its maker Michel Boulanger, who was gracious enough to allow us to look at it for as long as we liked after a brief wait when he had to take it out for Messrs Forsey and Dufour.
To be honest, seeing him bolt out of the room with the watch as he promised that he would be back with it as soon as possible and then watching him and Mr Dufour in an animated discussion was in itself something special to be able to bear witness to.
Unfortunately, a lack of passable French on our part meant that communication wasn't as effusive as it could have been, but we were very much caught up in the frisson of excitement at being able to have what amounted to almost unlimited (in the sense of time) of access to it.
Master watchmaker and teacher Michel Boulanger was chosen by Greubel Forsey and Philippe Dufour to make this piece, with the intention that in turn, he will pass on the knowledge and skills that he has learned. There are people who are making watches in a traditional way, but when we narrow it down to those who aren't using any CNC and the like, we're really narrowing it down, possibly to a number able to be counted on a single hand. Even Roger Smith uses CNC.
The styles of Philippe Dufour and Greubel Forsey are very different, and it's a rather intriguing combination of people involved in this project.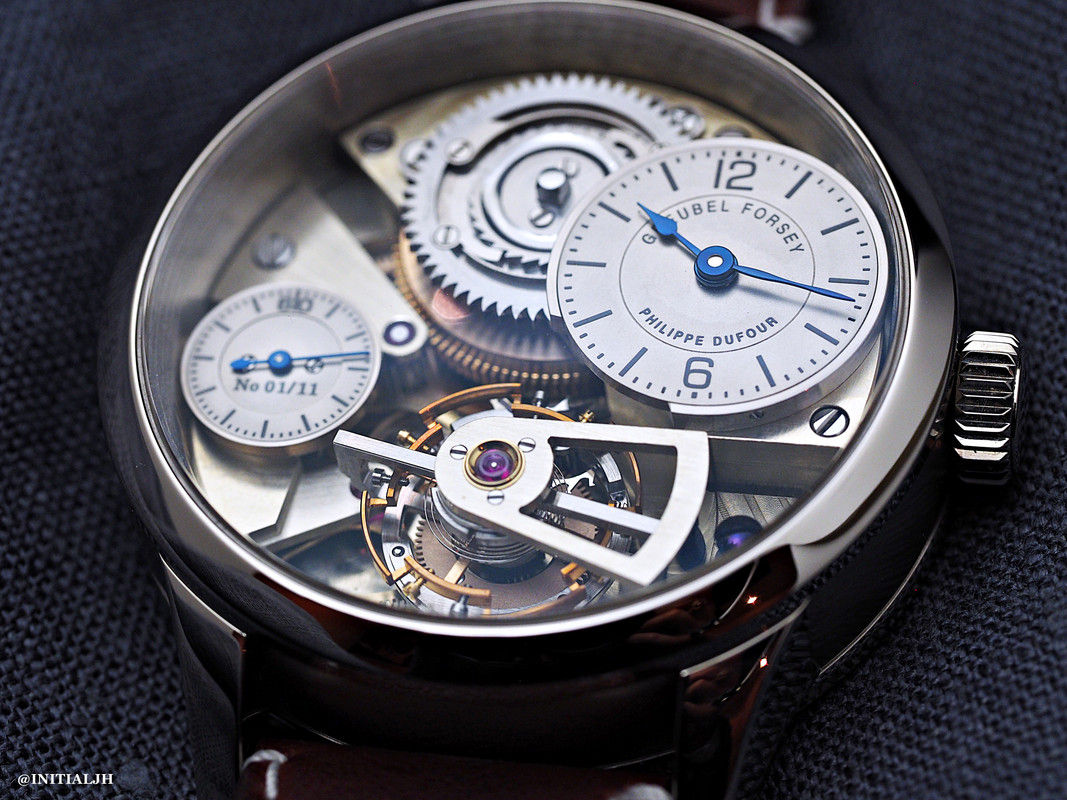 For this watch, which doesn't remotely resemble anything that either Greubel Forsey or Dufour produce, they chose to make a manual-wind piece with the time, seconds, and a tourbillon. There are two separate dials for hours and minutes at 2 o'clock and a seconds dial at 8:30, both simple, with blued steel hands.
Everything you see is handmade, from the plates, bridges, dials and balance, to the tourbillon, which is made on a manual mill and lathe. There are many elements to this watch, including a bi-directional winding click mechanism sitting atop the mainspring at 12 o'clock.
The tourbillon is under a single-sided bridge containing a screwed gold chaton. There is a full mainplate with a cutout under the mainspring, itself supported by a jewelled bridge. If you look carefully, you will notice that it mirrors the design of the tourbillon bridge.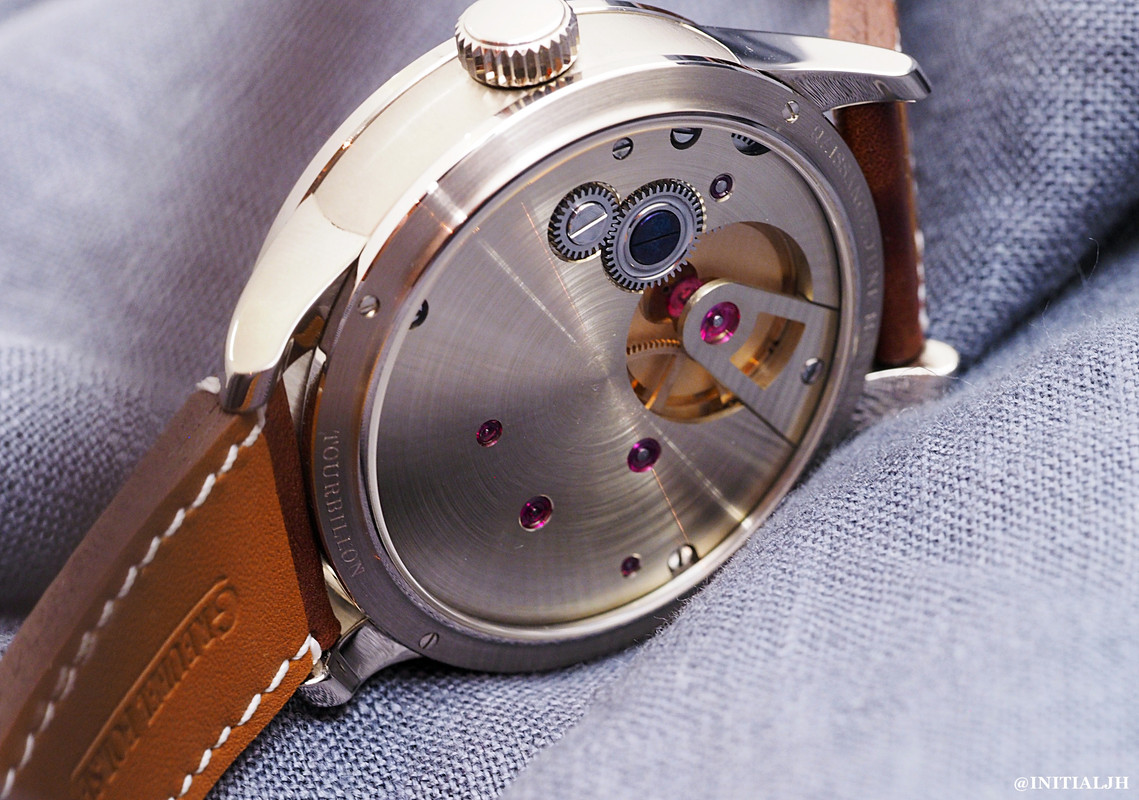 This is about the transmission of knowledge and experience as it is about the preservation of traditional watchmaking techniques, but in many ways it is about many other things, including the many wonderful partnerships that occur between independent watchmakers and what is created from these.
So who is Michel Boulanger? His name may not be on the dial, but in a way he is the key to the Naissance. A second-generation watchmaker, he has been through WOSTEP, restored vintage clocks and watches, and been at Renaud & Papi. A watchmaking teacher at the Paris Watchmaking School, he is taking on this new pupil role with an enthusiasm that he is keen to share, based on our time with him.
Robert Greubel met Michel Boulanger at the Anet watchmaking school near Paris when the latter was learning basic watchmaking, and he met Stephen Forsey at Renaud & Papi. Antoine Simonin, the former director of WOSTEP, introduced Boulanger to Philippe Dufour.
If you know something of the histories of Philippe Dufour and Stephen Forsey, you may recall that they also have histories in restoration. Perhaps this is one of the links between all of them which give the 'Le Garde Temps' watch added meaning.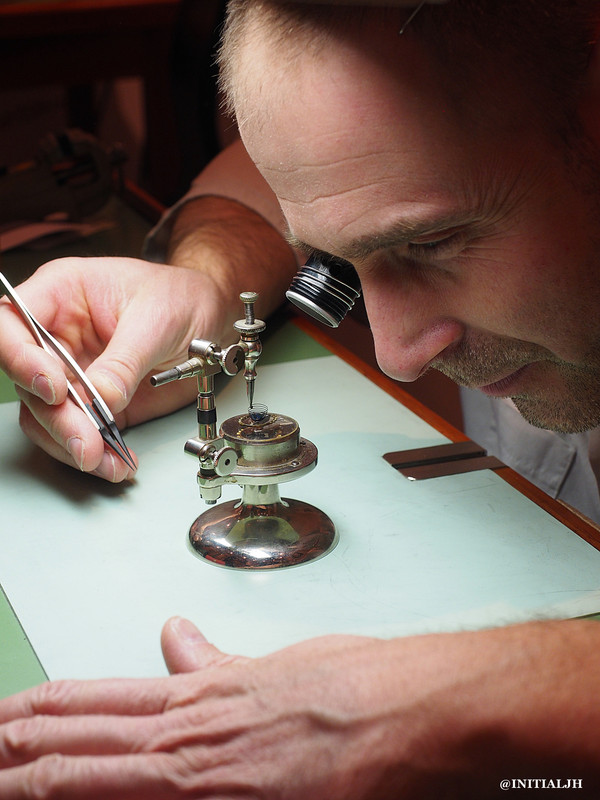 This stunning layered piece is a very modern looking watch. It may not be anywhere near complete in terms of its polishing and finishing, two things for which both Greubel Forsey and Philippe Dufour are known, but I find great appeal in what it looks like now. There's a raw nature to it that will disappear, to a certain regret on my part.
There will be eleven of these made, but there is no way this is even going to remotely be about generating some sort of monetary return given the time and labour involved. Would I want one? Hell yes, even without the names on the dial.
---
---
Categories: Greubel Forsey, Hands-on, Limited Editions, Philippe Dufour, SIHH 2015, Switzerland, Watch Profile, watches, Watchmaking