Last year Greubel Forsey added to their Art Pieces, with a piece containing another micro-sculpture collaboration with Willard Wigan – an hommage à Robert Filliou model. We managed to get some photos of this piece earlier this year. Alas we were not able to handle it, but perhaps it may be possible at some later date, if we are fortunate, but it is an intriguing enough watch that we wanted to share it with you.
The Art Piece 1 Robert Filliou's micro art is of a hat. Why a hat?
It was partly in celebration of their tenth birthday that Greubel Forsey honoured artist Robert Filliou (1926–1987) in Paris with a show called 'Chapeaux! Hommage à Robert Filliou' and with a watch in his name.
Filliou believed that art didn't have to express itself in the form of objects. It was about action, and he was associated with the 'Fluxus' movement, a 1960s group of artists, composers and designers noted for blending different artistic media and disciplines.
In 1962 Filliou started carrying around a miniature gallery in his hat, called 'La Galerie Légitime', and it is from this that the micro-sculpture in the Greubel Forsey piece is derived. It was not his first travelling hat, and he became syonymous with these small travelling art exhibitions.
This emphasis on the micro is why it makes sense that Greubel Forsey's honorary watch features a miniature hat. The left part of the watch is dedicated to the micro-sculpture: its base and the magnifying lens system.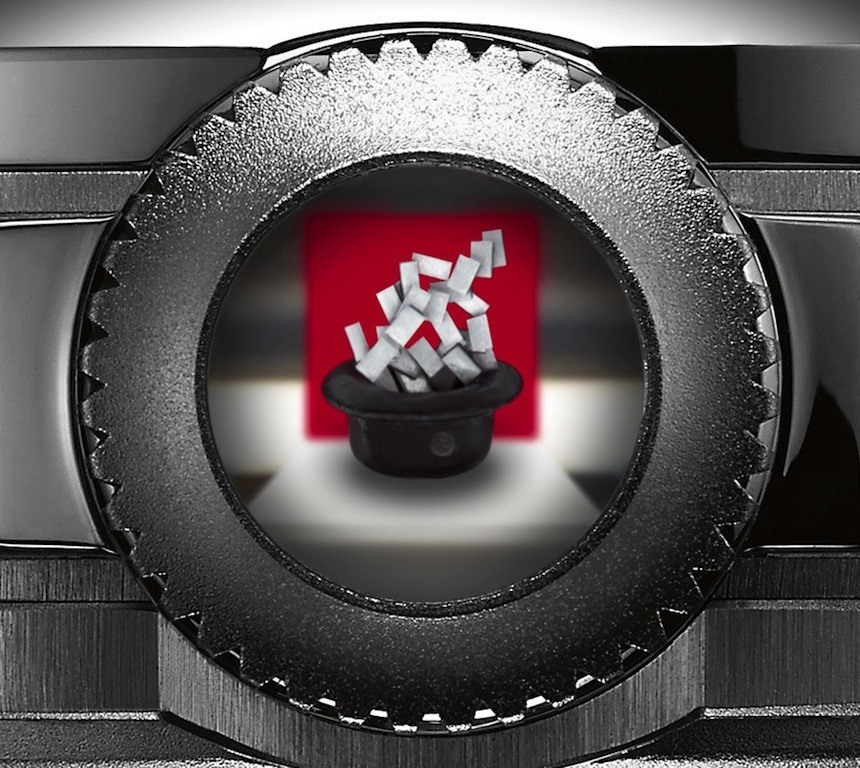 Photo : Greubel Forsey
The dial is  bronze and characterised by a large 'stamp' with 'bien fait' (well made), 'mal fait' (badly made) and 'pas fait' (not made) on it. This is a reference to one of Fillou's two artistic philosophies, what he called the 'Principe d'Equivalence' (also a title of a 1968 work that probably best illustrates this principle), which posited an equation between what is 'bien fait', 'mal fait' and 'pas fait'. This, in conjunction with his 'Principes d'Economie Poétique', formed the basis of his artistic approach.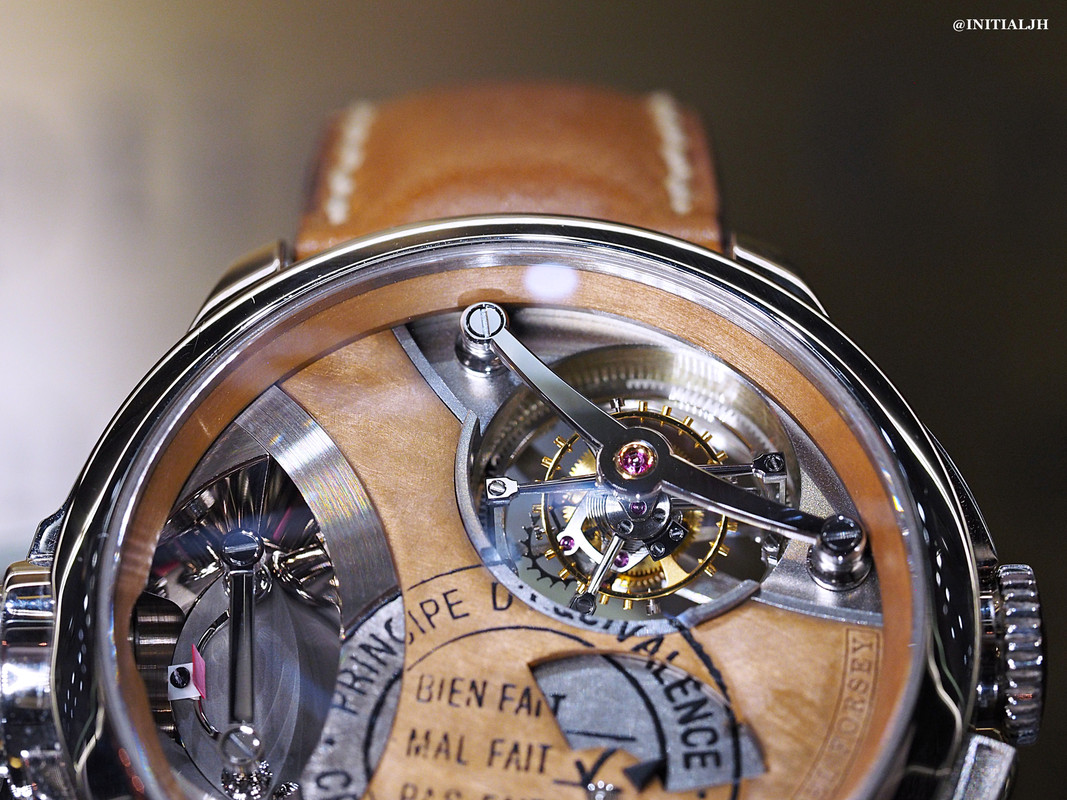 There is of course, a tourbillon. It is Grebuel Forsey, after all. In this piece unique it is a double tourbillon 30 degrees at the top right of the watch.
You will also note the absence of visible hands, to indicate the time. This is because the time is indicated (via discs) on-demand in the aperture on the lower right, activated by the depression of a button on the right of the case.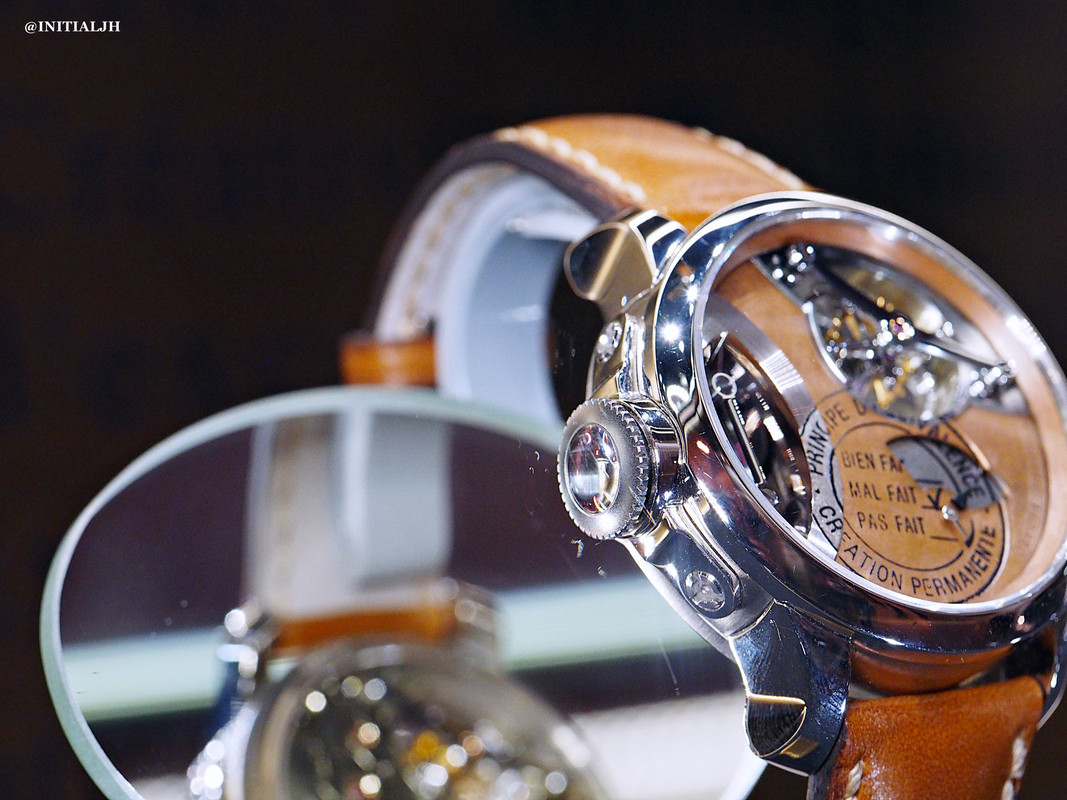 Unfortunately it could not be seen in the display, but the caseback shows the silhouettes of the artists involved in the exhitibion and in the Art Piece. A striking and in some ways un-Greubel Forsey type of piece at first glance, and one that I hope to be able to see again in more detail.
---
---
Categories: Greubel Forsey, Watch Profile, Watch shopping, watches