In late January Horologium and #thewatchnerd visited Thomas and Heike Prescher at their old (as in about-to-be-vacated) workshop and home in a town near Biel/ Bienne. What was originally intended to be half a day with them turned out to be the better part of a day. The three of us were left with much food for thought that we are still discussing and processing even now, not just about Thomas' watches but also his approach to watchmaking; not just technical aspects but also with respect to how he looks at challenges and the manner in which he resolves them.
Now working alone, he showed us some of the watches that he has made over the years, including the Mysterious Double Axis Tourbillon which I had seen for the first time a year previously, and a few other pieces about which I will write individually. Today's focus is on the Tempus Vivendi Qatar (2009).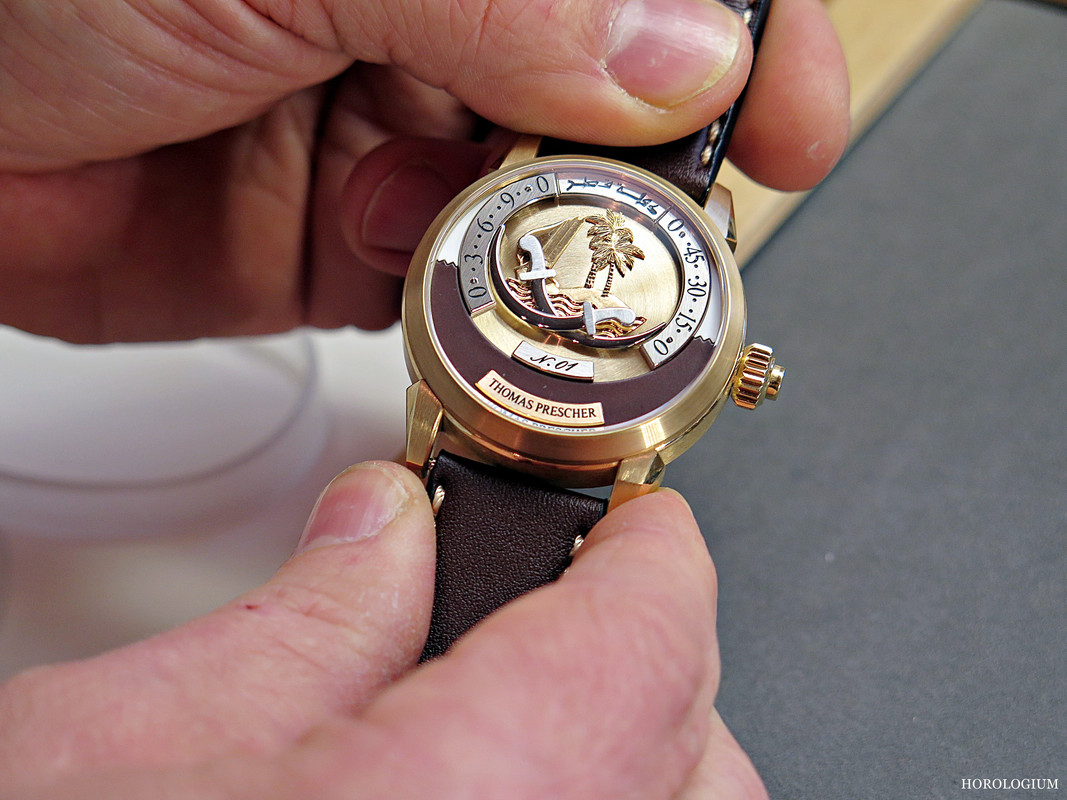 The Tempus Vivendi collection's members all share the same retrograde time display method of a double retrograde to display the hours and minutes, with the differences lying in the decoration. In this case, Qatar was the inspiration and the realisation, hand-engraved in solid gold, came in the form of the Qatari coat of arms between which is the traditional dhow ship. One sword indicates the minutes and the other, the hours. The island represents 'The Pearl-Qatar' in Doha, a man-made islad of some four milion square miles which is home to about 12,000 residents.
For those who are unfamiliar with retrograde displays, when the hands reach the end of each sector the jump back to the beginning. However, this is not all these hands can do – depressing the button in the crown moves the hands to a 'resting' position to show the 'true' state of the coat of arms; a further push will move them back to show the time.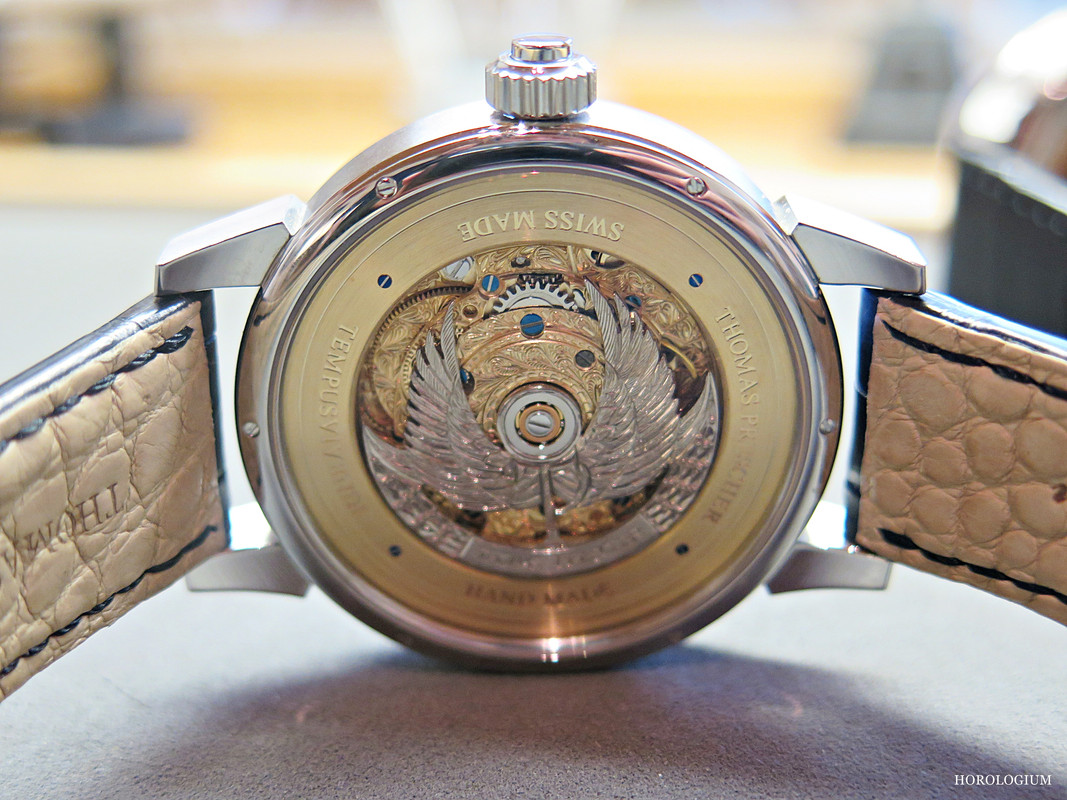 The 18 carat gold case is 39mm, and the automatic movement is 28,800VPH with a power reserve of forty hours. As you can see, the rotor is also 18 carat and highly decorated (hand-engraved).
Although the use of double retrogrades is not something 'special' per se as it were, what stands out about the Tempus Vivendi range is its artistry – the dials are really quite beautiful, and striking. As a point of comparison, here are some dials from other models from this collection.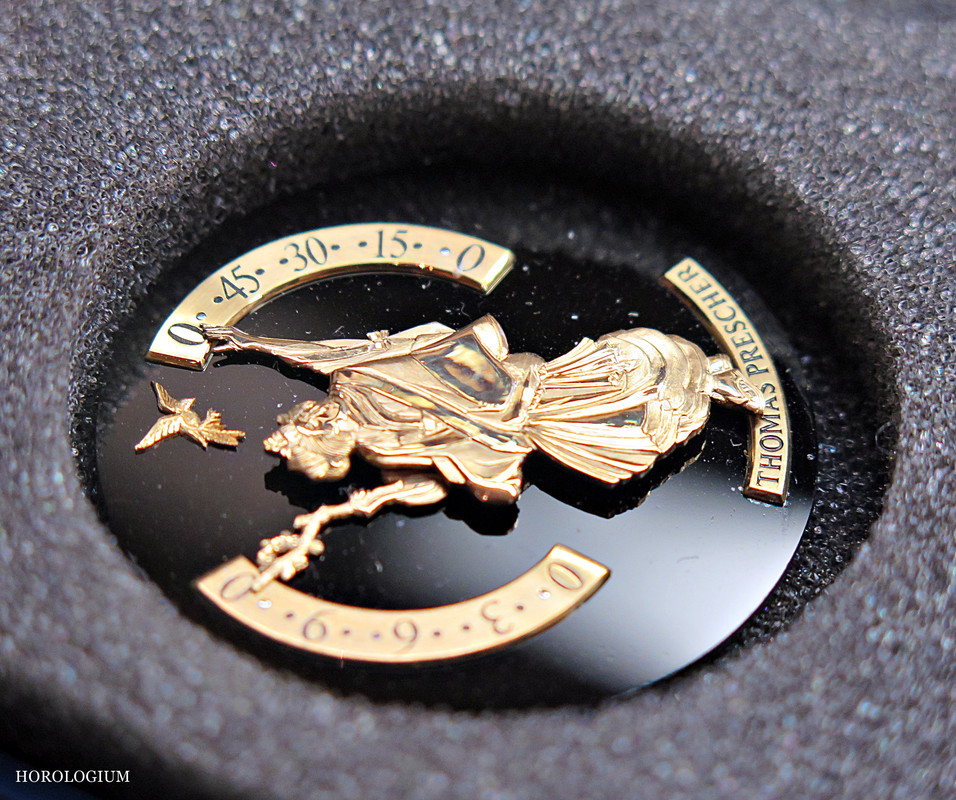 Geisha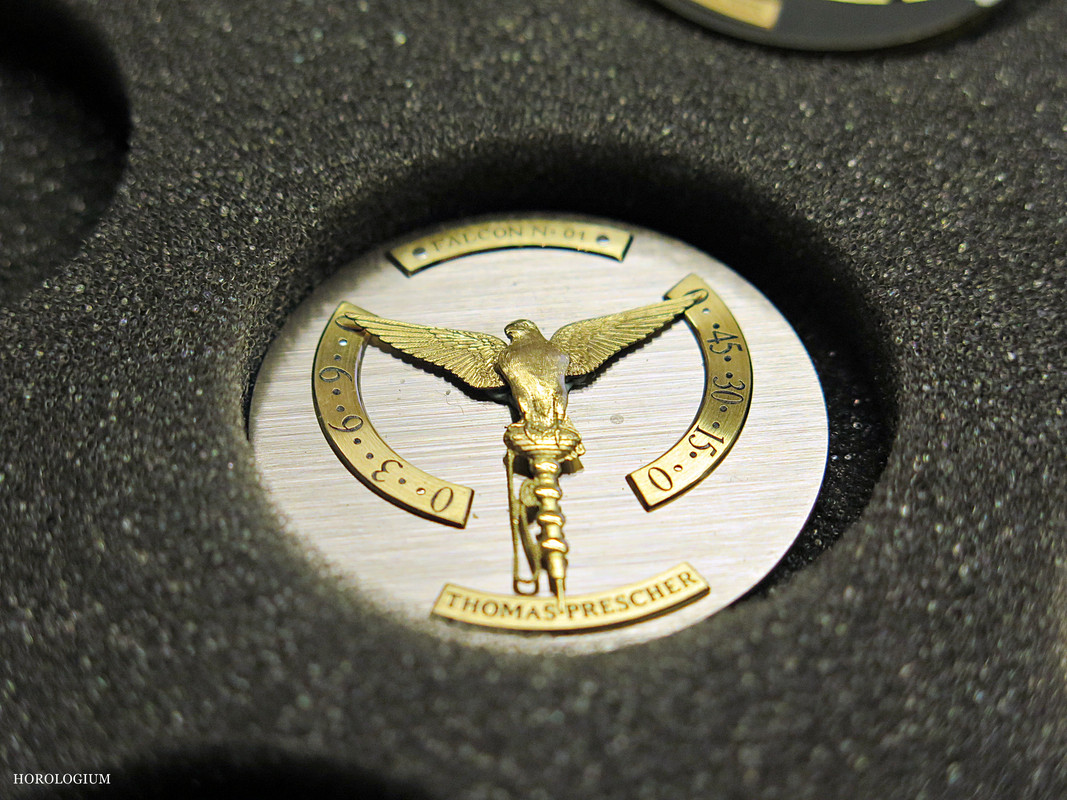 Falcon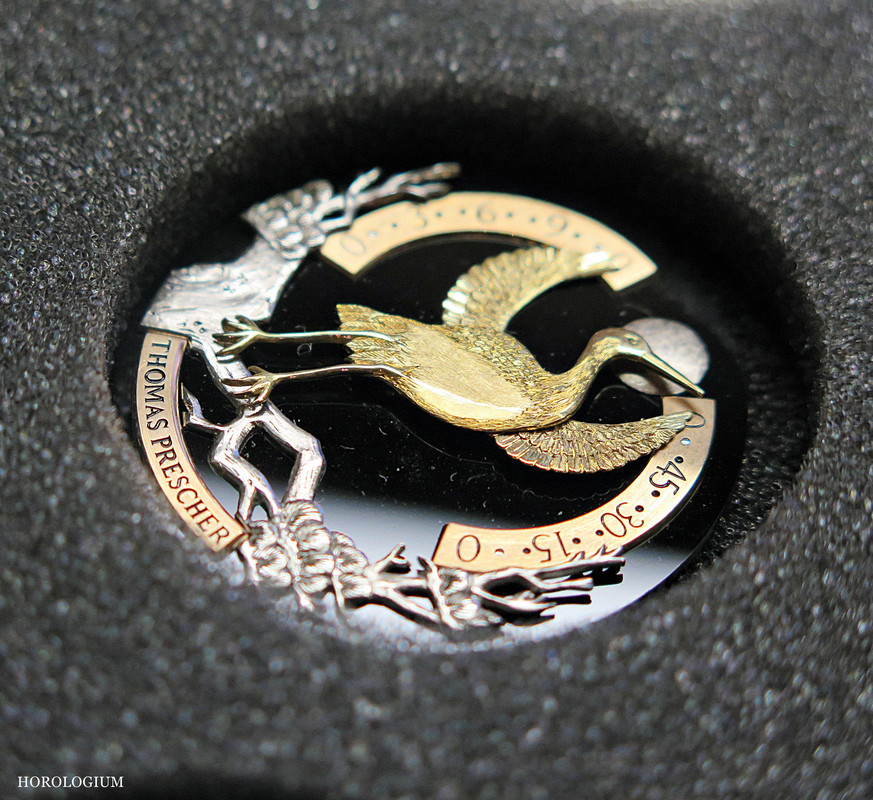 Crane
Phoenix
Look out in the upcoming months for more posts from this visit, and our thanks to Thomas and Heike for their hospitality and a memorable day.
---
---
Categories: Hands-on, Limited Editions, Switzerland, Thomas Prescher, watches, Watchmaking