At Watches & Wonders 2014 I had the opportunity to see perhaps one of the lesser known Altiplano creations from Piaget this year. Part of their "Mythical Journey" watches, this is called the Altiplano Scrimshaw White Gold.
A word more frequently associated with 18th century whaling, 'scrimshaw' is a form of fine engraving and carving work that was most commonly practised on, not unepectedly, whale teeth, by sailors.
The man Piaget engaged to decorate this Scrimshaw piece (and who has in fact done other pieces for Piaget previously) is Richard Maier, the choice of a section of the globe perhaps a nod to scrimshaw's origins. The line/ dot engraving itself is done with needles and small engravers sharpened with diamond files to aid precision. After the engraving there is the application of ink to 'fill' it.
The style of engraving used to mimic scrimshaw on this watch dial is called 'Bullino', a technique developed by Italian engravers primarily for use on knives and hunting weapons, a far cry from watches, and is named after the engraving tool that is used.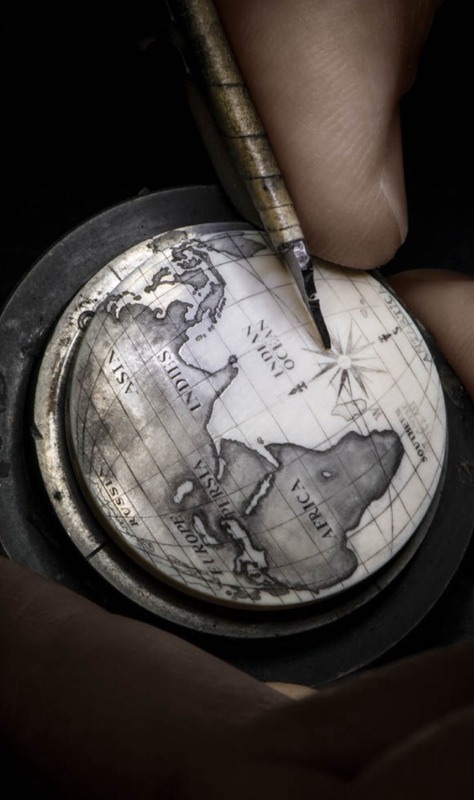 The process starts with the reproduction of the basic design on the dial that is reduced down from a larger drawing. The engraver then uses a fine metal needle to engrave the outline, after which the 'Bullino' technique is utilised, with the background using the aforementioned diamond tip. Different depths and angles (and the application of varying pressure) are used to give different effects. When the needle part of the process is completed, an oxidising product is applied for colour, after which there is polishing, followed by a final layer of black, then more polishing.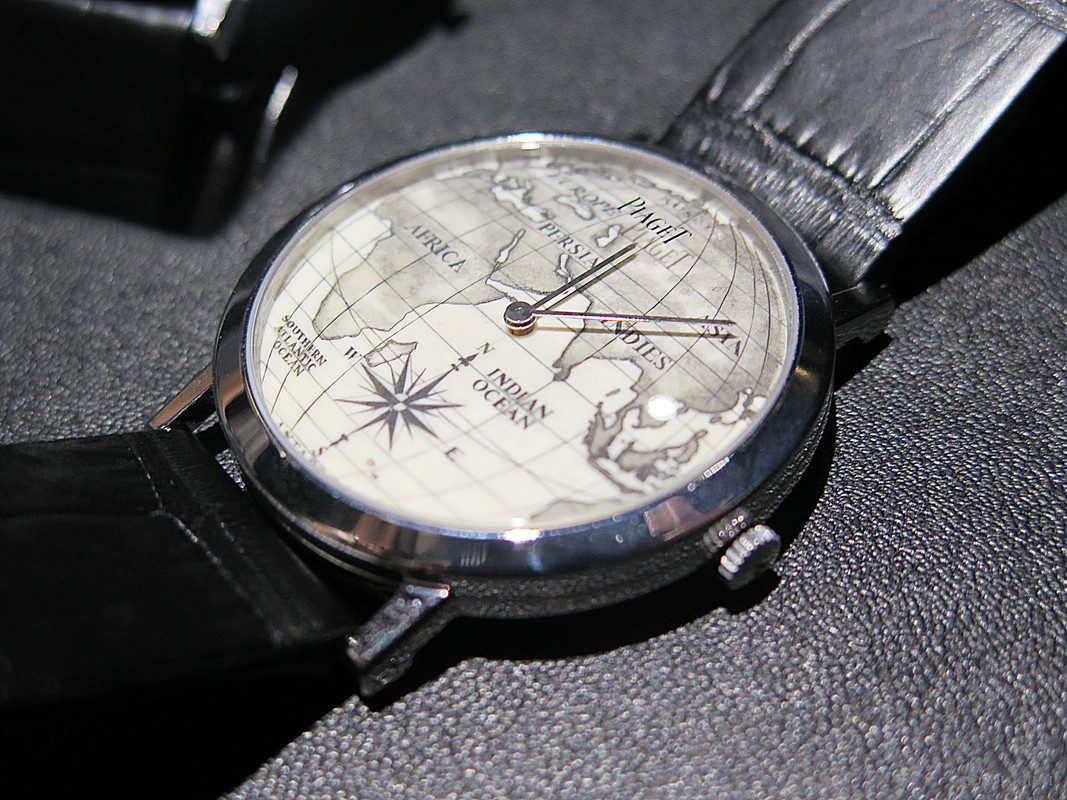 Maier is an engraver of some three decades standing specialising in Bullino dot engraving and Scrimshaw, and half of Trompeter & Ritchi. The material onto which his work for Piaget has been realised for this watch is fossilised mammoth ivory, each 1.7mm thick piece of ivory taking sixty-five painstaking hours to create. A single square millimetre contains between one hundred and twenty and two hundred dots.
The watch itself is 38mm and contains the manual-wind Piaget ultra-thin 400P movement. Available in white or pink gold in what will obviously be limited editions (of forty), there is an added bonus to this piece – Australia appears, albeit it only partially, on the dial.
[Horologium attended Watches & Wonders 2014 at the invitation of Richemont Australia]
---
---
Categories: Hong Kong, Limited Editions, Piaget, SIHH 2014, watches, Watches & Wonders 2014