On the second day of Watches & Wonders 2014 here in Hong Kong I was told by a new acquaintance that I simply had to go and see the Richard Mille RM56-02. So after the press session I ambled out the door in search of it. It wasn't difficult to find.
I looked at it, went away for a few hours, then went back to look at it some more. I'm still really not quite sure what to make of it, but it is interesting and controversial, a talking point. It is also a watch that is going to be produced in a limited edition of ten, and getting one of the ten will set you back $2,020,000, so I really did feel that I should share it. Besides which it was beautifully lit and photographed so easily and well.
For those who are unfamiliar with Richard Mille's sapphire pieces we need to go back a few years to 2012, when the RM 56 Felipe Masse Toubillon Sapphire was released, the first watch to have a sapphire crystal case. Following this there was the RM 56-1, which had the addition of a sapphire crystal baseplate, bridges and wheel. Both of these cost over a million dollars.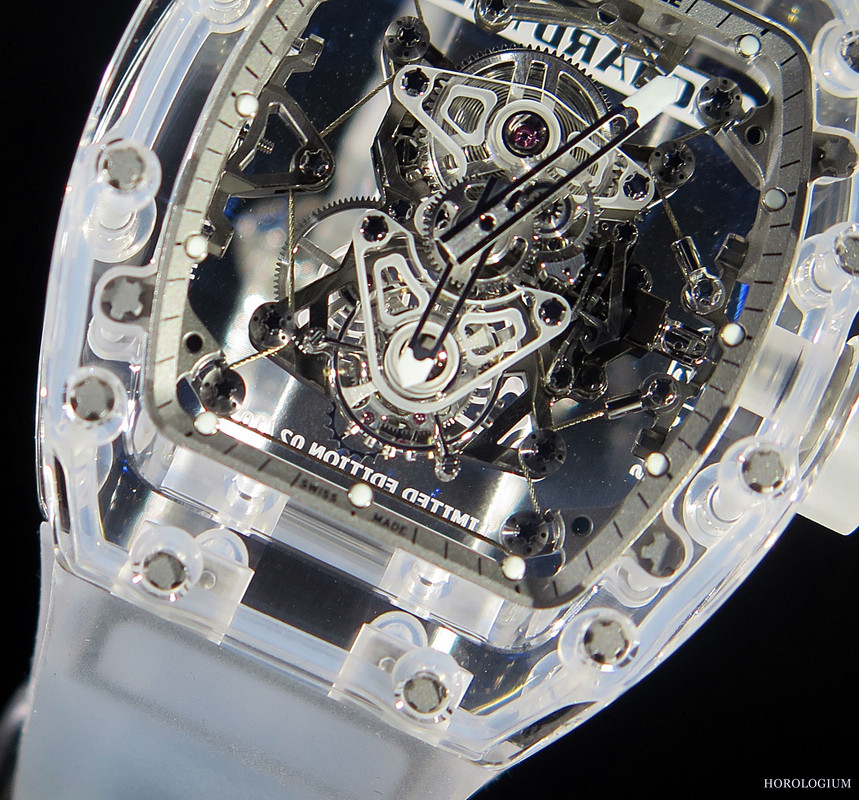 Watches & Wonders 2014 was the formal launch of the already announced RM56-02 Sapphire Tourbillon, whose baseplate is not sapphire but titanium. However, the bridges and case are sapphire crystal and the movement is suspended in the case by a 0.35mm braided cable that is woven into a pulley system on four posts at the corners of the movement and on six pulleys situated along the movement's borders. This pulley system was previously seen in the RM 27-01 Rafael Nadal watch, and is intended as a shock absorption system, but to look at it looks somewhat fragile, which is almost strangely at odds with the broader bold and brash aesthetics of the piece.
The cases are made with an adapted CNC machine, and it is reputed to take over 900 hours just to complete the casing. The oddly 'plastic' looking strap was made in Aerospace Nano® by Biwi SA exclusively for Richard Mille. Unfortunately I did not get to touch it, but the photos give an accurate indication of what it looks like.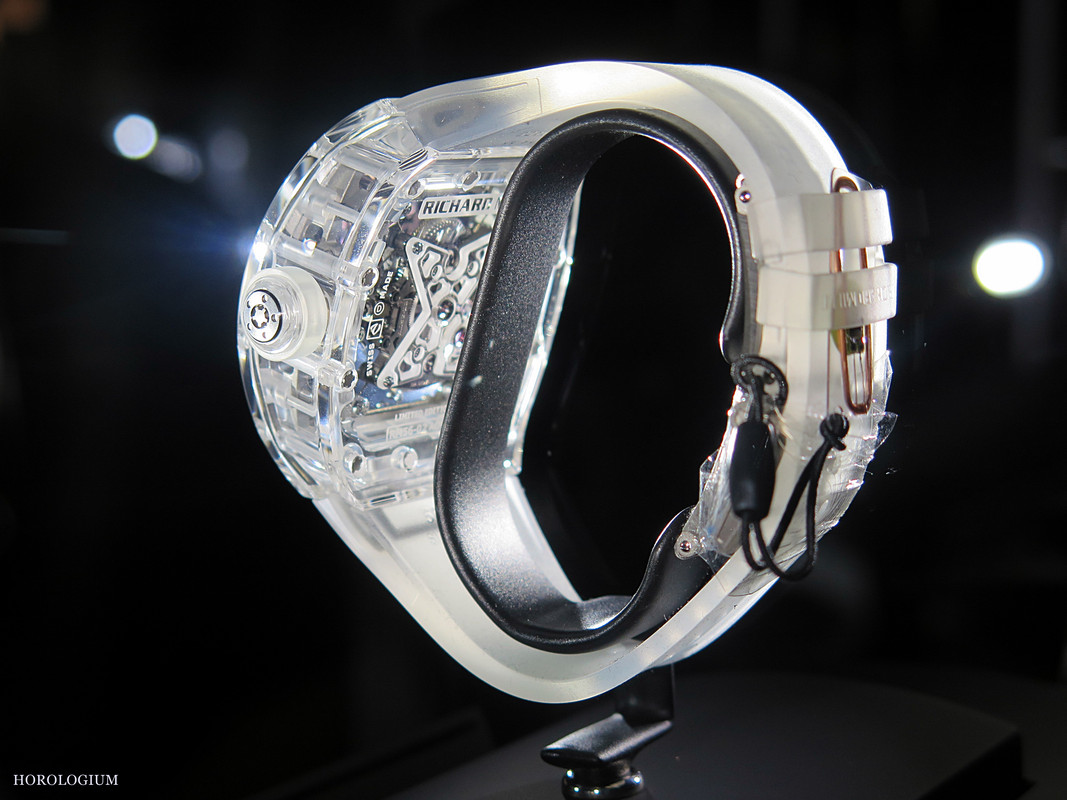 As with the previous sapphire models, there is little doubt that this is a divisive piece, whether this be with respect to the use of sapphire, the aesthetics, or the price tag. However, there is no doubt that it gets people talking, whatever their views may be, and this itself is not without worth.
ADDENDUM : Rumour has it that this was sold on the final morning of Watches & Wonders.
[Horologium attended Watches & Wonders 2014 at the invitation of Richemont Australia]
---
---
Categories: Richard Mille, Watch movements, watches, Watches & Wonders 2014, Watchmaking