With so many new brands appearing every year in the watch world, it's hard for small brands, let alone quite niche ones, to get coverage, let alone traction. The Zurich based SevenFriday, launched in 2012, has somehow managed to break through the noise largely through the power of word of mouth, social media and in watch fora to develop an cult following.
Their watches are fun, eye-catching, distinctive, and at an accessible price point, but first we must deal with the name. The man behind the name is Dan Neiderer, and the rational behind it is that he thinks that every day should be like a Friday. The name itself has been somewhat divisive; people either don't like it, or they decide to enter into the spirit of it, to the point of even wearing their Seven Friday every Friday, and posting photos on Instagram.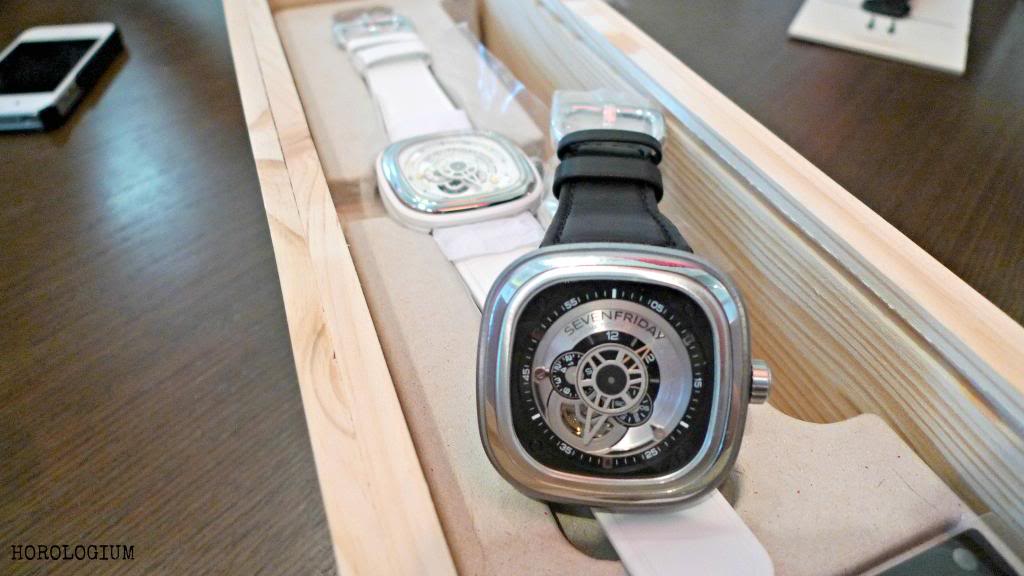 At this time, Seven Friday has three core models from which to choose, the P1, P2 and P3, though within each of these 'lines' are sub-models, if you like. Each of the Ps is based on the same design but utilises different case and dial materials.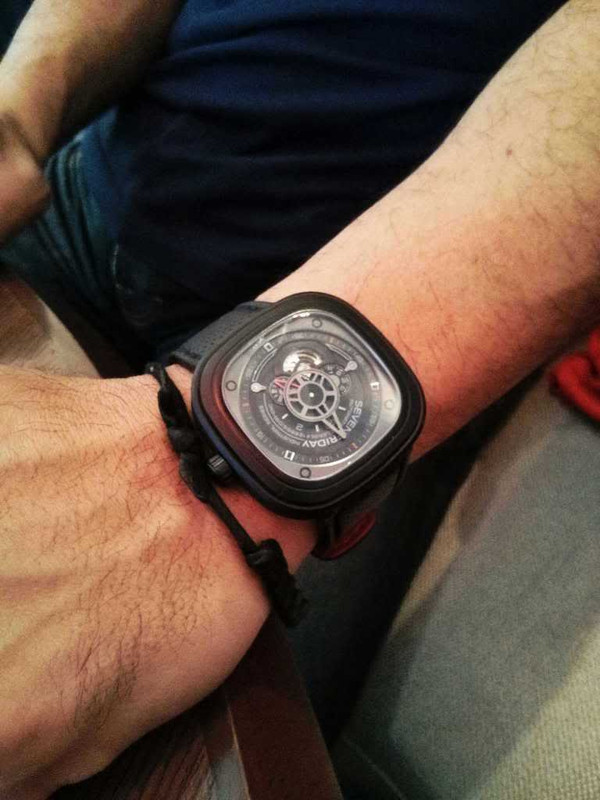 The combination of industrial inspiration and the layered design gives the watch a modern appeal that to me, is almost reminiscent of another (far more expensive) brand's earlier offerings. The case is a large 47mm (47.6 x 47 x 13mm to be precise) with a strong wrist presence, but they are surprisingly light, and because of the absence of lugs, they sit more like a 44-45mm sized watch. The design is very unisex, and despite the size there has been a solid percentage of women buying SevenFridays. All are made from stainless steel, though some with PVD treatment.
The first thing that you notice about these watches is the multi-layered dial. The three discs displaying hours, minutes, seconds and GMT. Starting from the outside is the minute track, then down a level to the smaller hour hand. The is a small rotating seconds disc on the lower right side and another rotating disc that represents the GMT time at the 45 minute marker. On the bottom left is the cage over the balance wheel.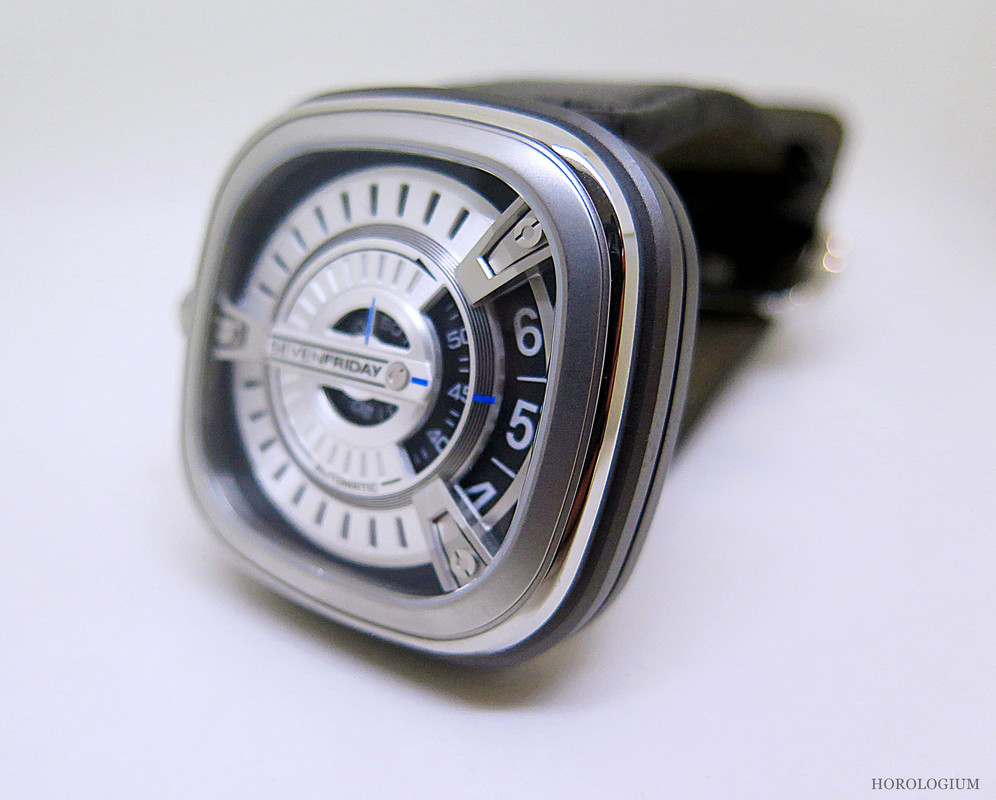 The standard P1's case is a a rather shiny stainless steel bezel, the P1/02 below is the white version, and the P3 that was shown to me on the day is black PVD. Interestingly, in looking at photographs of these models, I was drawn to the P1, but when it came to seeing them 'in the metal', the less shiny P3 seemed to not only suit me better, but it was also more appealing. The white one has been quite a popular model, but as suggested by a friend, I think it would work even better on a white rubber strap.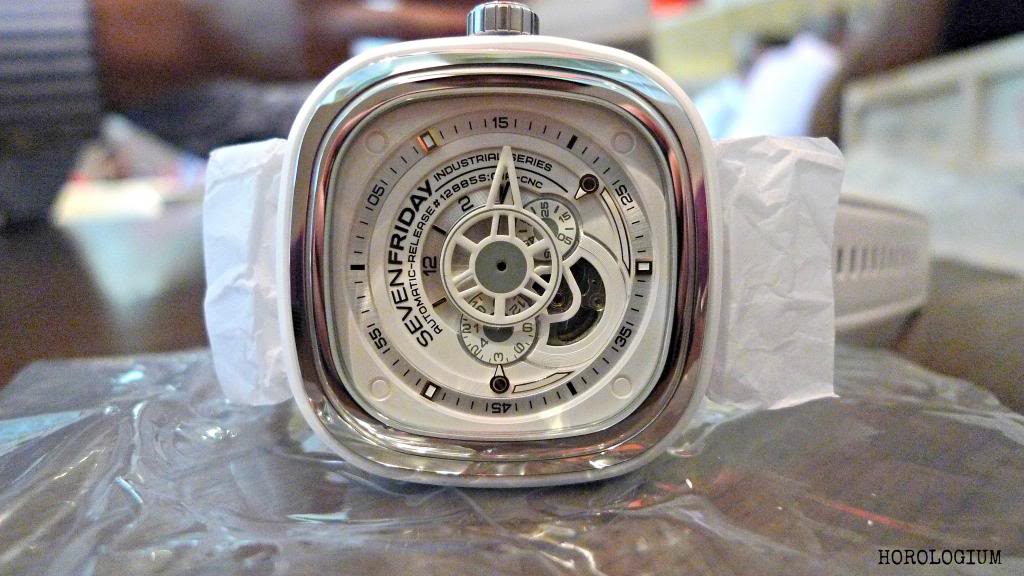 The case has no straight lines, with the curves helping it appear and sit smaller than the stated measurements, as well as giving it as softness at the edges. The cases themselves (the non-PVD ones) have a combination of polished and brushed finishing, giving it great contrasting textures as well as heights.
All three models use the Miyota 82S7 automatic Japanese movement. Why? One assume for cost reasons. The power reserve is just over 40 hours. Argue as people may about the use of a non-Swiss movement for a Zurich based brand, the key to this watch is not its movement but its design.
The straps measure 28mm at the lugs, tapering down to 24mm. If you cannot remember this, they have helpfully put all measurements on the case back as a reminder. The buckle colour matches the watch case, with the P3 using perforated leather.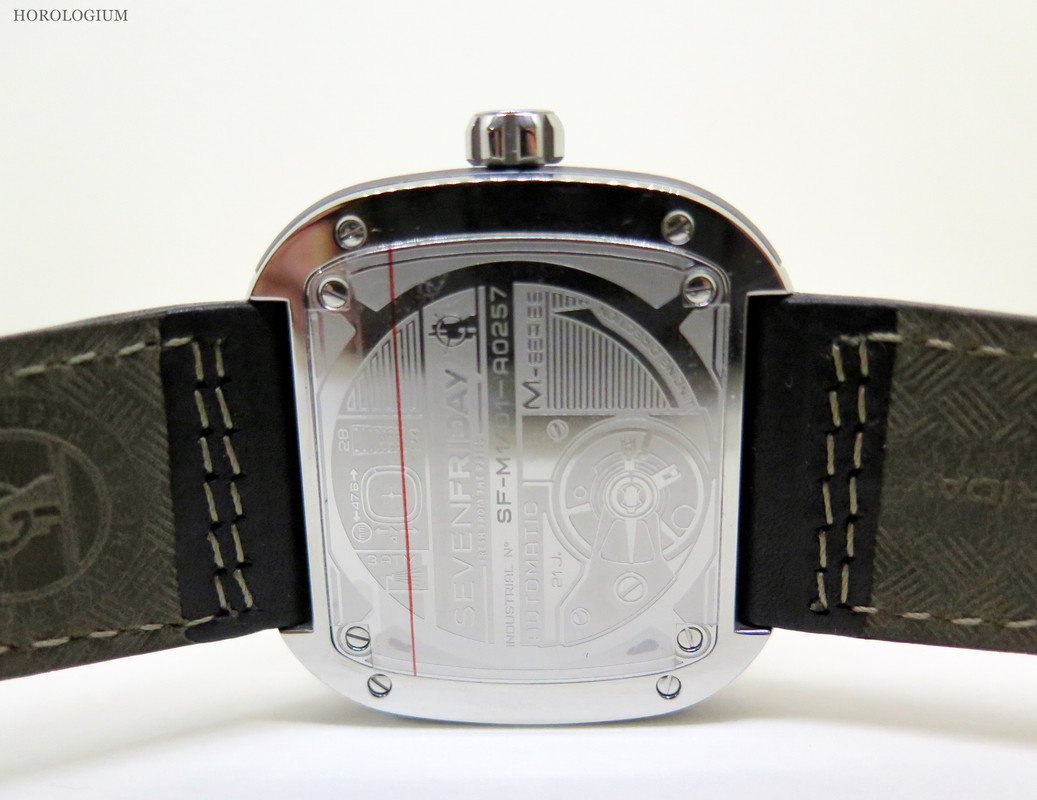 Whilst the 28mm strap makes complete sense with the case from an aesthetic balance point of view, the modern predilection for regular strap changes means that the options are fewer, though I have seen people using NATO straps and there are one or two strapmakers around who have started making straps especially for Seven Fridays – if this isn't evidence of how popular it has become, nothing is.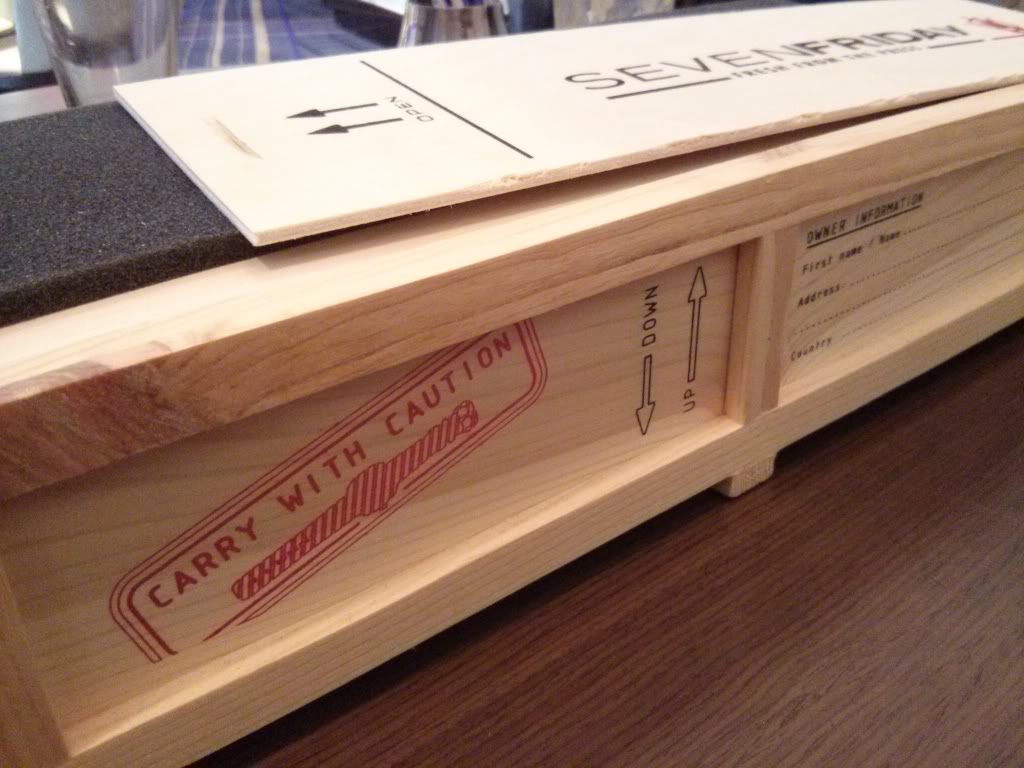 The watch comes in a blonde unfinished wooden box and a sliding lid, akin to a shipping crate, adding to the sort of industrial feel of the watch; a small watch delivery crate if you will. Playful, in line with the watches, and large but not overly so.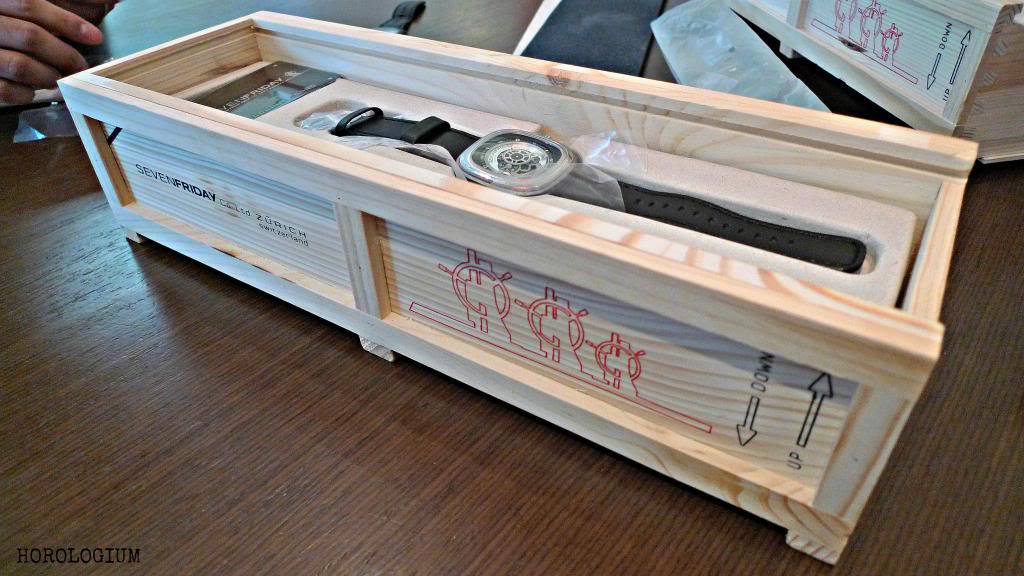 There is no doubt that the watch is visually bold, fun, and with a very clear sense of its identity. Seven Friday's watches are not for everyone, but they aren't intended to be. I've heard some wonder whether they are 'fashion' watches, but I'd suggest that they aren't. They seem to populate an in-between land in which they are comfortable – they have customers who buy it for its looks, but all you need to do is to take a look online and you'll see that there are plenty of 'serious' watch people who have bought one because they are a lot of fun. If you are concerned about the size, Seven Friday has a printable version for you to cut out and try.
I find them really engaging watches and like them, but what will be interesting is is to see how Seven Friday develops from this very distinctive first model offering. There are now a myriad of limited edition models in a variety of colours and material combinations, but designwise, what do they have in store?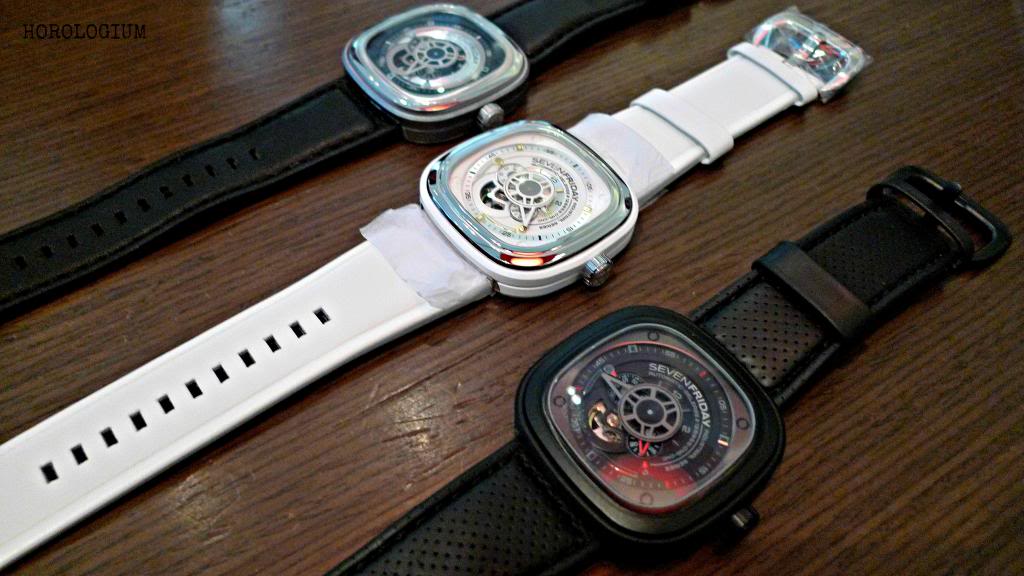 As of earlier this year, SevenFriday has become available in Australia. The agent is based in Melbourne but visits Sydney regularly. If you are interested in purchasing or viewing one, send an email to australia@sevenfriday.com
ADDENDUM : SevenFriday is now available in a number of retail outlets throughout Australia including Gregory Jewellers in Sydney, and Brisbane Vintage Watches.
---
---
Categories: Hands-on, Melbourne, Sydney, Watch Profile, watches