Inspired by conversations online with English watch and clock collector AlanL and Sydney enthusiast Danny, whom I had the pleasure of meeting at a Jaeger-LeCoultre SIHH 2013 novelties dinner (about which I will cover in a separate post), this post is to share with you some examples, ranging from the cheap and cheerful to the haute horology, of watches that use 'direct read' and 'jump hour' methods of time display.
The term 'jump hour' is actually quite specific in definition, referring exactly to that, an hour indicator that jumps from one hour to the next, but popular horological nomenclature seems to also include, as 'jump hours', those watches where the hour slides (on a rotating disc) rather than jumps, so to be inclusive, I shall include some of these 'direct' read' pieces as well.
I have a particular fondness for this type of time display. This post is not intended to be a representative example of these types of watches, nor am I going to go into the technical details about each piece. They are here simply to be shared, enjoyed, and for those of you who haven't ever considered watches with time displayed via anything other than hands, to perhaps provide you with some inspiration for your next purchase.
As I have a particular fondness for these watches, some of them are my own. Others belong to friends, and there are a few which I have featured in previous posts.
We start off in the 1970s, a rich period for inexpensive and simply designed direct read watches, many of which looked similar to this Lucerne model.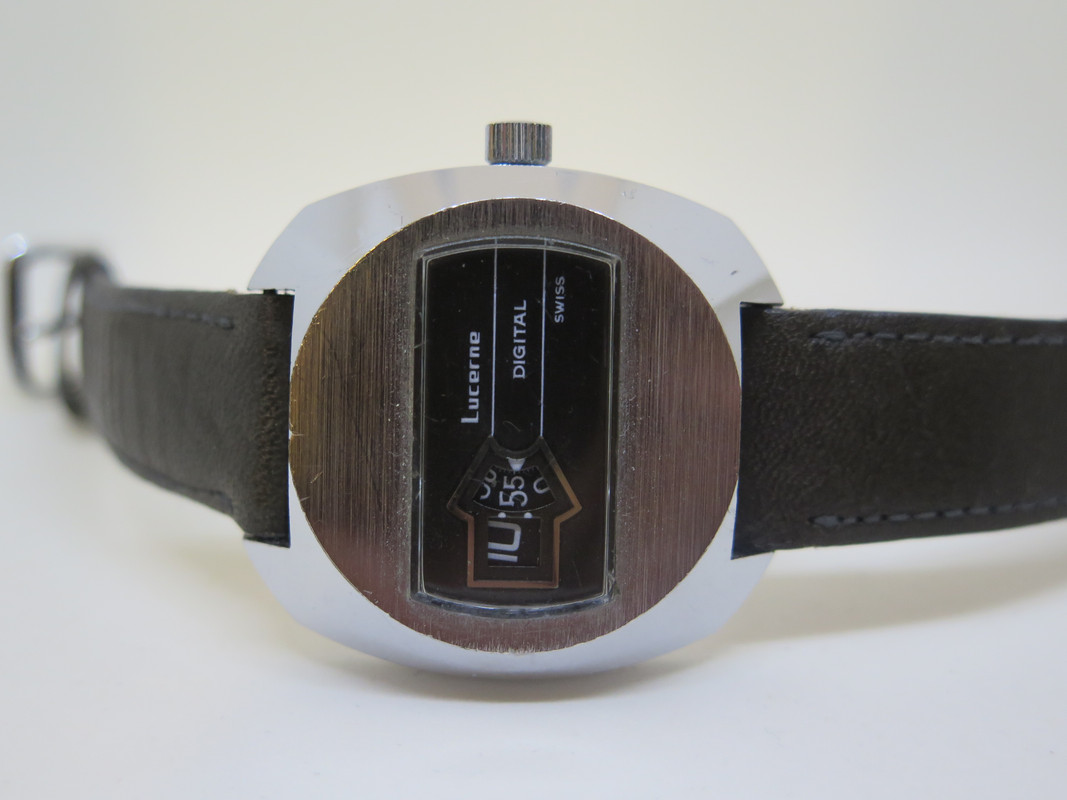 Also from the 1970s, from a brand known more for its 'Cricket Watch', is this unusual specimen.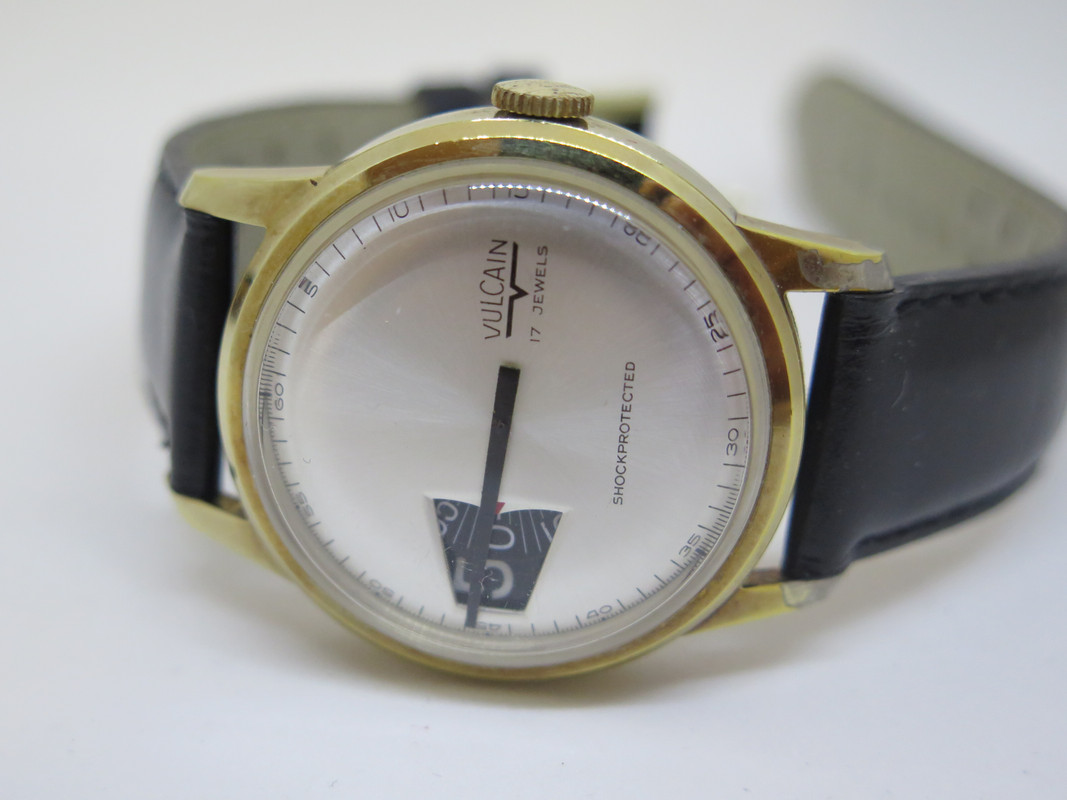 The pair in this next photo are from different periods, and I've previously written about them here. They are, from left to right, the MB&F HM5 with its bi-directional jumping hours with inverted indications, and the popular-in-niche-1970s-jump-hour-circles Amida Digitrend that inspired the HM5.
The source of many beautiful jump hours during its history, this one is from the maison of Vacheron Constantin and one of my favourite jump hours. It is incredibly elegant and contains the renowned calibre 1120. Although directly inspired by a 1929 pocket watch, if you look at examples of Vacheron's 19th century jump hour pocket watches, you can see the lineage of this 1994 watch.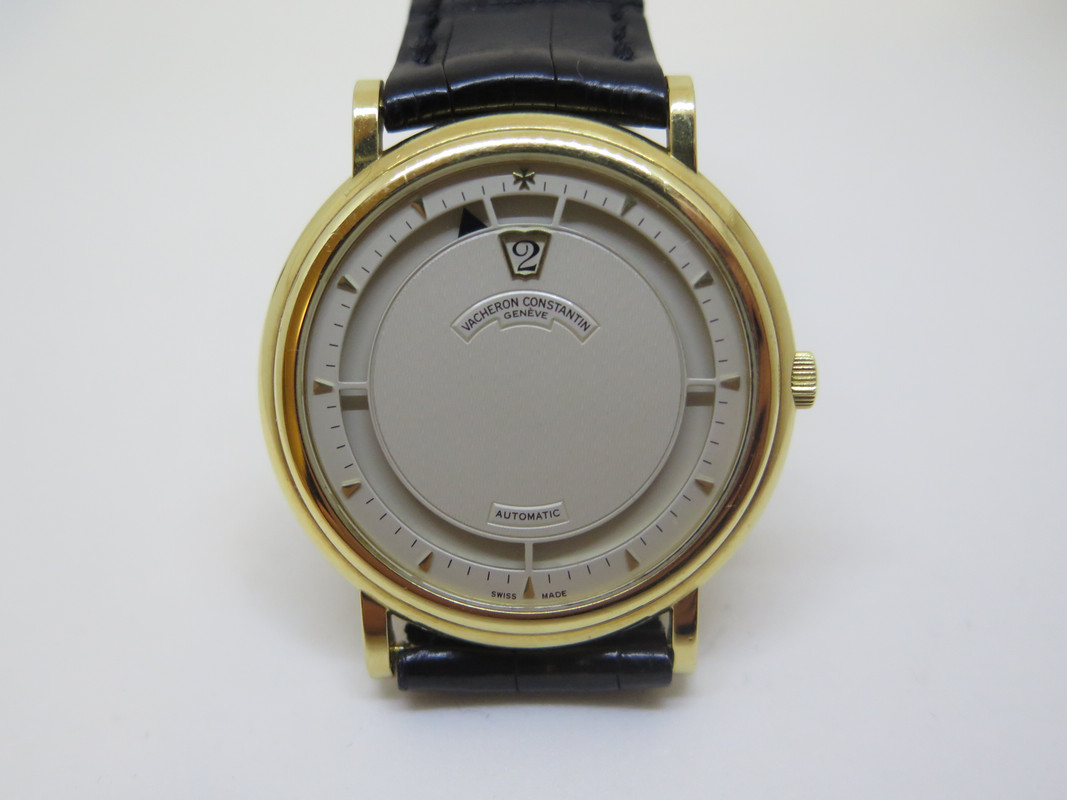 This next watch is another one of my favourite jump hour watches (one of my favourite watches in general), and one that I can't get enough of. I am fortunate to know someone with one, and it is every bit as drop dead gorgeous 'in the metal' as it is in photos.
Goldpfeil, which some of you, like myself, may know more as a leather goods brand, had a very interesting collaboration with independent watchmakers called the 'Seven Masters' collection, of which this was a part. This Vianney Halter jump hour moon phase is one of the two Goldpfeils on my 'dream list'. The hour is indicated by the large number, the minutes and seconds on the large dial, and the moonphase indicator in the circle. Winding the crown forwards advances the time; winding it backwards adjusts the moon phase hand. The case is polished, satin brushed, matte and the small hammered marks which, it is rumoured, were all hand-hammered by Vianney Halter himself.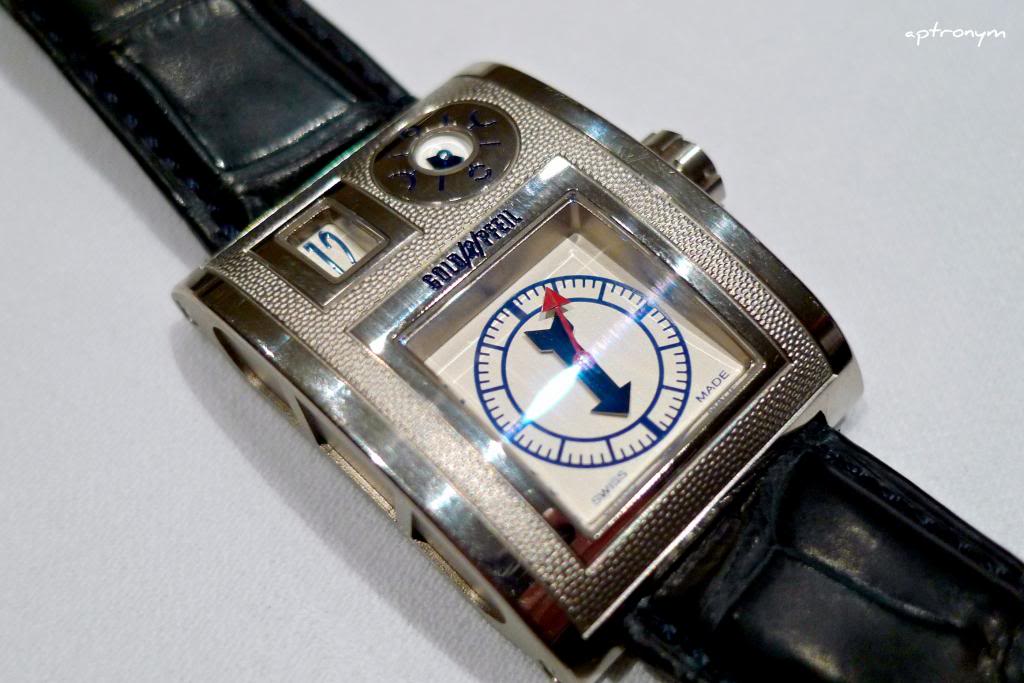 Gerald Genta has been a brand that has enjoyed using jump hour displays in a playful way, such as in this trio of examples.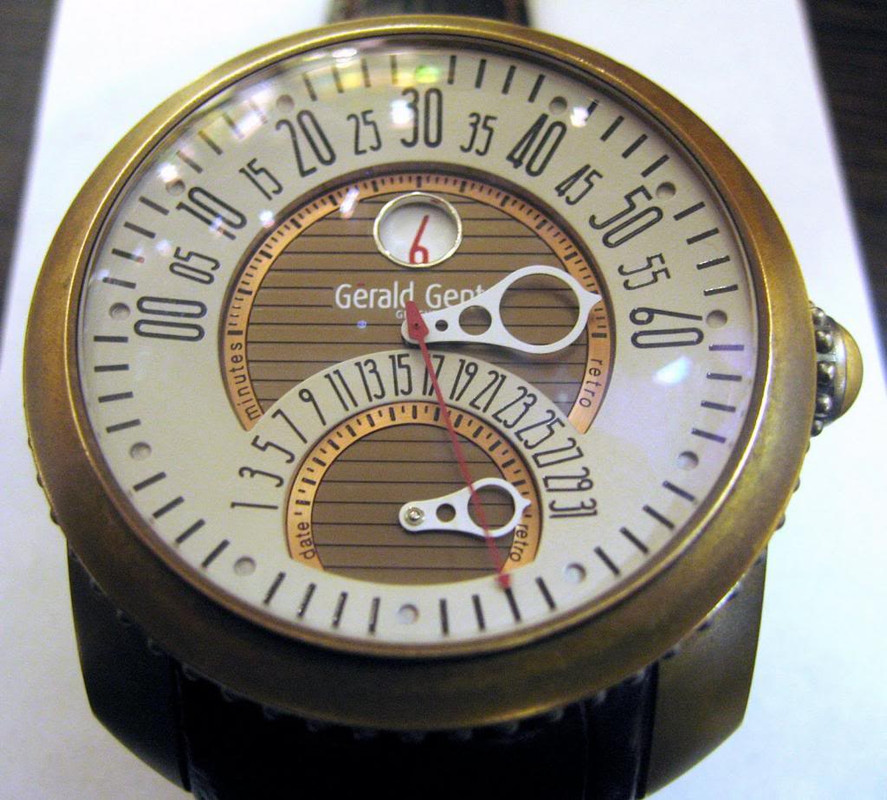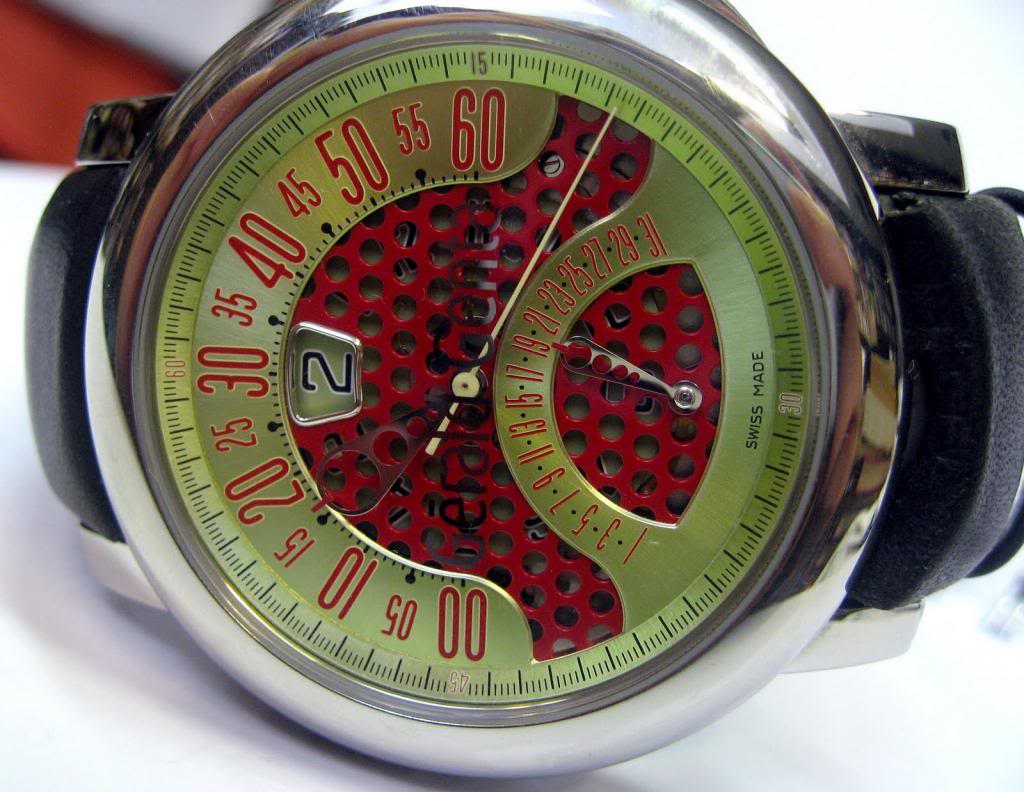 One of the famous Genta Mickey Mouse models.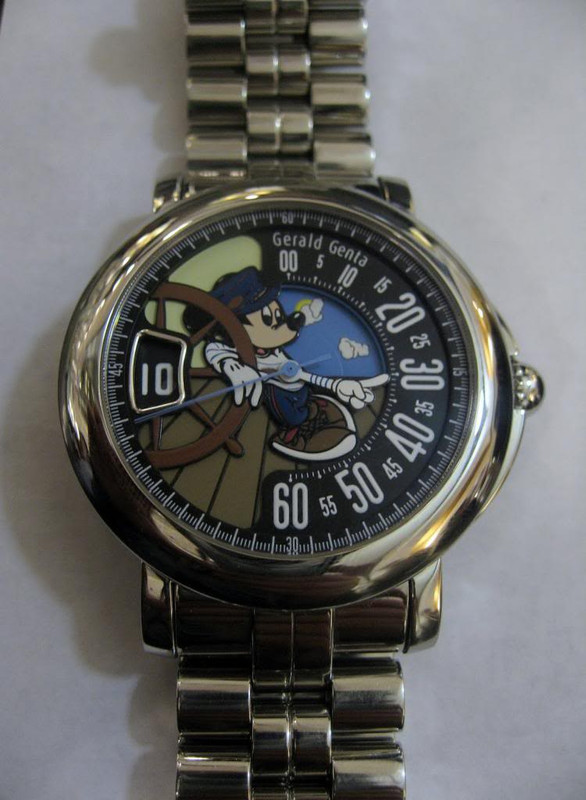 The next direct read is Montblanc's Nicholas Rieussec Rising Hours, a SIHH 2013 launch about which I have previously written here.
If you ever find yourself in Geneva and visiting the Patek Philippe Museum, look out for the collection of vintage Vacheron Constantin jump pocket watches there. They really are a joy to behold.
---
---
Categories: Amida, Fossil, Gerald Genta, Girard Perregaux, Hands-on, Independent brands, Longines, MB&F, Montblanc, Vacheron Constantin, Vianney Halter, Vintage watches, Vulcain, watches