The use of watch parts from (hopefully non-functioning) vintage wrist and pocket watches for creative endeavours beyond movement cufflinks can be a divisive issue amongst watch enthusiasts. Where some see a useful appropriation and reinvention which gives a watch a new life (with varying degrees of outcomes), others take a more purist approach and would prefer that old watches be left alone in perpetuity after they ticked their final tock.
In the interests of transparency I confess that I am predisposed to being in this latter camp, as I am also in the camp of those who find it a struggle to see works made from torn up and mutilated books. Many works of art or craft that use watch movement parts seem to use the parts as a material with which to build something, as opposed to incorporating the parts into the piece.
A friend told me about some newly arrived 'insects made of watch parts' that were now being sold here in Sydney at a watch dealer, and I decided to take a look at this 'Insect Lab'.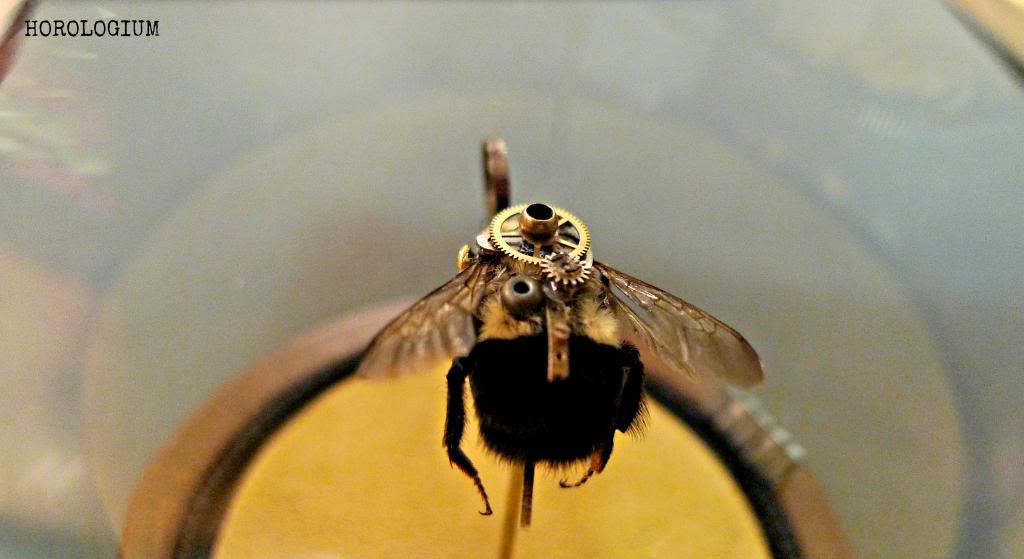 Mike Libby is the contemporary American artist behind Insect Lab. Within this lab, he combines insects and mechanical or electronic components to create cybernetic sculptures inspired by science fiction. These are not the things-made-from-watch-parts that I had been expecting based on my conversation, and I was surprised to find them quite engaging. Far more so than I had anticipated.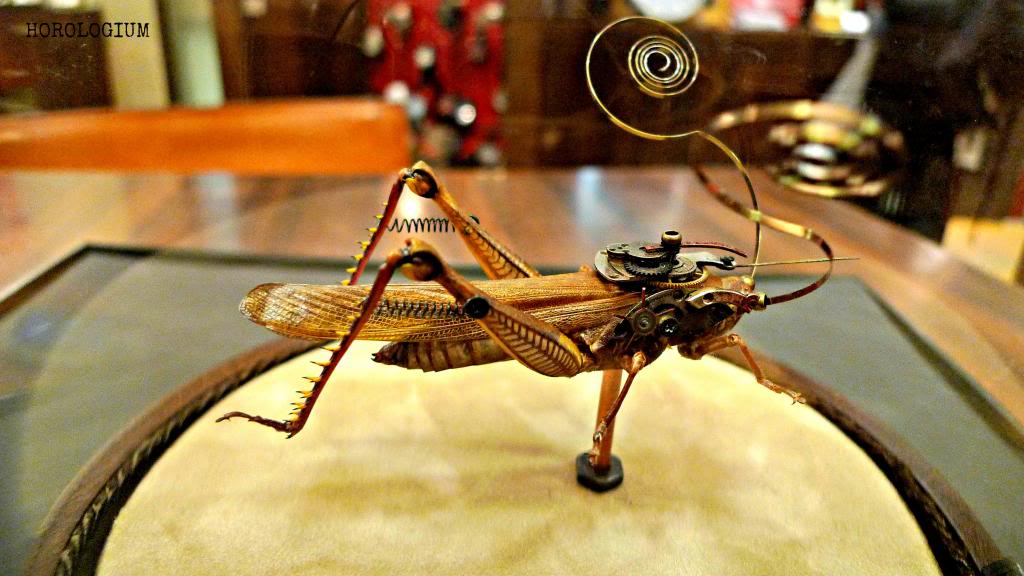 Libby creates sculptures, models, collages and drawings using a range of materials, exhibiting throughout the US and in parts of Europe. His Insect Lab series has crossed genre boundaries, and engaged everyone from science fiction fans to galleries and museums (including even an appearance at the Smithsonian).
The genesis of Insect Lab was a dead beetle that he found. He then obtained an old wristwatch and decided to combine the two. Since then he has sourced his insects rather more methodically, mainly using (non-endangered, as he points out on his website) specimens from licensed dealers but not ruling out the occasional found insect.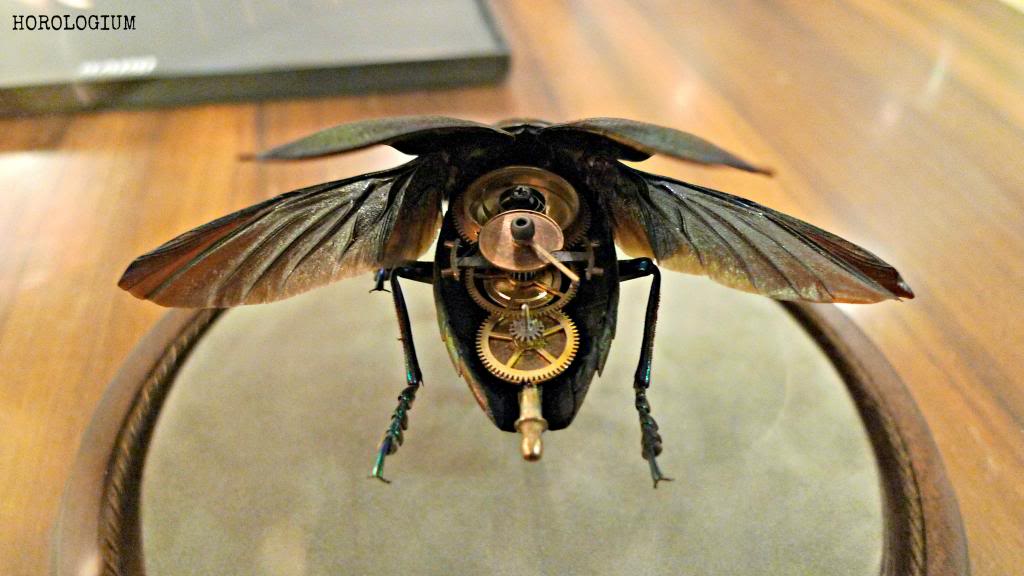 With varying degrees of non-insect components to them, the ones with more parts seem to be verging into the realms of a Borg related insect race from Star Trek. His choice of insects was inspired by how engineers, robotics and scientists increasingly observe and investigate insect movement and behaviour and apply to their own fields.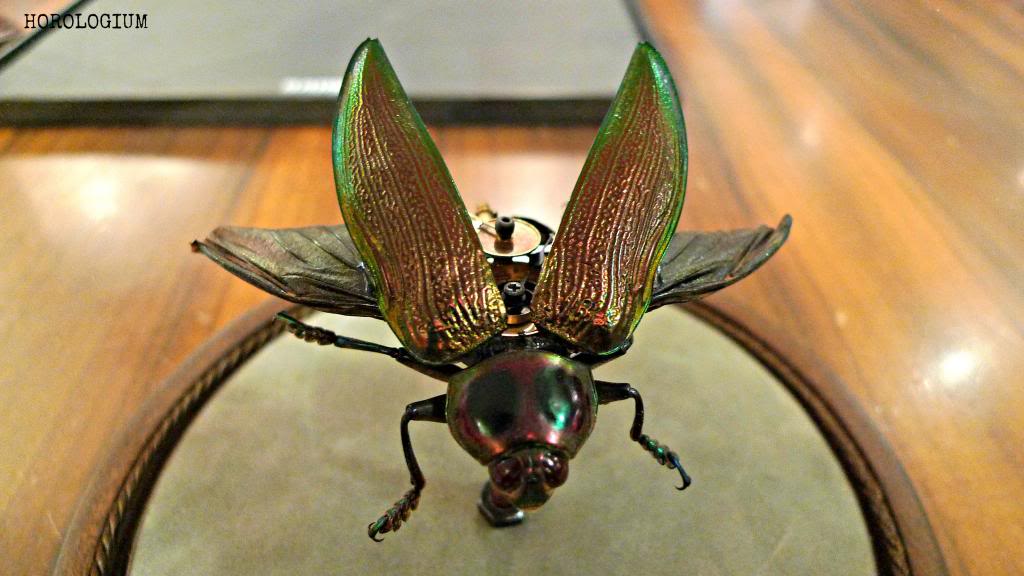 I spent about half an hour looking at the selection and then some time browsing his website. Some of the insects are actually a little bit steampunk, which I like, but what made me realise that they are less 'insects with watch, clock and machine parts' and more as cybernetic sculptures was the way he combined all the parts and the glimpses of humour (in a crab and bumblebee for example) that would unexpectedly peek out.
These aren't to everyone's tastes, but they are interesting because there is a recognisable philosophy behind their creation, with added pop-cultural references.
The important issue of where he obtains his parts is answered on his website – mainly antique pocket watches and wrist watches, but he may also use some small electrical bits and pieces, and parts from sewing machines and typewriters, sometimes donated by people.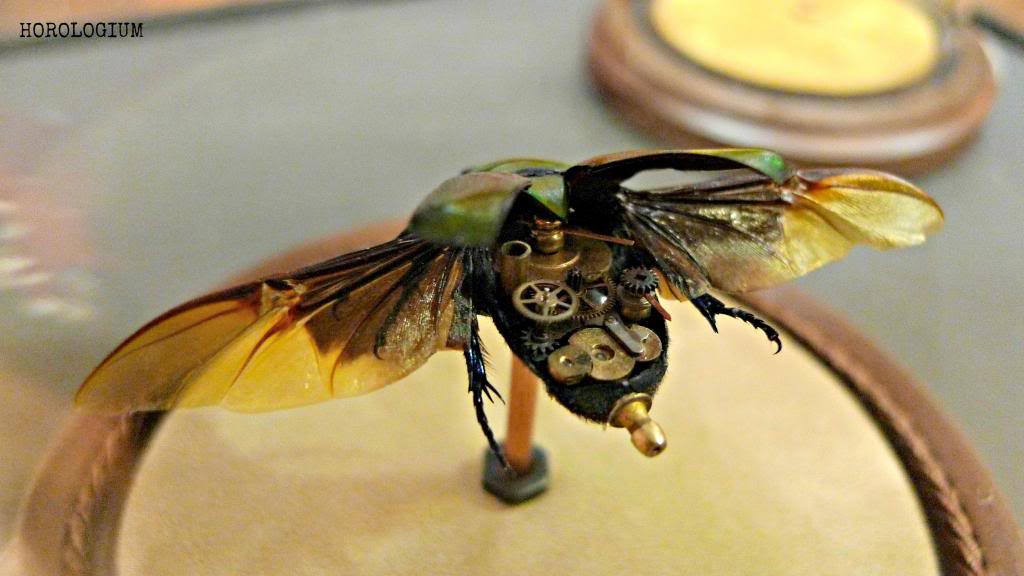 As the insects are displayed in sealed glass domes with a walnut base, you won't be able to touch them, but it's for preservation reasons. If you are interested and in Sydney, you can see them at Sydney Vintage Watches.
---
---
Categories: Accessories, Ephemera, Sydney, Watch movements